Summer's nearly over for another year, so we highly recommend squeezing in one more BBQ if it's only to try out this mouthwatering Sticky Hickory BBQ sausages recipe!
The amazing combo of sticky BBQ sauce and caramelized onions is a great way for sprucing up sausages and it's so simple to do. Even if you don't try this recipe before the summer is out, it will work just as well when cooking in the oven. Just don't blame us when you find yourself reaching for another as they are impossible to resist!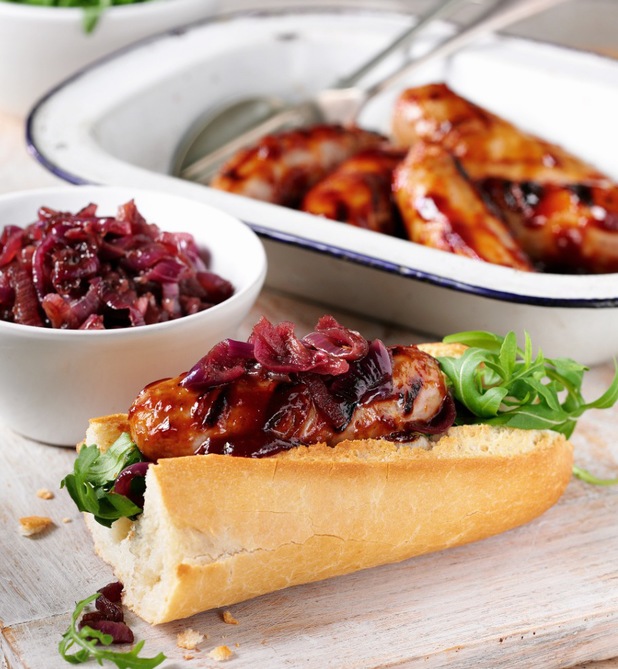 Ingredients
6 premium pork sausages
250ml bottle Newman's Own Sticky Barbecue Hickory Sauce
1 tablespoon olive oil
3 large red onions, thinly sliced
2 teaspoons soft brown sugar
1 tablespoon balsamic vinegar
Large handful rocket leaves
6 hot dog rolls or a French stick cut into 6
Method
1
Place the sausages in an ovenproof dish and cover with the sticky barbecue sauce, turning to ensure evenly coated in the sauce. Cover and leave to marinate in the fridge for about 30 minutes.
2
Meanwhile, heat the oil in a large frying pan and cook the onions over a low heat for about 20 minutes, stirring often, until they are soft and starting to turn golden. Don't be tempted to turn the heat up or they'll burn.
3
Add the sugar and balsamic vinegar and cook for another 5 minutes, stirring often, until they are caramelized.
4
Meanwhile cook the sausages under a preheated hot grill or barbecue for 5-6 minutes each side, basting with the marinade, until golden and cooked through.
5
Split each roll and top with a handful of rocket, a sticky sausage and a generous helping of the carmelized onions.
Prep Time
10 minutes, plus 30 marinating time
Cook Time
30 minutes
Nutrition Information
Makes: 6
Check out these other delicious BBQ recipes:
BBQ roast potatoes
Herby BBQ chicken
Thai skewers
Halloumi & courgette burgers