The party season is upon us so how about having a go at making your own delicious home made dips?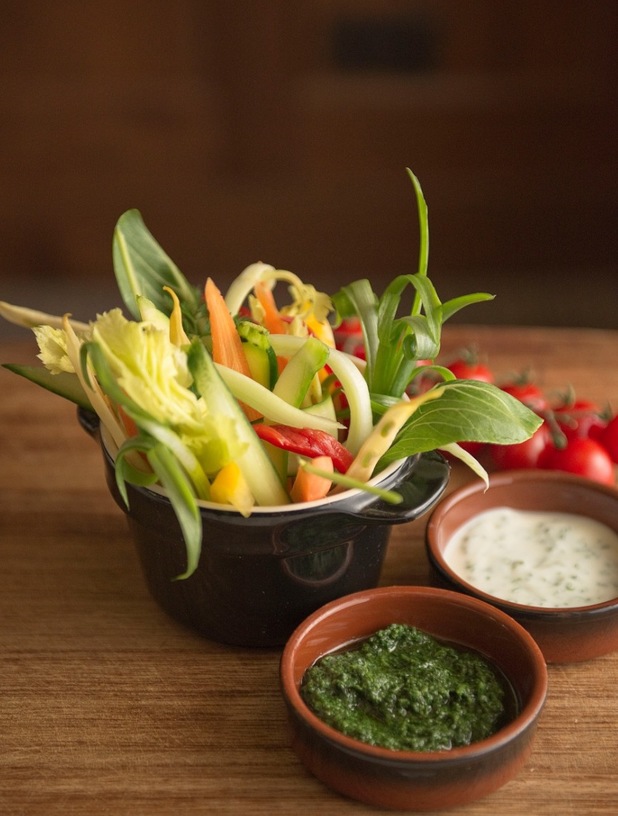 This is a recipe by celeb chef Raymond Blanc who devised it for the children's cooking educational app
Henri le Worm: The Missing Cookbook
, which was created by his son Oli Blanc and the actress Charlotte Salt.
This recipe shows you how to make basil pesto and chive yogurt dips, proving just how quick and easy it really is to whip up your own. Serve with freshly prepared crudités for a super healthy snack.
Ingredients
½ cucumber
1 red pepper
1 yellow pepper
4 baby carrots
9 green beans
4 sticks of celery
1 bowl of iced water
For the basil pesto & chive yogurt:
35g basil
10g Parmesan cheese, grated
30ml extra virgin oil
80g natural yogurt
5 sprigs of chives
Method
Preparing the crudités
1
Deseed the cucumber, red and yellow pepper and cut lengthways into strips.
2
Cut the baby carrots in half lengthways and cut the green beans in half.
Making the basil dip:
1
Blanch the basil leaves in boiling water for 30 seconds, then place them into iced water.
2
Mix the oil, Parmesan and basil leaves together and pummel together using a pestle and mortar or use a liquidizer.
Making the chive yogurt:
1
Chop up the chives and add to the yogurt.
To serve
Place all the raw ingredients into a bowl and serve with the two dips on the side.
Prep Time
15 minutes
Nutrition Information
Serves 4
Chef's tip
Blanching is when you immerse food in boiling water for a short time, not necessarily to cook it, but to get it ready for the next step in the cooking process. By placing the food in cold water you stop the cooking process.
Henri Le Worm is available now for £2.99/ $4.99 for iPad on Apple's App StoreTry these other healthy recipes:
Crunchy carrot & apple salad
Oven baked potato tortilla
Moroccan potato salad
Pork and chorizo meatballs