Make the most of the last of the sumptious summer strawberries with this amazing recipe for Strawberry Daiquiri Cupcakes by TV food campaigner and chef Rachel Green
.
Don't they look amazing?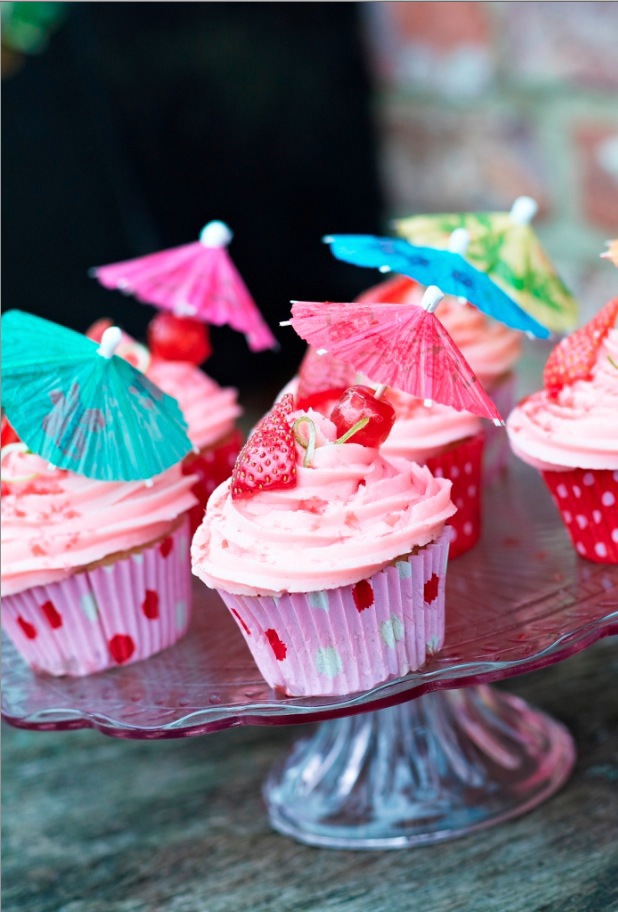 Ingredients
12 large strawberries, hulled and chopped into small pieces
1 tbsp white rum
100g unsalted butter
250g caster sugar
50ml Mr Hugh's rapeseed oil
25g cornflower
2 tsp vanilla extract
Zest and juice of 1 lime
75ml of milk
100ml of double cream
3 large free range eggs
300ml self-raising flour, sifted
For the frosting:
150g fresh strawberries, hulled
1 tbsp lime juice
750ml white rum
175g softened unsalted butter
600g icing sugar
Method
1
Preheat oven to 180°C/350°F/Gas 4
2
Line a muffin tin with the cupcake cases of your choice. In a small bowl, add the chopped strawberries and marinade with 1 tbsp of white rum.
3
Melt the butter on a low heat in a small pan, then remove from the heat and set aside. In a bowl add the sugar, Mr Hugh's rapeseed oil, cornflour, vanilla extract and the lime zest and juice and beat in the butter that has just been melted till smooth and creamy. Then whisk in the egg followed by the milk and cream and gently fold in the flour in batches trying not to over beat but ensuring all the ingredients are well incorporated.
4
Divide the chopped strawberries between the prepared cases and spoon the cupcake mixture on top of the strawberries until the cases are two-thirds full. Bake in the pre-heated oven for 20-25 minutes or until light and golden and the sponge bounces back when touched.
5
A skewer inserted in the centre of the cupcake should come out clean. Leave the cupcakes to cool slightly in the tray before turning out onto a wire cooling rack to cool completely.
6
When cool decorate the cupcakes with the strawberry daiquiri frosting.
7
For the frosting; place the strawberries, lime and white rum in a food processor and whizz for about 1 minute or until the mixture is a puree. Then push the strawberries through a sieve into a bowl and set aside.
8
In another bowl, cream together the softened butter and the icing sugar until combined and gradually add the strawberry puree, beating continuously. Spread the icing on the cooled cupcakes with a pallet knife or pipe the icing onto the cupcakes and to finish decorate each one with half a fresh strawberry.
Nutrition Information
Makes approximately 12 cupcakes
Cook's tip:
This cupcake recipe can be used as a basic vanilla cupcake recipe and you can add other flavourings as you wish.
Find out more about using British rapeseed oil
here
Love cupcakes? Check out these!
Mini Chocolate Cupcakes
Make your own Ice Cream Cupcakes
Lola's Chocolate Cheesecake Cupcakes
Fearne Cotton's Cupcake recipe
Make the most Romantic Cupcakes in the World!