We're all rather excited here at Reveal Towers because National Afternoon Tea Week starts on Monday and it's basicially a fantastic reason to treat ourselves to our fave cakes and goodies.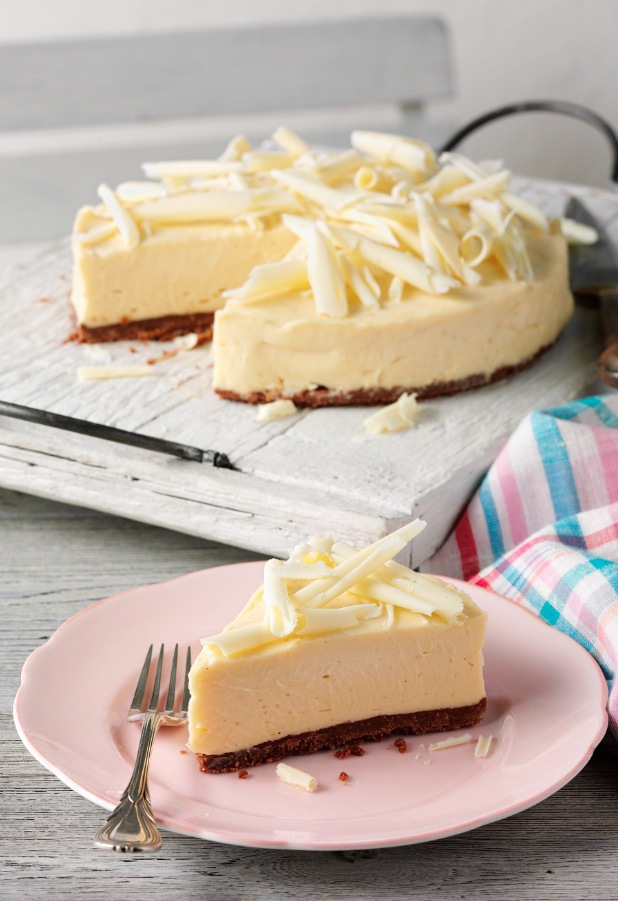 This White Chocolate and Ginger Curd Cheesecake tastes as good as it looks, so this is one mid-afternoon slice of delight we'll be tucking into, especially as it's so simple to make. The Ginger Curd really adds a special touch and we guarantee you'll get rave reviews for serving this up.
Ingredients
75 g butter
150 g plain chocolate digestive biscuits, crushed
200 g good quality white chocolate
500 g Mascarpone cheese
315 g jar The English Provender Co. Luxury Ginger Curd
Grated white chocolate or chocolate curls, to decorate
Method
1
Melt the butter in a medium saucepan and stir in the biscuits. Press into the base of a 20 cm loose -bottomed round cake tin. Chill whilst preparing the filling.
2
Place the chocolate in a bowl set over a pan of simmering water and heat gently, stirring occasionally until melted.
3
Place the Mascarpone in a bowl and whisk in the ginger curd until smooth. Whisk in the melted chocolate. Spoon over the base and chill for 1- 2 hours.
4
Carefully remove from the tin and decorate with grated chocolate or chocolate curls. Serve in slices
Prep Time
Preparation time: 30 minutes, plus 1-2 hours chilling time
Nutrition Information
Serves: 8
Like this? Why not check these other recipes out....
Mary Berry's Very Best Chocolate Fudge Cake Recipe
Blueberry Scones from London's Beverly Hills Bakery
Celebration Mini Chocolate Cupcakes
Coconut & Chocolate Layer Cake: Low GI recipe
Find out more about curds, chutneys and other afternoon tea treats
here