Too hot for a roast but craving some crispy roast potatoes? These BBQ style roasties can be chucked on the barbie and served with some juicy chicken for a mouthwatering evening supper.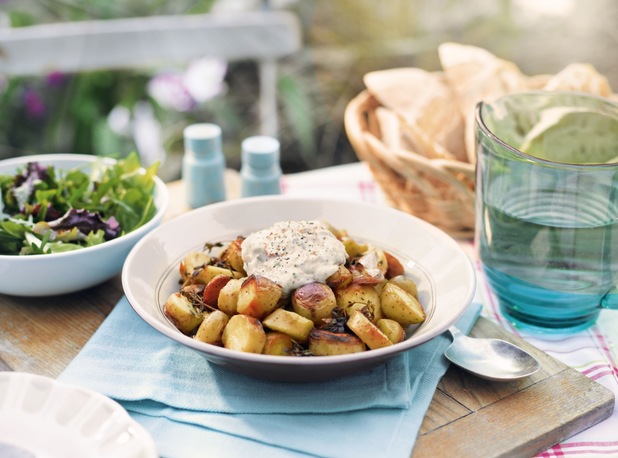 This gorgeous recipe combines sundried tomatoes, mayonnaise and chives together for a seriously good dressing that goes perfectly with these perfectly cooked potatoes.
Ingredients
500g new potatoes
4 dollops Hellmann's Real Mayonnaise
3-4 garlic cloves
3-4 sprigs thyme
2 tablespoons sundried tomatoes
2 tablespoons fresh chives
1 tablespoon olive oil
Pepper
Method
1 Preheat a BBQ.
2 Cook the potatoes in boiling water. Once cool, cut the new potatoes into 1 cm thick slices and toss in the olive oil, seasoning with pepper.
3 Lay the potatoes on a double layer sheet of foil and tuck in the crushed garlic cloves and sprigs of thyme.
4 Seal the foil up tightly to make a neat parcel and BBQ for 30-40 minutes, turning the parcel over occasionally.
5 Make the dressing, by mixing together the sundried tomatoes, mayonnaise and chives. Season with pepper.
6 When the BBQ roasties are ready, tip into a bowl and top with the dressing.
Prep Time
5 minutes
Cook Time
50 minutes
Nutrition Information
Serves 4 (as a side)
More Best-Ever BBQ recipes:
Easy Thai Chicken Skewers
The Fabulous Baker Brothers' Ultimate Hot Dog Rolls
Halloumi & Courgette Burgers
Frozen Cocktails: Summer Cup with Pimm's