London's Beverly Hills bakery has been creating delicious cakes, muffins, cookies, pies and all other kinds of amazing goodies for 20 years now.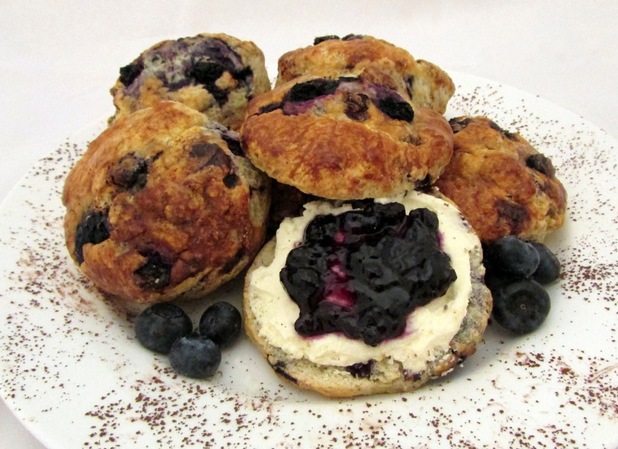 Here at Reveal Towers, it's one of our favourite bakers - so much so that when we celebrated the first birthday of this website recently, we asked them to make the cake!
Now we're delighted to share this fabulous recipe for blueberry scones from their head baker, Rosa de Souza, with you. As they say, it's a 'classical recipe with an American Touch.' We recommend trying them with clotted cream. Yum!
Ingredients
335g flour
60g unsalted butter
180ml milk
45g caster sugar
60g dry/frozen blueberries
1tsp baking powder
Pinch of salt
Egg Wash for Glazing:
1 Egg Yolk
2tbs Milk
Pinch of Salt
Method
1
Sieve together the flour, baking powder and salt into a bowl.
2
Gradually add in the butter and mix until resembles a course breadcrumb mixture.
3
Add the caster sugar.
4
Fold in the milk with a spoon until an even dough has been formed
5
Finally, gently add in the blueberries and mix gently taking care not to overwork the dough.
6
Place the dough on a table which has been lightly floured. Press down gently to create a reasonably flat surface. Sprinkle with flour on top.
7
Roll out very lightly, until approx. 1.5-2cm thick.
8
Use a round cutter to form (you can use any size you want). The ones we used were 7.5cm.
9
Place on a grease proof paper.
10
In a cup, mix egg yolk, milk and salt. Lightly brush the scones with this glaze.
11
Place on a greaseproof paper and bake in a preheated fan assisted oven for 12-15 minutes at 180◦c. Oven temperatures may vary according to individual ovens.
Nutrition Information
Makes approx. 6-8 large scones
Find out more about Beverly Hills Bakery
here
If you liked these, try these..
Make your own Mini Chocolate Cupcakes
Royal Baby Cupcakes
Red Onion Chutney & Goat's Cheese Sausage Rolls
Mary Berry's Very Best Chocolate Fudge Cake recipe