The home-grown cherry season only lasts between July and August so make sure you grab a punnet and enjoy this classic British fruit, especially as experts are predicting a bumper crop this year.
They don't always have to be served sweet, either. If you fancy something different to the usual cherry pie then why not try this fresh, summer salad? It takes just a few minutes to put together so it's ideal for a quick and easy mid-week dinner.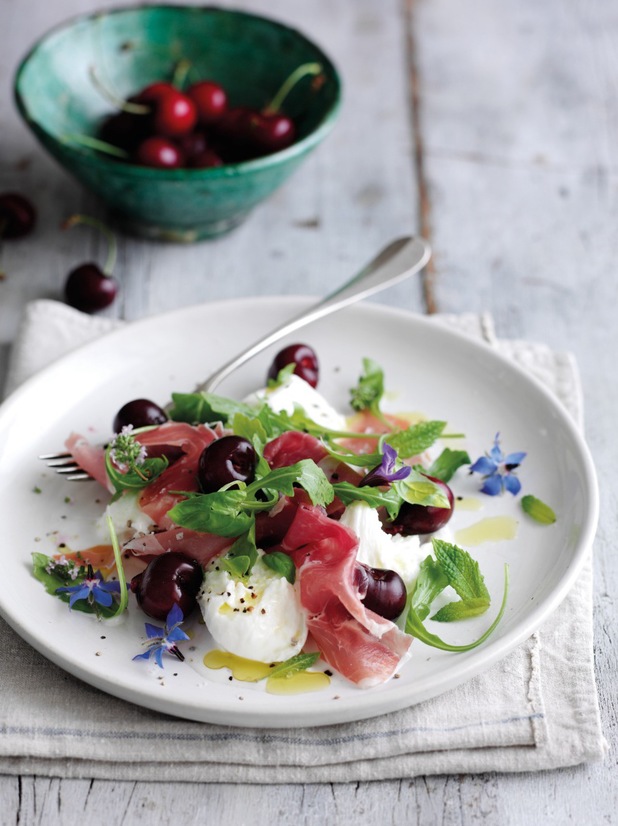 This gorgeous salad is the invention of Lucy Boyd, the daughter of River Cafe's Rose Gray and Culinary Director of Michelin-starred Petersham Nurseries. As a trained chef and gardener, she's passionate about simple, fresh ingredients that are bursting with natural flavour. Serve this up and impress your guests.
Ingredients
200g firm, ripe cherries washed and patted dry, stems removed
4 medium sized balls of Buffalo mozzarella
8 slices of prosciutto
A handful of fresh basil leaves washed and patted dry
A few mint leaves washed and patted dry
A few borage flowers
A bunch or approx. 150g of rocket washed and dried
Extra virgin olive oil
Salt and black pepper
Method
1. Remove the stones from the cherries with a cherry stoner or cut the cherries in half and ease the stones out with a knife.
2. Drain the mozzarella of its juice and roughly tear each ball into four pieces and distribute amongst the 4 plates.
3. Drape the prosciutto slices through the mozzarella; scatter a few rocket leaves over, along with the cherries.
4. Roughly tear the basil and mint leaves and lightly sprinkle over the top along with the borage flowers.
5. Drizzle a little extra virgin olive oil over each plate and season with salt and freshly ground black pepper.
Prep Time
5 mins
Try these other yummy summer recipes
:
Posh Prawn Cocktail
Slow-cooked Pork Sliders with homemade Coleslaw
Halloumi & Courgette veggie burgers