Sweet, juicy and bursting with flavour – nothing says summer than a bowl of fresh home grown cherries. And this year experts are predicting that UK cherry crops have broken records, thanks to the cold and wet start to the year.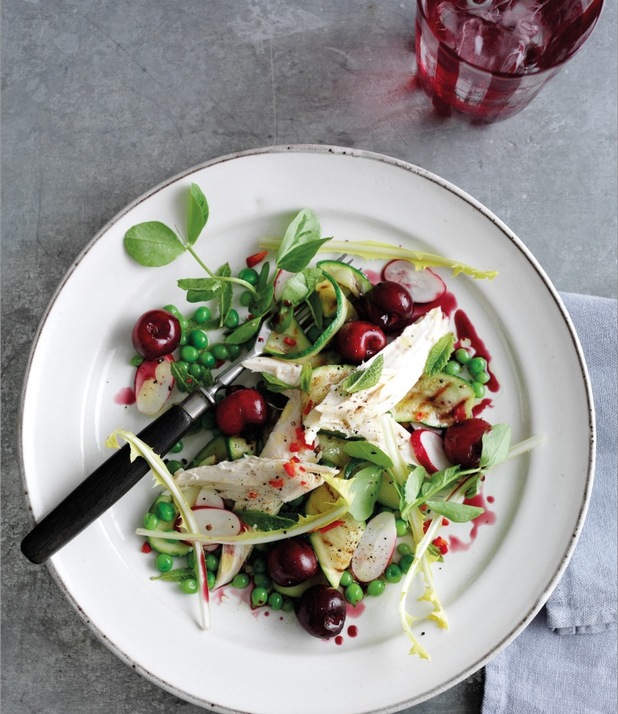 Cherries are also counted as a superfood thanks to being packed with Vitamin C. They even contain Melatonin, a hormone which helps to promote healthy sleep patterns.
To make the most of all those cherries that are in stores now, try this unusual chicken and cherry combo.....
Ingredients
1 medium sized good quality chicken
Small bunch of thyme
Handful of pea shoots
2 large carrots washed and trimmed
1 red onion, peeled and cut into quarters
4 celery stalks or half a head cut into quarters through the stem
2 bay leaves
10 whole black peppercorns
1.5 – 2 litres of water
For the cherries:
1 cup wine Valpollicella or Pinot noir
2 tbs red wine vinegar
½ cup sugar
1 tbs whole black peppercorns
375g cherries washed and patted dry in kitchen towel and de-stemmed
1 bunch of fresh radishes stems removed and washed thoroughly in cold water
350g courgettes, rinsed
300g peas, preferably freshly patted dry in kitchen towel and de-stemmed
1 head of dandelion or Pissenlit (the long slender yellow one) – leaves washed and dried
A few mint leaves
1 whole red chili, - de-seeded and finely chopped (optional)
½ lemon
Extra virgin olive oil
Salt and pepper
Method
To poach the chicken:
1. Put the chicken in a saucepan with the celery, onion, bay, thyme and peppercorns, cover with water and bring to the boil, turn down the heat and simmer. Remove any scum as it comes to the surface with a spoon.
2. After 45-60 mins, remove the chicken from the pan onto a plate. (Strain the chicken stock in the pan and keep for another meal.)
3. Remove the skin from the chicken and pull of chicken breasts, legs and thighs into rough strips. Discard the carcass.
To poach the cherries:
1. Heat the wine in a heavy bottomed medium sized saucepan along with the vinegar, sugar and peppercorns. Bring to a boil and simmer for 8-10 minutes until the sugar has dissolved and the juices reduce.
2. Add the cherries and stir together. Take off the heat and leave to marinate for half an hour.
3. Slice the courgettes as thinly as possible lengthways or on a mandolin. Heat a griddle and when it is smoking hot grill the courgettes in batches, turning them so they are seared on either side. Remove and place on a plate.
4. Top and tail the radishes and thinly slice. Blanche the peas in boiling salted water for a minute or so until just tender. Drain and put in a bowl with a sprig of mint (keeping a few leaves back for later) and a clove of garlic cut in two.
5. Season with salt and pepper and cover with extra virgin oil. Leave to marinate until you are ready to serve.
To make the salad:
1. Distribute the chicken amongst the plates; curl the courgettes amongst the chicken, spoon over the peas, discarding the mint and garlic. Place a few of the dandelion leaves through the salad along with sliced radishes.
2. Scatter a few of the cherries over using a slotted spoon and a scattering of lightly torn mint leaves. Sprinkle the pea shoots and a little of the chopped chili if desired. Drizzle with extra virgin olive oil and a squeeze of lemon, season with salt and pepper.
Cook Time
75 minutes (60 minutes to poach chicken, 10 minutes to poach cherries & 5 minutes to make salad)
Like this? Try these other fab salad recipes:
Authentic Tabbouleh Salad
Superfood Salad with Cheshire Cheese
Salad Nicoise with Seared Tuna & Chilli Lemon Potatoes
Lucy Boyd's Gorgeous Mozzarella, Cherries & Prosciutto Salad