There's nothing like the birth of a baby to put you in the mood for celebrating. So when this recipe for these yummy mini cupcakes came into the office barely 24 hours after William and Kate's gorgeous baby boy was born, we thought it was only right to pass it on.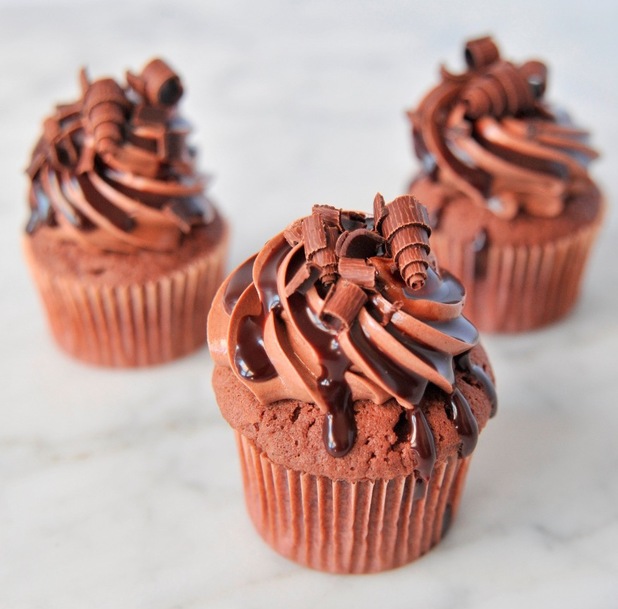 Royal baby or not, these cakes are perfect for any kind of celebration. The chefs at
Lindt,
the chocolate experts who dreamed up these cute cupcakes, suggest swapping the milk in the recipe for Frangelico, a yummy hazelnut liquor if you fancy a bit of a kick!
Ingredients
Cupcakes
260g Lindt Cooking 70%
80g Castor sugar
170g Butter, unsalted
4 eggs, separated
114g Plain flour
¼ tsp Baking powder
½ tsp Cream of tartar
Icing
330g Lindt Cooking 70%
20g Cocoa powder
45ml Milk (you can swap this for Frangelico, an Italian Liquour made out of hazelnuts, if desired)
340g Butter, unsalted at room temperature
Method
To Bake The Cakes
1
Line muffin tray with paper cups.
2
Melt chocolate and butter by placing into a bowl sitting over a saucepan of barely simmering water. Make sure the bowl doesn't touch the water as that might burn the chocolate.
3
Stir chocolate every once and a while then set aside to cool once melted.
4
In a mixing bowl, whisk the egg yolks and the sugar until light and pale.
5
Next, whisk the egg whites in an electric mixer until they form soft peaks. Add the cream of tartar which helps create a stiffer egg white and continue to whisk until stiff.
6
Gently mix the cooler chocolate mixture into the egg yolks and sugar mixture.
7
Sift in the flour and baking powder and gently fold into the chocolate mixture.
8
Carefully fold in the egg whites and divide mixture into baking cups. Fill approx ¾ full. Best use a piping bag or an ice cream scoop to do this.
9
Place in the oven at 165 degrees and bake for approx. 25 minutes or until a skewer comes out clean.
10
Take out and place on a cooling rack.
For the Icing
1
Melt the chocolate.
2
Mix the cocoa powder with milk or Frangelico and make a smooth paste. Best add liquid little by little to avoid lumps.
3
Place butter in the bowl of your electric mixer with a paddle attachment. Whip up until light and fluffy.
4
Mix the cocoa powder mixture and the melted chocolate.
5
Whip again and scrape down sides.
6
Work with the icing at room temperature.
Finishing the cupcakes
1
Place the frosting in a piping bag with a star nozzle and pipe a large rosette on each cupcake.
2
Drizzle with some chocolate sauce and garnish with chocolate curls or other.
3
These are best enjoyed on the same day but can keep in an airtight container.
Love chocolate?
Check these out...
Mary Berry's Very Best Chocolate Fudge Cake
Mary Berry's Easy & Delicious Chocolate Brownies
Lola's Chocolate Cheesecake Cupcakes
Ms Cupcake's Jaffa Cake Cupcakes