Is this an amazing looking cake - or what? The brilliant thing about it is that it's not as sinful as it looks: by ditching processed sugar and butter for healthy alternatives Agave Nector and Virgin Coconut Oil, it lowers the Glycemic Index (GI) of the end result, making it a brilliant option for people on GI diets.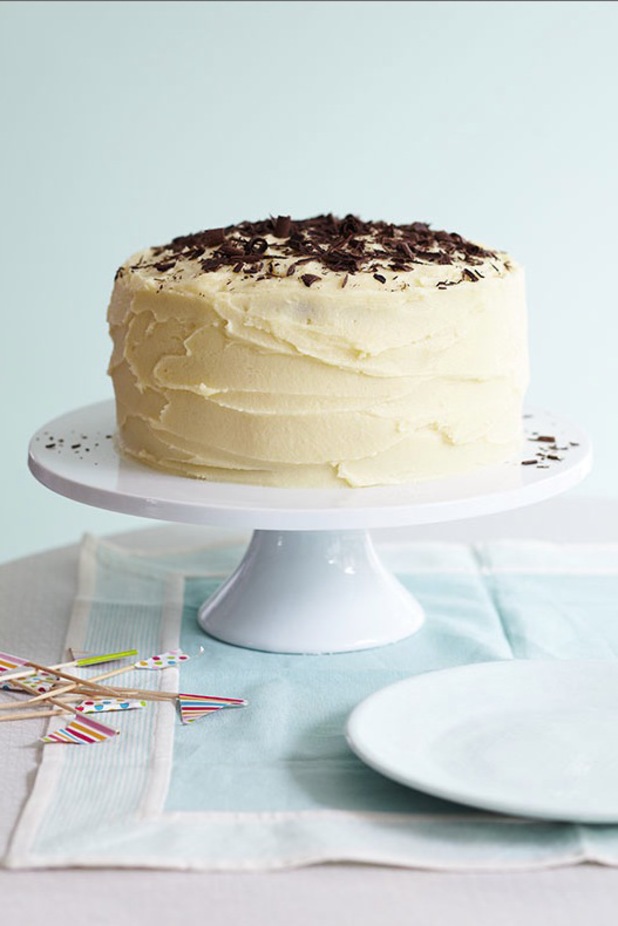 This is very rich, moist and highly fragrant cake which is great for special occasions or a celebration as this recipe serves 16-20 people (depending on the size of your slices!)
This recipe was devised by very talented Lucy Parissi from South London and it comes to us via our friends at the
Groovy Food Company
who have got together with the UK's largest underground baking club, the
Clandestine Cake Club
. Enjoy.
INGREDIENTS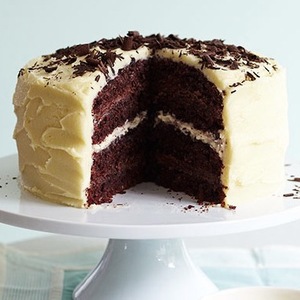 For the cake
215g plain flour
75g cocoa powder
300g caster sugar
50g ground almonds
50g sweetened desiccated coconut
1/2 tsp salt
1 tsp baking powder
1 tsp bicarbonate of soda
2 tsp vanilla paste
3 medium free-range eggs, separated
225ml buttermilk
225ml strong coffee, cooled (or Camp coffee syrup)
100ml The Groovy Food Company Virgin Coconut oil, melted
Simple syrup
50g granulated sugar
5 tbsp coconut liqueur
For the Icing
500g ricotta cheese, strained (or full fat cream cheese)
250g unsalted butter, room temperature, cubed
1kg icing sugar (more if needed)
100g coconut milk powder (more if needed)
2 tbsp vanilla paste
100g 70% dark chocolate
METHOD1
Preheat the oven to 180C/350F/Gas Mark 4. Prepare 4x20cm cake tins by greasing and lining each cake tin.
2
Whisk the egg whites into a stiff meringue and set aside.
3
Put all the dry ingredients in the mixing bowl and mix until well combined. In a measuring jug combine the buttermilk, egg yolks, vanilla paste, coconut oil and coffee. Mix lightly with a fork. Add the wet ingredients to the mixing bowl slowly and mix on medium speed. Increase the speed to high and mix until well combined.
4
Add a couple of spoonfuls of the meringue mixture and mix to loosen the batter. Carefully fold the rest of the meringue mixture with a rubber spatula, without knocking out the air but make sure no white streaks are visible.
5
Divide the batter equally between the four tins and bake for 20-25 minutes (in two rounds if necessary), until cakes are coming away from sides of the tin and a skewer inserted in the centre comes out clean. Cool completely.
6
To make the syrup, combine the liquor and sugar in a pan. Bring to the boil, then reduce heat and simmer gently for a few minutes until reduced. Brush the syrup over the cakes.
7
To make the icing mix the ricotta, vanilla paste, salt and softened until well combined and fluffy. Cover the bowl and slowly add the icing sugar and coconut milk powder, mixing all the time ensuring it comes to a thick consistency.
8
Melt the chocolate in a bowl over boiling water. Leave to cool. Divide the frosting into three equal large bowls and add the melted chocolate in one of the bowls. Mix thoroughly with a spoon.
9
Take your first layer of sponge and spread with generous amount of the chocolate frosting. Top with 2nd cake layer and add some plain frosting then repeat with 3rd cake layer and more chocolate frosting. Finally, put last cake layer on top and cover entire cake with a thin layer of plain frosting. Put the cake in the fridge for an hour to set.
10
Spread the remaining plain frosting over entire cake with a palette knife. Top with chocolate curls, flaked coconut or some pretty bunting.
Other fantastic cakes to bake:
Mary Berry's Very Best Chocolate Fudge Cake
Coffee & Walnut Cake
EASY Ginger Fruit Cake