Just looking at the picture of this delicious quiche is making us hungry. Even better, it costs just £6 to make – that's £1.50 per serving- and it is really easy to whip up.

Perfect for a summer picnic.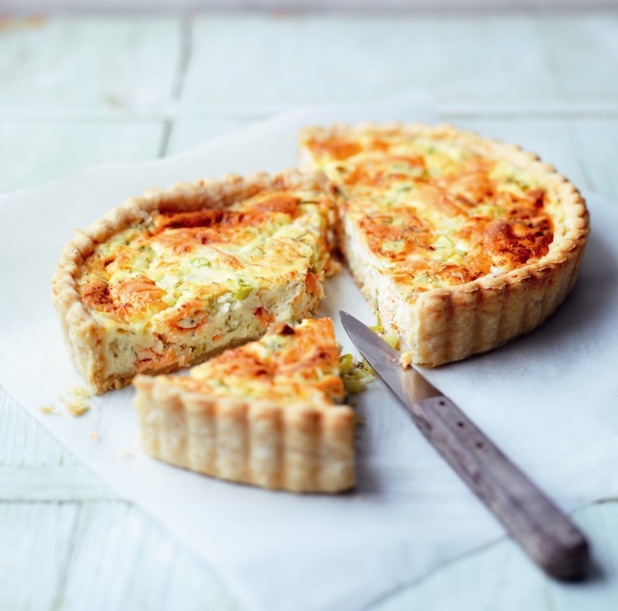 The yummy cheese and salmon filling is a great summer combo and will work perfectly with a fresh, colourful salad. Enjoy!
Ingredients
225g (8oz) plain flour
Pinch salt
100g (4oz) white vegetable fat
25g (1oz) Cheshire cheese, finely grated
100g (4oz) smoked salmon, snipped into pieces
3 spring onions, finely chopped
1 tbsp chopped fresh dill
50g (2oz) Cheshire cheese, finely grated
3 eggs, beaten
150g (6oz) low fat crème fraiche
Freshly ground black pepper
Method
1.Sift the flour and salt into a large bowl. Add the vegetable fat and rub in with your fingertips until the mixture looks like fine crumbs. Add the grated cheese. Stir in just enough chilled water to make a soft, but not sticky dough. Knead for a few moments, then wrap and chill for 10-20 minutes.
2. Preheat the oven to 200°C / fan oven 180°C / Gas Mark 6. Roll out the pastry on a lightly floured surface to line a 20cm (8in) quiche tin. Line with foil or baking paper and baking beans and bake 'blind' (without a filling) for 15 minutes.
3 .Take the flan from the oven and remove the foil or paper and baking beans. Reduce the oven temperature to 180°C / fan oven 160°C / Gas Mark 4.
4 Put the salmon, spring onions, dill and Cheshire cheese into a mixing bowl. Add the eggs and crème fraiche. Season and stir well. Pour into the flan case, then bake for 30-35 minutes, until set. Serve warm or cold, with salad.
Prep Time
30 minutes, plus chilling
Cook Time
45 minutes
Nutrition Information
Serves: 4 (makes 1 x 20cm round tart)
Calories per serving: 682
Cook's tip:
Use Cheddar instead of Cheshire, if you prefer.
Further recipes can be found on at the British Cheese Board site.
Check out more summer recipes here