Hamburgers are so last year! Pulled Pork Sliders - a variation on the humble burger, with the meat cooked slowly in delicious barbeque sauce - is the latest food craze to hit the UK, with eateries specialising in the dish popping up all over the UK.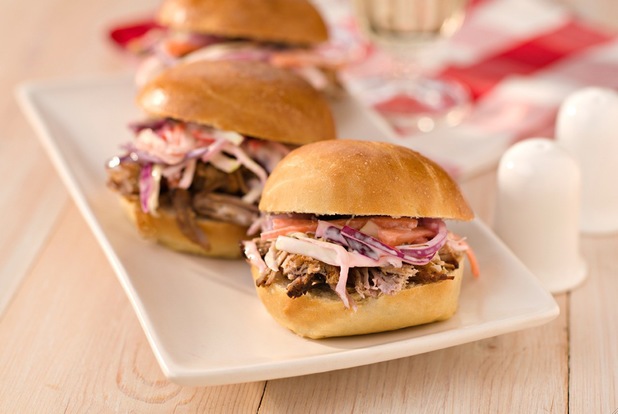 Thanks to our friends at Rachel's, the yogurt specialist, here's a great recipe to make your own pulled pork and creamy homemade coleslaw. Yes it does take a bit of preparation, but it's worth it. This is a great recipe for summer parties - family and friends will love it. Our recipe even includes an easy method for making your own bread rolls.
Ingredients
For the bread rolls:
500g white bread mix
160g Rachel's low fat natural yogurt, warmed
160ml water, warm
NB: If there isn't time to make the bread rolls, you can buy ready made soft white bread rolls
For the pork:
1kg pork shoulder
2 1⁄2 tbsp paprika 2 tsp salt
2 cloves garlic, crushed
1 tbsp cayenne pepper
1 tbsp dried oregano
1⁄2 tbsp dried thyme
3 x 500ml bottles Cola
For the coleslaw:
Half white cabbage, finely chopped
2 carrots, peeled and grated
2 red onions, finely sliced
A pinch of chilli flakes
180g Rachel's low fat natural yogurt
Juice of 1⁄2 lemon
Salt & pepper to season
Method
For the bread rolls:
1. Place bread mix in a bowl or food mixer, add the yogurt and water, and mix together for five minutes to form a ball of dough
2. Place the dough on a floured surface and leave for five minutes. Knead and stretch for two minutes. Mould into a ball and rest for five minutes.
3. Shape the dough and place on a greased baking tray. Divide the dough into ten pieces.
4. Cover with a damp cloth or cling film and leave to rise in a warm place for 30-40 minutes or until the dough has doubled in size.
5. Uncover and bake in the oven, pre-heated to 230C/ 450F/ Gas Mark 8, for 30 minutes until golden brown.
For the pork:
1. Mix together all the spices and garlic and rub all over the pork shoulder. Cover with aluminium foil or parchment paper and place in the fridge for 12-24 hours.
2. Take out the joint and place in a roasting tray and pour two bottles of cola over the meat. Cover the tray and joint with aluminium foil completely. Cook in a pre-heated oven 170C/340F/Gas Mark 3 for three hours. Check every hour that the joint is not cooking dry and add more cola as necessary.
3. After three hours, remove the parchment paper/ foil and cook for at least another hour. Then remove from the oven and leave to rest before 'pulling' the pork with a fork. Shred the meat into small pieces with another fork.
For the coleslaw:
1. Mix together all the coleslaw ingredients until well combined.
To serve: Pile the pulled pork shoulder on to the bread rolls and top with a spoonful of coleslaw.
Prep Time
90 mins (plus 12-24 hours marinating time for the pork)
Cook Time
4 1/2 hours
Nutrition Information
Makes: 10 rolls
Serves: 4-5 people
Like this? Try these summer dishes:
Alex James' sticky Vietnamese pork and green mango papaya salad
Tandoori style salmon recipe from London's Cinnamon Kitchen
Halloumi and cougette burgers: a health summer veggie recipe
James Martin's herby chicken and potato kebabs: easy for your BBQ