Great for entertaining, these yummy mini mango trifle pots are simple to make and are guaranteed to impress your guests.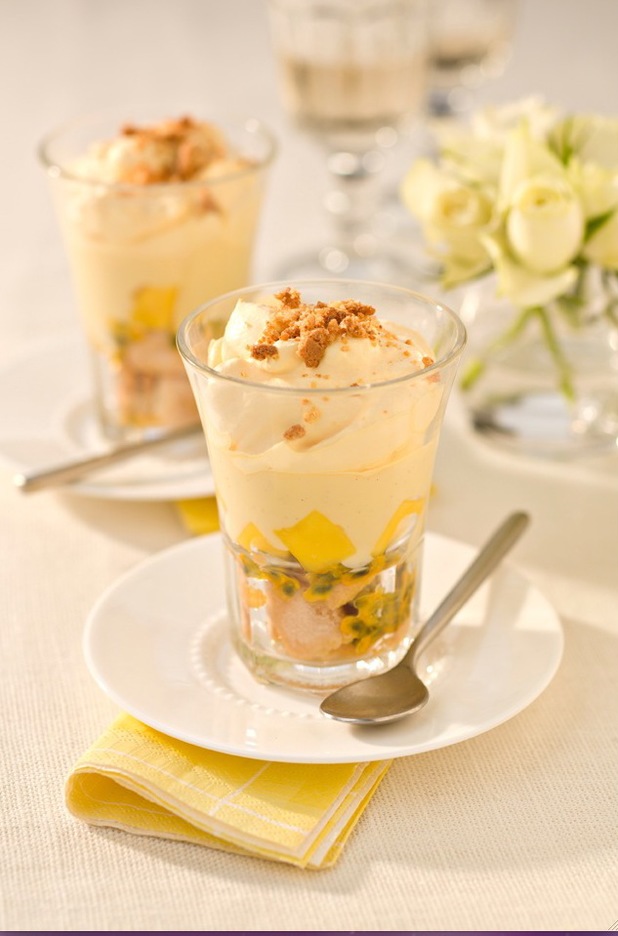 Courtesy of our friends from
Rachel's
, this fresh and fruity dish is the perfect dessert for whipping up for friends and family. Just follow these easy peasy steps for fab results…
Ingredients
175g trifle sponge fingers, broken into two pieces
150ml Cointreau (optional) or 150ml orange juice
Juice of 1 lime
1 ripe mango, peeled and chopped into chunks
2 passion fruits, pulp
500g pot of ready-made custard
200g Rachel's low fat mango yogurt
300ml double cream
50g Amaretti biscuits, crushed to serve
Method
1. Place the sponge fingers equally amongst four glasses over the Cointreau or the orange juice and add the lime juice.
2. Scatter over the mango chunks and passion fruit
3. Pour over the custard.
4. Whip together the yogurt with the cream until soft peaks form and spoon over the custard.
5. Sprinkle with crushed amaretti biscuits and serve immediately
Prep Time
15 mins
Nutrition Information
Serves: 4
Like this? Try these other easy desserts:
Mini Rainbow Jellies
Five-minute Chocolate Dessert
Mary Berry's Easy & Delicious Chocolate Brownies
White Chocolate & Ginger Curd Cheesecake
Check out more desserts in our gallery below