Fancy trying something a bit different tonight? This Sticky Vietnamese Pork Salad is easy to make and is fantastic for a summer supper in the garden.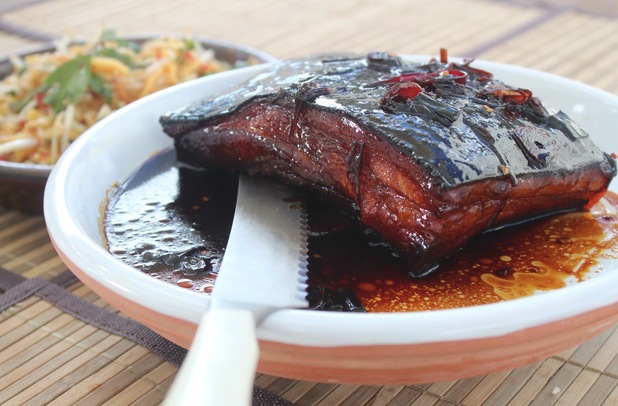 The recipe comes from the food show
Recipes That Rock
that is currently being shown on Food Network UK. The programme follows Blur star Alex James and Aussie chef Matt Stone as they travel around Australia discovering some truly unique recipes.
This delicious salad is one of the recipes featured on the show; we can't wait to try it out!
Ingredients
For the pork:
1kg boneless pork belly
2 cups white sugar
1 cup fish sauce
4 star anise
4 shallots
2 red chillies
4 spring onions
1 4cm piece ginger
For the nahm jhim:
6 large red chillies
4 coriander roots
2 cloves garlic
6 limes, juiced
fish sauce
palm sugar
For the salad:
1 small green papaya, peeled and sliced
1 medium mango
Chilli to taste
2 cups bean shoots
4 shallots, peeled and sliced
1/2 cup cashew nuts, roasted and chopped
1 cup Asian herbs
1 Lebanese cucumber, de-seeded and sliced
Method
1. Peel and finely slice the shallots, spring onions, ginger and chilli. Pour the sugar into a large, heavy-based pan and place on a high heat.
2. Melt and caramelise the sugar. Once the sugar is starting to smoke slightly, carefully add the vegetables from the previous step, along with the star anise.
3. Stirring continuously, cook for 2 minutes. Add the fish sauce and 500ml of water. Bring to the boil and add the pork.
4. Simmer for 10 minutes, turn, and simmer for a further 10 minutes. Turn once more and place in a pre-heated oven at 160 degrees C and cook for 1.5 -2 hours, turning every half an hour. The liquid will reduce down to a sticky glaze.
5. Prepare the nahm jhim. Scrape and soak coriander roots. De-seed and finely chop chillies. Peel garlic cloves. Place these three ingredients into a mortar pestle and pound to a fine paste.
6. Add the lime juice. Add fish sauce and shaved pine sugar to desired taste, trying to balance sweet, sour and salty.
7. Serve the pork as a whole piece in a large dish with plenty of glaze. Mix all salad ingredients with nahm jhim and serve along side.
Prep Time
30 mins
Cook Time
1.5 - 2 hours (depending on how well done you like pork)
Nutrition Information
Serves: 4-6
Recipes that Rock is on every weekday until Tuesday 9th July, 12:30 & 18:30, Food Network UK (freeview 48, Sky 262, freesat 403)
Like this? Try these....
Easy Thai Prawn Curry
Hairy Bikers' Home Made Chicken Tikka Masala
Low Calorie Chinese Potato Cakes