Super fresh and easy to prepare, salads are ideal for hot summer days. Spice them up with exotic dressings - in this case, cashew butter (available from all good supermarkets) blended with lime juice adds amazing zing. And when you're not using it in dressings, it's great on toast and in other dishes.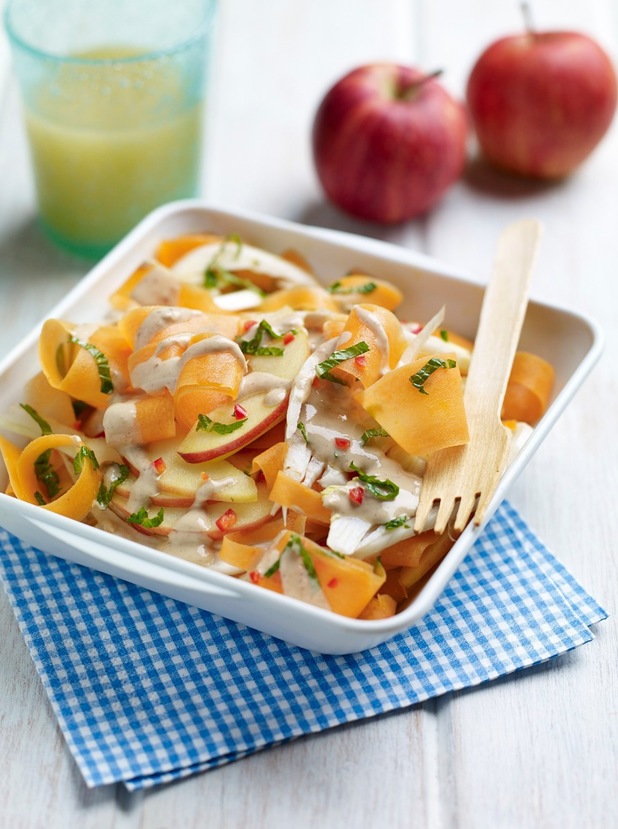 Ingredients
2 limes
2tbsp sesame oil
1 red chilli, deseeded and very finely chopped
4 carrots, sliced into ribbons with a veg peeler
2 apples, cored and cut into thin slices
1 fennel, topped and tailed and cut into thin slices
2tbsp Meridian Smooth Cashew Butter
1tsp brown sugar or palm sugar
2 stalks of mint, leaves chopped
Method
1. Combine the juice of 1 lime with the sesame oil, chilli and a pinch of salt.
2. Slice all the veg and put into a large bowl with the mint. Drizzle over the lime and oil and toss well.
3. Beat the cashew butter with the remaining lime juice the sugar and 2tbsp water.
4. Pile the vegetables onto a plate and drizzle the cashew dressing over.
Prep Time
15 mins
Nutrition Information
Serves 4
Find out more about cashew and other nut butters
here
Try out these tasty salad dishes:
Posh Prawn Cocktail
Superfood salad with Cheese
Watermelon, Feta, Cucumber & Edamame Salad
Moroccan Potato Salad
Salad Nicoise with Tuna & Chilli Lemon Potatoes