Delicious, quick and easy to make – that's why we love a good stir-fry! And this tasty Thai-style prawn and peanut combo is the perfect mid-week supper.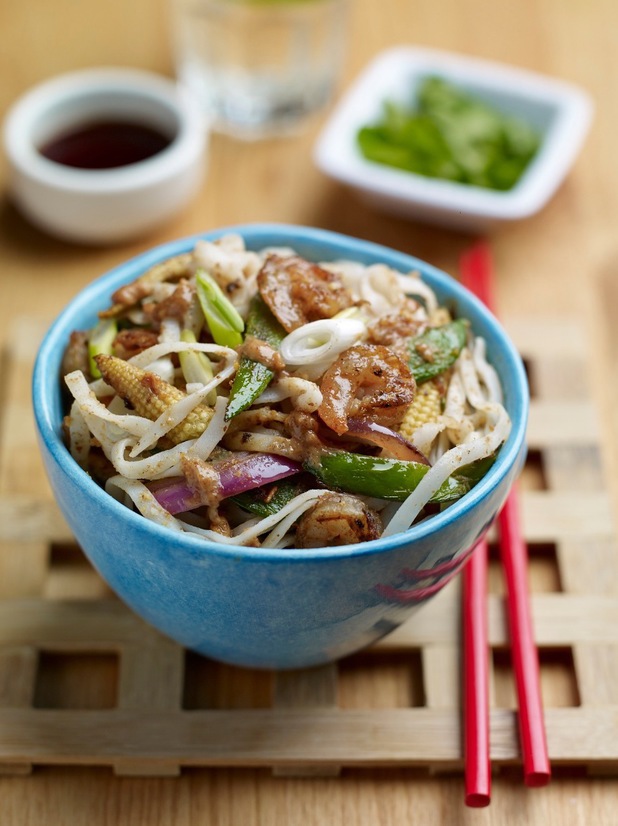 The secret to this yummy dish is
Meridian's Crunchy Peanut Butter
which combines with the lime juice, fish sauce, chilli and soy to create the most amazing flavours. Try it and see.
Ingredients
4tbsp Meridian Crunchy Peanut Butter
2tbsp sweet chilli sauce
1tbsp dark soy sauce
Juice of 1 lime
2tsp fish sauce
1tbsp sesame oil
1 red onion sliced into thin wedges
2 cloves garlic
2cm ginger
150g baby sweetcorn, sliced in half lengthways
150g mange tout, sliced in half lengthways
300g frozen prawns
2 x 300g packs straight to wok thai noodles
4 spring onions, sliced widthways
Method
1 In a bowl whisk together the Meridian peanut butter, chilli sauce, lime juice, fish sauce and soy with 2 tbsps of boiling water.
2 Put the sesame oil into a wok or large frying pan and heat till very hot, toss in the onion and stir fry for 2 mins. Finely grate the garlic and ginger directly into the pan and continue to stir fry until the onion starts to soften.
3 Add the sweetcorn and mange tout, then the frozen prawns. Continue to stir fry for 3-4 mins on a high heat until everything is hot. The vegetables should be tender but not soggy.
4. Finally add the noodles and the dressing and toss well. Once the noodles have warmed and everything is coated in peanut dressing, divide between 4 bowls, top with the spring onions and serve.
Prep Time
10 minutes
Cook Time
20 minutes
Nutrition Information
Serves 4
Like this? Try these recipes, too....
Easy Thai Prawn Curry
Liz McClarnon's Pizza Omette recipe
How to make Indian Cheese on Toast
Spanish-style Eggs