Ms Cupcake is one of London's funkiest bakers. We love her new retro-style vegan cookbook and here's one of our fave recipes from it.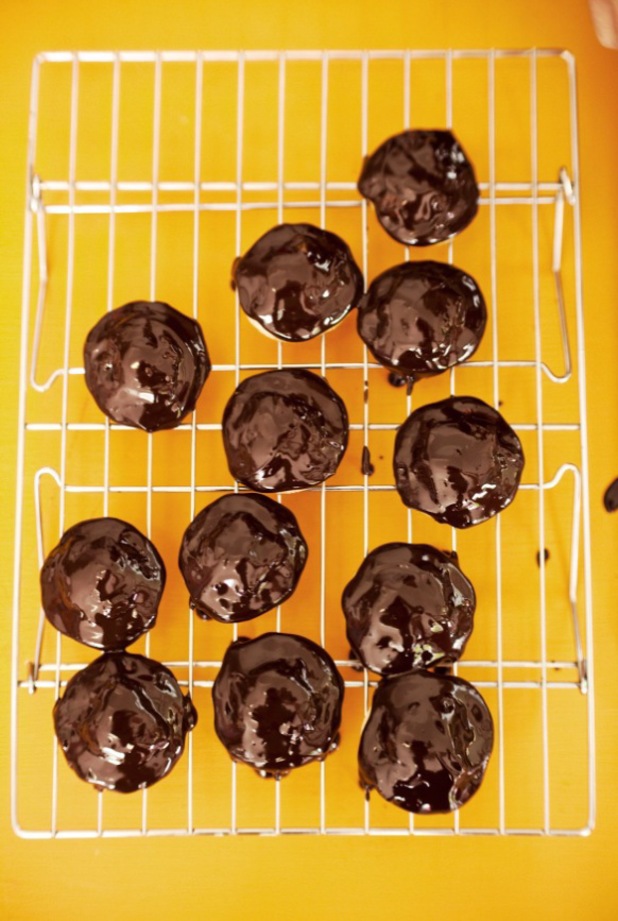 Don't these look yummy?
"Our customers begged us to 'veganise' jaffa cakes right from the start, so clearly there is some serious love for the chocolate-orange biscuit-cake," Ms Cupcake, who sells her goodies from her bakery in London's Coldharbour Lane, tells us.
"Now, I like my recipes simple and I'm not one for sticking to convention, so please don't burn me at the stake when you see I'm substituting marmalade for orange jelly.
"If you want to be a purist, make a batch of vegan orange jelly and cut into discs to place on the top of each cake before coating with chocolate.
"Just remember, we'll already be eating our non-traditional jaffa cakes while you're still waiting for your jelly to set!"
Ingredients
100g self-raising flour
60g caster sugar
100ml soya or rice milk
50ml light rapeseed or other flavourless oil
1 tsp vanilla extract or essence
150g dairy-free chocolate chips, or a bar broken into pieces
50g dairy-free margarine
grated zest of ½ orange
12–15 tsp fine-cut marmalade
Method
1
Grease a bun tray. Preheat the oven to 180°C/350°F/gas 4.
2
In a medium bowl, mix together the flour and caster sugar. Add the milk, oil and vanilla, stirring until just combined.
3
Drop a small spoonful of the batter into each of the holes in the prepared tray and bake for about 8 mins.
4
Remove from the oven and cool in the tray for two mins before turning the bases out on to a wire rack to cool completely
5
Melt the chocolate and margarine in a pan on a low heat, stirring constantly until combined. Remove from the heat and add the orange zest.
6
Once the cakes have cooled, and before removing them from the wire rack, spoon a dollop of orange marmalade on top of each one. Spoon the chocolate evenly over the cakes so that the tops are completely covered. The excess chocolate can drip through the wire rack leaving the bottoms free of chocolate.
7
Refrigerate on the rack for about 20 mins until set. Keep these bad boys refrigerated until you are ready to serve them.
Nutrition Information
Makes 12-15 Jaffa Cakes
Cook's tip:
Gluten free? Use gluten-free self-raising flour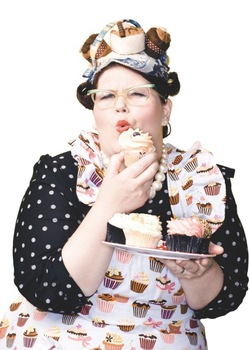 If you haven't already heard of Ms Cupcake, let us introduce you. An up and coming star, she launched London's first vegan cake shop two years ago, after realising that it wasn't just vegans who weren't being catered for but those allergic to other foods such as eggs and milk.
Two years on, she's been shortlisted for Britain's Best Bakery on ITV and has just published her first cookbook: Ms Cupcake - The Naughtiest Vegan Cakes in Town (Square Peg, £16.99)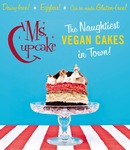 The book's packed full of treats such as cupcakes, muffins, cookies and these gorgeous-looking jaffa cakes.
She says: "Our mission is to make cakes you'd never know were vegan. I want our cakes to be considered just as good, or even better than cakes made with traditional ingredients."
Find out more about Ms Cupcake
here
Love cupcakes? Try these recipes....
Make your own Ice Cream cupcakes
Chocolate Cheesecake cupcakes.
Heart-shaped cupcakes we love!