Finding healthy desserts for children's - or even adults' - parties can be tough. These colourful jelly treats tick all the right boxes and they'll look great on your table, as this picture shows.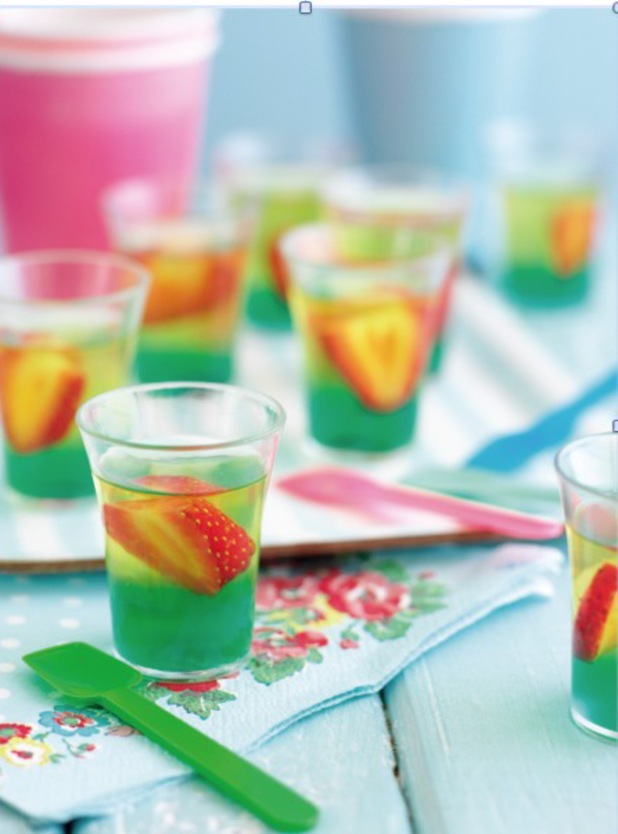 They're just three bites big, so perfect for a children's birthday party. You can make them in plastic shot glasses that can be easily picked up in the supermarket. And you won't even have to wash them up afterwards, you can simply throw them out - perfect!
Ingredients
One 35g pineapple jelly tablet
A little blue food colouring
½ x 35g lime jelly tablet
Four strawberries, sliced
Method
1
Make up the pineapple jelly with water as the pack directs. Pour half into a jug and add a drop of blue food colouring to darken the jelly slightly.
2
Allow the jelly to cool slightly. Pour the darker-coloured jelly into the base of 12 plastic shot glasses then chill in the freezer for 15 minutes or until just set.
3
Make up the lime jelly as the pack directs using half the amount of water. Leave to cool.
4
Pour the lime jelly over the set coloured pineapple layer, then put back in the freezer for 15 minutes or until set.
5
Press a slice of strawberry into each jelly then pour over the remaining uncoloured pineapple jelly to fill each glass. Chill in the fridge for about 3 hours or until set.
Prep Time
20 minutes
Cook Time
Chill time: 3 and a half hours
Nutrition Information
Makes 12
If you like this, why not try ...
Berry & Prosecco Jellies from London"s Dessert Deli

Easy-to-make Philly Individual Chocolate Fudge Cheesecakes
Mary Berry's Best Chocolate Fudge Cake recipe
Make this Chocolate Malteser Nutella Cake - naughty but oh so NICE!