Talk about a winter warmer! This recipe comes courtesy of British Sausage Week and is a guaranteed winner. These tasty pasties are delicious hot or cold.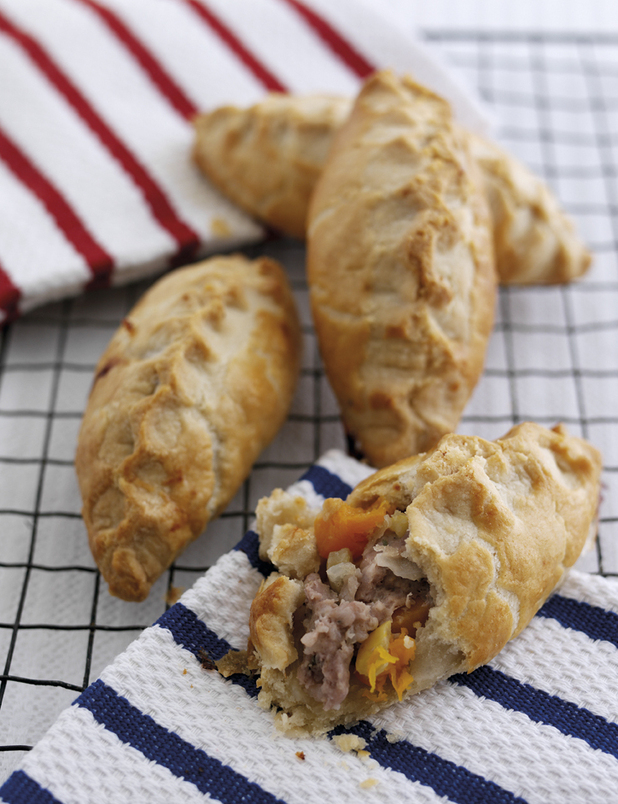 Makes 10 pasties
Cooking time: 40-45 minutes
INGREDIENTS
300g(10oz) chunky traditional pork sausages
1 small onion, finely chopped
1 small carrot, peeled and cut into small dice
100g (4oz) Butternut squash, peeled and cut into small dice
1 small eating apple, cored and cut into small dice
Salt and pepper
2 x 500g packets of pre-made shortcrust pastry
1 egg for glazing
METHOD
1
Preheat oven to Gas Mark 4, 180ºC, 350ºF.
2
Make a slit into each sausage and remove the sausagemeat. Place into a large bowl with the onion, carrot, butternut squash, apple and seasoning. Combine together.
3
Roll out the pastry and use a bowl to cut into rounds (about 15cm (6") in diameter). Cut the pastry into 10 rounds (each 500g of pastry should make 5 rounds).
4
Brush the edges of the pastry with water. Place a spoonful of the mixture into the centre and lift the pastry each side to contain the mixture. Press together the edges of the pastry to seal and then pinch the pastry to make a crimp pattern. Repeat, making about 10 pasties.
5
Place on a non-stick tray and brush the edges (not the crimp as this will burn too quickly!) with beaten egg.
6
Cook in a preheated oven for about 40-45 minutes until dark golden. Remove from oven and allow to cool slightly before serving.
Love sausages? Get more recipes and find out about the British Sausage Appreciation Society
HERE
More foodie winter favourites
Sausage Roly Poly recipe
Cheesy Cottage Pie recipe
Chilli Con Carne recipe