We LOVE this easy recipe have given us to make Halloween Night that extra little bit ghoulish!
Check out the green pasta and the 'eyeballs'. Genius! Kids will love it...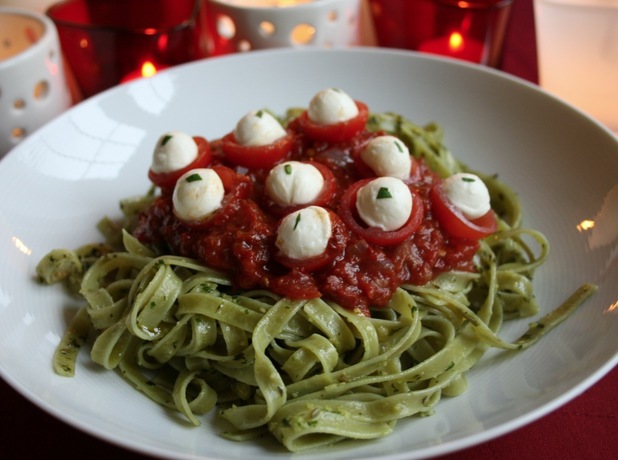 Serves 2
Ingredients
1 tbsp olive oil
1 tbsp Very Lazy Chopped Garlic
2 tbsp Very Lazy Chopped Chilli
400g tin chopped tomatoes
10 cherry tomatoes
100g (about 20) mini mozzarella balls, drained
4 basil leaves
200g fresh green tagliatelle
½ jar pesto
Method
1
Start by making the tomato sauce. Fry the garlic and chili for 30 seconds in the olive oil. Add the tinned tomatoes and simmer for 5-10 minutes, until thickened.
2
Meanwhile, halve the cherry tomatoes and use a small, sharp knife to remove the seeds. Stuff each half with a mozzarella ball. Cut the smallest circles you can from the basil leaves and place one at the centre of each mozzarella ball.
3
Boil the pasta according to packet instructions. Once done, drain then stir through the pesto and divide between 2 shallow bowls. Spoon over some tomato sauce, then arrange the stuffed tomato eyeballs on top.
This recipe is from
VeryLazy.com
.
Will you be cooking this for Halloween? Tell us below!
Read more:
Fearne Cotton gets ready for Halloween with spooky cardigan
Read more:
Blue Peter's Zoe Salmon cooks up Halloween treats for ghosts!