We really enjoy a good old Ruby here at Reveal Towers. And we love the fact that you can now get really authentic tasting spice kits, with ready blended herbs and spices which takes a lot of the fiddliness out of curry making. One of our faves is this easy-to-make coriander chicken dish from our friends at Spicentice. And yes, it tastes as good as it looks...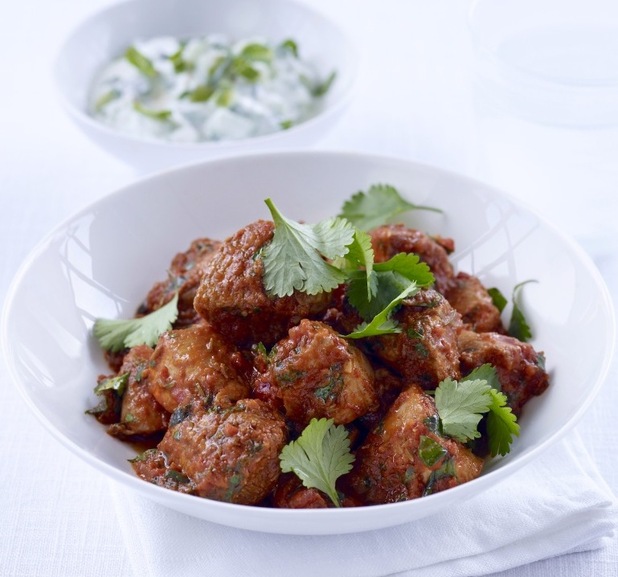 Ingredients
4 breast fillets of chicken
1 Spicentice Coriander Chicken spice kit
2 medium onions
3 garlic cloves

1 inch piece of ginger

200ml of tinned tomatoes
1 bunch of fresh coriander
2 tsp lemon juice

5 tbsp cooking oil

1 tsp salt

½ tsp sugar


Preparation

1
Peel and finely chop the onions, garlic, ginger and coriander.

2
Remove the skin from the chicken and cut into bite-size pieces.

3
Mix the chicken with the contents of the marinade Sachet, 1 tsp lemon juice, ½ tsp salt and half the chopped ginger and garlic.
4
Leave to marinate for 30 mins or more.

5
Blend the tomatoes.


Making the curry

1
Heat the oil in a large saucepan over a medium heat. Add the contents of Sachet 1 and fry the seeds for a few seconds before adding the onions.

2
As the onion browns, add the remaining garlic and ginger and continue to fry, stirring occasionally.

3
Now add the tomatoes, contents of Sachet 2, 1 tsp lemon juice and ½ tsp each of salt and sugar and simmer for 2 mins.

4
Stir in the marinated chicken and cook with a lid on for 10 mins.

5
Add 150ml water and gently simmer for 15 mins until the chicken is tender. Stir in half the chopped coriander.

6
Once cooked, check the seasoning and serve garnished with the rest of the coriander.


Cook's tip:
Serve with pilau rice, naan bread, a traditional yogurt and mint raita. Try it with a chilled beer or a glass of Nimbu Pani (lemonade, but it sounds much more fun in Indian!)
Spicentice is the official sponsor of this year's BIG CURRY, an event organised by The Soldiers Charity (formerly known as The Army Benevolent Fund) where people across the country are encouraged to host a curry night for friends and donate money raised to the charity whilst doing so. Find out how you can help and raise money for a great cause
HERE
The company is offering 20% off all of their products from now until the end of October as part of the Big Curry campaign. Click
HERE
for more details.
More recipes below:
Recipe: Super Quick Channa Dhal
Recipe: Hairy Bikers' lower fat Thai chicken curry
Food News: The curry that helps you sleep