Shelina Permalloo's fabulous culinary skills and her gift for combining flavours won her the coveted title of MasterChef 2012.
Now she's teamed up with sugar company Billington's to bring you some super recipes, inspired by the country of her ancestors, Mauritius. Check out this tropical twist on Tiramisu...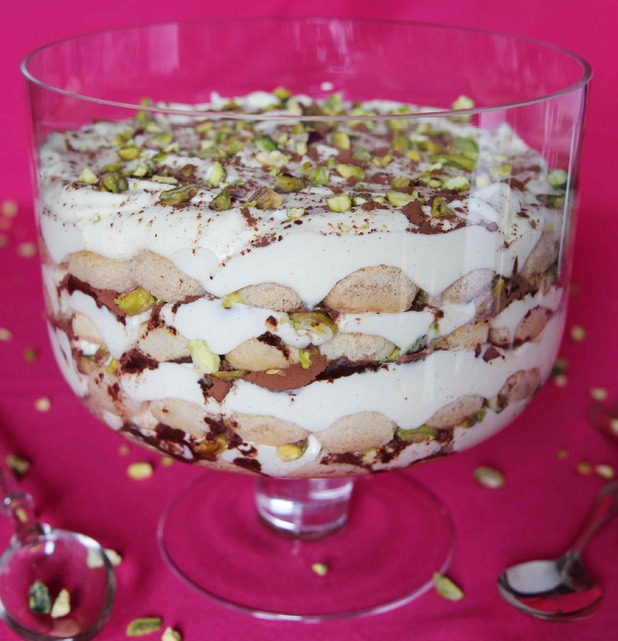 Serves 6-8
Ingredients
5 medium free range egg yolks*
120g Billington's Golden Caster Sugar
750g Italian mascarpone
Chai masala tea (can be found in any Asian supermarket)
200ml hot water
75ml Mauritian spiced rum
1 pod of vanilla de seeded (you can add the pod to your Billington's Golden Caster Sugar
to create a vanilla sugar)
200g Italian Savoiardi sponge fingers
100g good quality dark cocoa powder
100g pistachios, crushed
*Substitute – Use double whipping cream instead of egg yolks if you are making this for a pregnant lady or if you prefer cream
Method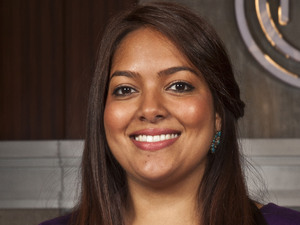 1)
Brew 3 chai tea bags with 200ml of hot water and allow to steep for around 5 minutes, then remove the tea bag and add the rum. Place this in a bowl and set to one side.
2)
Using a hand-held mixer, whisk the egg yolks, sugar and vanilla seeds together for about 10 minutes until the mixture has at least tripled in size and should be a very pale yellow and really aerated, then slowly fold in the mascarpone cheese.
3)
To assemble the tiramisu – dip each sponge finger in the chai and rum mixture and place in the bottom of a glass trifle dish, continue this until you have covered the base.
4)
Next spread a layer of the whipped vanilla egg mixture and then dust with cocoa powder and crushed pistachios.
5)
Continue layering the sponge fingers and whipped egg mixture until you have created around 2-3 layers.
6)
Place in the fridge and allow to set for a few hours before serving.
7)
Finally dust with cocoa powder and sprinkle over some crushed pistachios.
For more recipes from Shelina visit her website
here
Recipe: Easy to bake lemon daisy cake
Recipe: Hairy Bikers' Thai chicken and coconut curry
Recipe: Home made fish and chips