Here is a great recipe from the Hairy Bikers' new bestselling book, The Hairy Dieters - it's yummy and low fat!
Dave and Si have lost nearly six stone between them and they've devised lower-calorie versions of usually calorific favourites like this, keeping all the flavour in tact. Try it - you'll like it.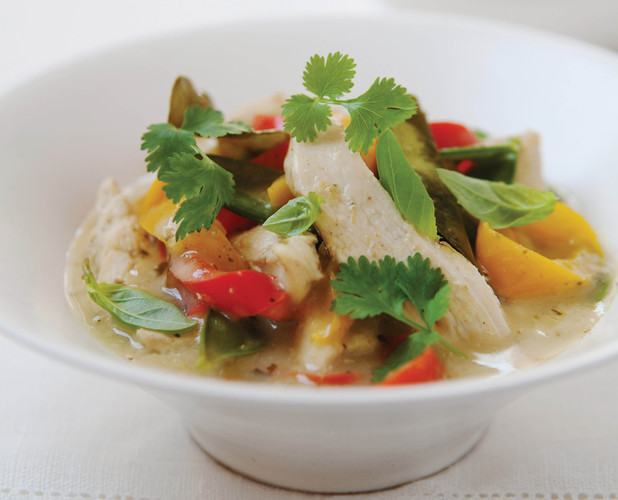 The HBs say: "We like our curry spicy and hot, so cut the curry paste to level tablespoons if you prefer your food a little milder.
"Don't be tempted to leave out the nam pla. It might sound funny but it adds that authentic Thai flavour to the curry and you can find it in most large supermarkets and delis now."
Serves 4 - 286 calories per portion (without rice)
Ingredients
1 tbsp sunflower oil
3 boneless, skinless chicken breasts,
cut into thin slices
1 large red pepper, deseeded and cut
into thin strips
1 large yellow pepper, deseeded and
cut into thin strips
400ml can of half-fat
coconut milk
250ml cold water, plus 2 tbsp
2 heaped tbsp Thai green or
red curry paste
6 dried or fresh kaffir lime leaves
4 tsp nam pla (Thai fish sauce)
1 tsp caster sugar
150g mangetout peas, trimmed
2 tbsp cornflour
small handful of fresh coriander,
roughly torn (optional)
small handful of fresh basil leaves,
roughly torn (optional)
Method
1)
Heat the oil in a large non-stick saucepan, frying pan or wok. Stirfry the chicken and peppers for 1 minute.
2)
Pour over the coconut milk and add the 250ml of water, curry paste, lime leaves, fish sauce and caster sugar. Bring to a gentle simmer and cook for 5 minutes, stirring regularly.
3)
Add the mangetout and return to a simmer. Mix the cornflour with the remaining 2 tablespoons of cold water and stir into the pan. Cook for another 2–3 minutes until the vegetables are tender and the spiced coconut milk has thickened, stirring frequently.
4)
Serve the curry in deep bowls, scattered with fresh coriander or basil if using. By the way – don't eat the lime leaves.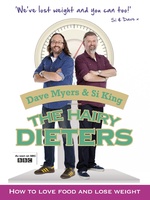 TOP TIP: Serve this curry with jasmine rice or basmati rice. Aim to cook no more than 50g per person, so 200g in all. Press the freshly boiled rice into a 200ml metal pudding basin or dariole mould that you've oiled lightly and lined with cling film, then turn out into the bowls before adding the hot curry. You only need 1 basin or mould as you can reuse it for all the servings
THE HAIRY DIETERS: How to Love Food and Lose Weight by Dave Myers and Si King is published by Weidenfeld & Nicolson in paperback at £14.99
Read more:
The Hairy Bikers' recipe for home-made Chicken Tikka Masala
Read more:
Step-by-step homemade fish and chips recipe
Read more:
Malteser and Nutella cake recipe - naughty but nice!