Thanks to our coffee expert friends at Douwe Egberts for this fab recipe (which makes 12-16 slices), using their new The Flavour Collective Smooth Caramel coffee, available now from selected Sainsburys' stores.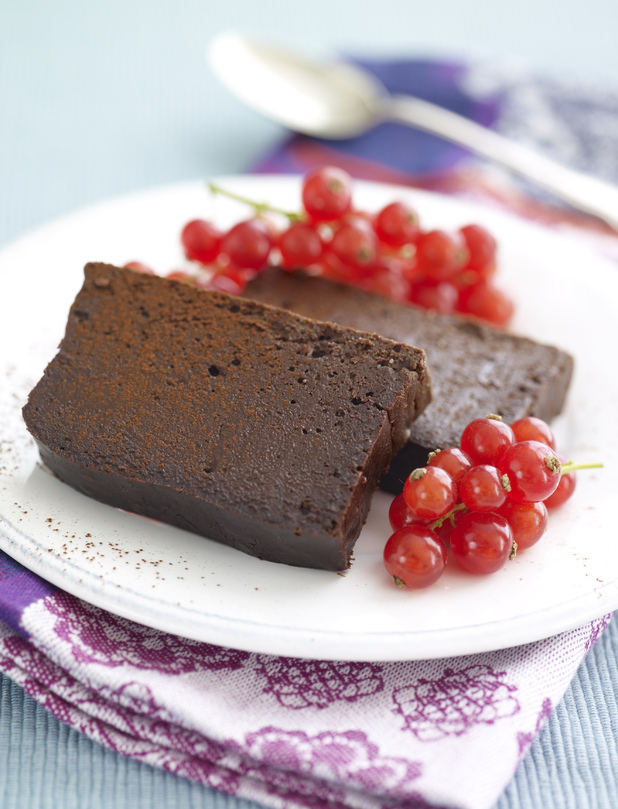 Ingredients
400g plain chocolate, broken into small pieces
120g unsalted butter
140g golden caster or soft brown sugar
100ml single or whipping cream
2 tbsp The Flavour Collective Smooth Caramel coffee dissolved in 2tbsp hot water
5 medium eggs, beaten
2 tbsp plain flour, sifted
To serve: Cherries, raspberries or redcurrants
1.
Preheat the oven to 150˚C/300˚F/Gas 2. Prepare a 7cm x 30cm oblong cake tin lined with non stick parchment paper.
2.
Place the chocolate, butter and sugar in a large pan over a low heat and melt the mixture slowly until it is just smooth.
3.
Taking the pan off the heat, whisk the eggs into the chocolate mixture with the flour.
4.
Pour the mixture into the prepared tin and place in a roasting tin half filled up with water, before baking for 1½ hours.
5.
Leave to cool for 10 mins before placing in the fridge to chill and cool completely.
6.
When cold, serve in slices with seasonal fruits like cherries, raspberry or redcurrants.
Recipe: James Martin's herby chicken and potato kebabsRecipe: Low calorie mini raspberry cupcake kissesRecipe: Iced coffee: Make your own refreshing drink