What's better than tucking into a delish slice of home-made cake? Easy – savouring the flavour and knowing you're doing something to help an extremely good cause
.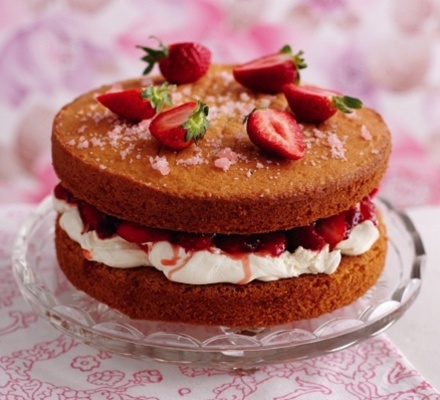 We love Breast Cancer Care's Strawberry Tea summer fundraising campaign which is asking you to bake some strawberry-inspired treats to sell to friends and family in order to raise cash for an extremely good cause.
Here in the UK, someone is diagnosed with breast cancer every 10 minutes. So all donations raised will help to make a real difference to the lives of people affected by breast cancer.
Register now for a free Strawberry Tea fundraising pack full of ideas and tips to make your event the highlight of the summer. Visit www.breastcancercare.org.uk/strawberry or call 0870 164 9422.
Here's a great recipe to get you started. Check out those red juicy strawberries - Gorgeous!
Classic Victoria sandwich cake
Serves 8
Preparation time: 30 minutes
Cooking time: 20 minutes
For the Victoria Sponge
175 g (6 oz) butter, at room temperature
175 g (6 oz) caster sugar
Grated rind of 1 lemon
175 g (6 oz) self-raising flour
1 teaspoon baking powder
3 medium eggs, beaten
Filling
150 g (5 oz) strawberries, hulled, sliced
3 tablespoons strawberry jam
150 ml (1/4 pint) double cream
4 strawberries to decorate, halved, hulls left on
Little strawberry sugar, see tip or caster sugar
1. Preheat the oven to 180oC/350oF/Gas Mark 4. Lightly brush the base and sides of 2, 20 cm (8 inch) Victoria sandwich tins with a little oil then line the bases with 2 circles of non-stick baking paper the same as the base of the tins.
2. Cream the butter and sugar together in a large mixing bowl with a wooden spoon or in an electric mixer until light and fluffy then stir in the lemon rinds.
3. Sift the flour and baking powder on to a plate. Gradually beat alternate spoonfuls of beaten egg and flour into the creamed butter mixture until smooth, continue until all the eggs and flour have been added.
4. Divide the mixture between the tins, spread level with a round bladed knife then cook on the middle shelf in the oven for about 20 minutes until well risen, golden brown and the cake springs back when lightly pressed with a fingertip. Allow to cool for a few minutes then loosen the edges of the cakes with a round bladed knife and turn out on to a large wire rack. Peel off the lining paper then turn cakes back up the other way and leave to cool completely.
5. Mix the sliced strawberries with the jam. If the jam is very set, warm briefly in the microwave before adding the strawberries. Softly whip the cream. Transfer one of the cakes to a serving plate. Top with spoonfuls of the cream then the strawberry jam mix. Carefully lift the top cake in place, arrange the halved strawberries on top and sprinkle with sugar. Serve cut into wedges.
Seasonal Berries provided this recipe to support Breast Cancer Care's Strawberry Tea campaign which runs until 31 August and raises money to support the 55,000 people who are diagnosed with breast cancer each year in the UK.
Click here for more delish berry recipes
Recipe: Healthy Moroccan potato salad
Recipe: Strawberry cheesecake brownies