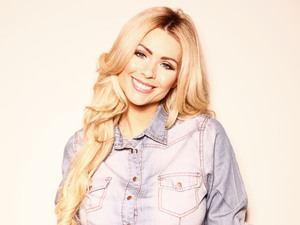 Nicola McLean blogs her favourite TV shows from the last week exclusively for Reveal.This Morning: Lizzie Cundy and WAG! The Musical
Oh my goodness. Lizzie Cundy appeared on
This Morning
to promote
WAG! The Musical
, which has just opened in London's West End. She didn't talk, she actually sung and performed and boy, it was...special! Emma Bunton and Jamie Theakston were hosting
This Morning
and their faces said it all. They just couldn't help but smirk!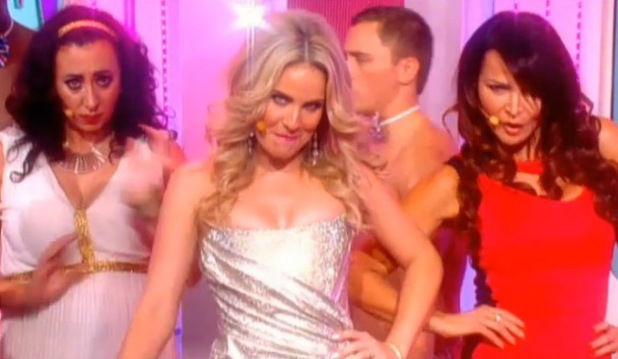 I can only describe it as the campest stage production I've ever seen. Two WAGs started the performance and sung about what a great life they have after going from a house of eight to Jimmy Choos. There was also a Greek woman and, all I'll say is, Google her. Lizzie then emerged. I didn't know Lizzie could sing, and I'm still not entirely sure she can, but she has thrown herself into the part! It was as camp as Christmas, but you've really got to hand it to Lizzie. She has made a career out of being a WAG, yet she's not actually a WAG anymore. Back in the day, at the height of her marriage to Chelsea player Jason Cundy, there was no such thing. She's not married to him anymore yet has bagged a part off the back of it. Ok, so it's the Charing Cross Theatre rather than the Apollo, but she will always be able to say she starred in the West End. It was so bad it was good and I think I might book to go, which is actually quite an amazing result. I think anyone as nuts as me would actually enjoy it! I'm just jealous that I haven't been offered a part - I could belt out going from a council house to having red soles just as good as the rest of them!
Sky News' Royal Baby Coverage: Kay Burley
Kay Burley is nuts, literally as mad as a box of frogs, and as a result her coverage of the Royal baby was simply amazing! She trended on Twitter for TWO DAYS afterwards, which was longer than than the actual Royal baby trended for. This shows the humour of the Great British public, as it was clearly a case of laughing with Kay not at her. Kay started off outside the St Mary's Hospital and, like the rest of the world's media, didn't know
anything
about what was going on. But she got totally into it and just kept on talking. I read an interview saying she, like Kate Middleton, had packed a 'hospital' bag beforehand, as she didn't know how long she'd be at the hospital for!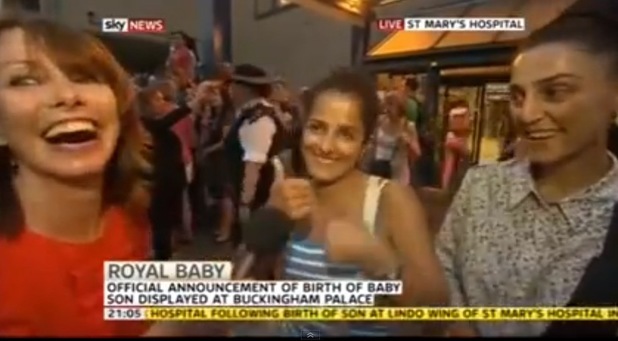 When Prince George finally emerged, Kay literally raced up and down the pavement in her trainers chatting to the crowd. The trouble was, everyone she went up to was foreign - but that didn't put Kay off! Oh no, even when a man said on live TV that he was a "black baby" she told the camera that there would always be "some jokers". I'd be pissed off, but she just carried on! The following day, when they announced that Kate, William and George would be leaving hospital, I got my sons Striker and Rocky in from the garden, as I felt it was a moment in history. But there was just so many false alarms! Striker ended up doing roly-polies across the lounge, Rocky looked bored and I struggled too - but Kay kept hyped up until they eventually emerged! She needs to be in the next
Celebrity Big Brother
,
I'm A Celebrity...Get Me Out Of Here!
or even her own show. Kay Burley made the Royal baby coverage for me - along with Kate Middleton's perfectly blow-dried hair!
Let's Do Lunch with Gino and Mel
This is one of the best daytime TV programmes and Gino D'Acampo is one of my favourite people to watch. He's so funny and gets away with being quite cheeky because of his Italian accent! The series was on for four weeks to replace
Loose Women
while they're on their summer break, but I think it should be on all the time. I love
Loose Women
and would love to be a panelist, but Gino and Mel really bring the fun factor to your afternoon.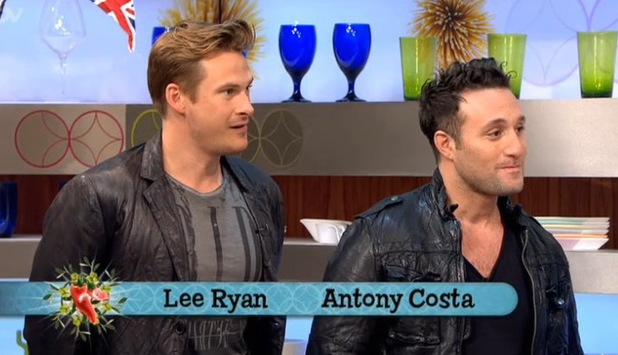 Blue's Lee Ryan and Antony Costa appeared last week to promote the band's new single. Lee often gets a bad press, but I really like him and he came across really well. He's a sweet boy and was perhaps thrown into the whole boy band thing when he was too young. He also knows how to cook! Antony, meanwhile, is looking brilliant! I think he got stick for being 'the fat one', which I hate to say, but he's looking great and is really loved up with his girlfriend. He, however, couldn't cook!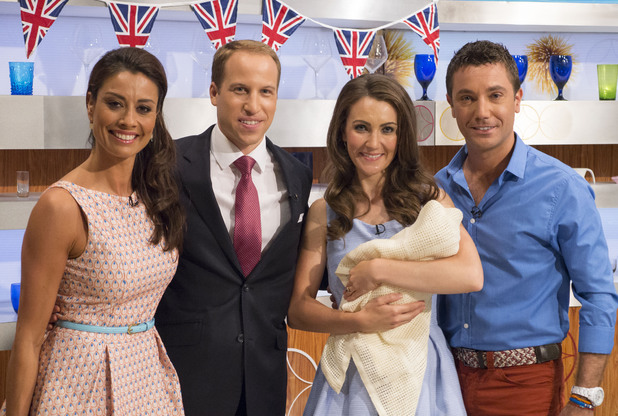 During the same episode, Gino and Mel were joined by Kate Middleton and Prince William look-a-likes. They weren't great if I'm honest and usually I hate this kind of thing, but I did laugh. They had a posh guy teaching Gino and Mel etiquette beforehand, as if they were going to meet the real Kate and Wills, and Gino was told he didn't have to bow - even though it would be courteous to do so - because he is an Italian national. He then kissed 'Kate' on both cheeks and gushed "Cio Bella" which was all wrong apparently! To top it all off, I've been able to brush up on my skills in the kitchen and have since made the ham, pea and mint salad they whipped up. My husband Tom is really pleased!
Let's Do Lunch with Gino and Mel
should be on all the time.
Catching A Killer: Crocodile Tears
This documentary was about three murderers who appeared at press conferences pleading for information about the 'killer'. I sat openmouthed for quite a lot of it and was just shocked at how brazen these people were. It was also terribly sad to hear about the poor kids who were brought into their worlds. The documentary started with Stuart Hazell, who murdered 12-year-old Tia Sharp last year. Rather than just hear a psychologist talking about the entire thing, there was also a lot of unseen footage of Hazell, meaning we were able to see his behaviour with our own eyes. They showed him desperately searching for Tia's body and, looking back, he did seem blank behind the eyes. But he also seemed to be geniunely looking, which was crazy considering he knew he'd killed her and that she was in the roof. They also showed his plea for Tia to come home and the psychologist explained that some people, like him, could end up believing their own lies if they say them enough.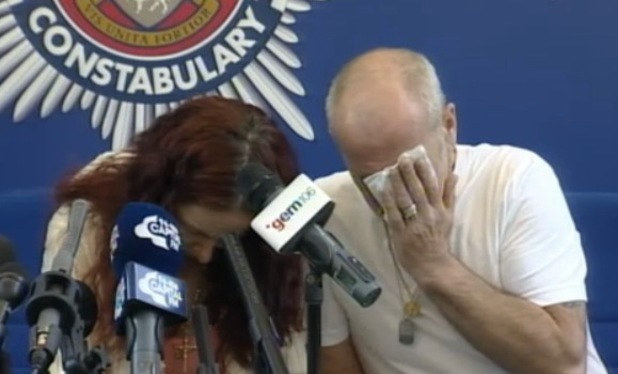 The show also featured Mick Philpott, who together with his wife Mairead, killed his six children in a house fire. What a vile, vile man who clearly loves being the centre of attention. He and Mairead staged their own press conference - who does that when they've killed their own children? Interestingly, he didn't shed a single tear despite pretending to cry. What an evil man. I loved his neighbours though, as they worked out he'd done it pretty much right away. They said the fact they were trying harder to rescue his kids than he was suggested something wasn't right, so they told the police.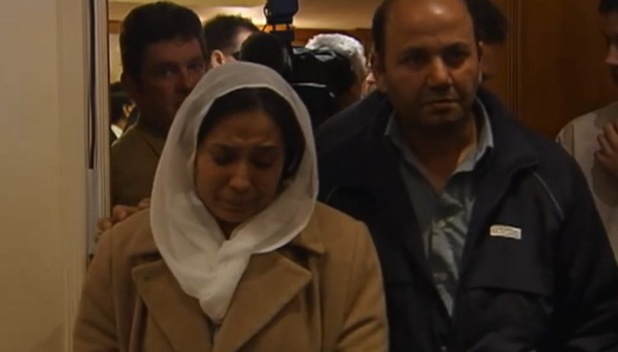 Finally, the documentary told the story of Shafilea Ahmed, who was killed by her parents, Iftikhar and Farzana, aged 17. I found this shocking, as I'd not heard about the case before. Basically, the motive was that Shafilea was wearing a T-shirt, which they disapproved of. It obviously goes deeper than that, as it boiled down to their religious views, but it was horrific none the less. Following early suspicions, they made a very public announcement on several occasions saying that people would pay for pointing the finger at them, when all along they knew they had killed her. This was kept up for seven years. Bizarrely, right at the beginning, Iftikhar didn't make much of a deal about the fact his daughter had 'disappeared'. He barely spoke about it and didn't seem fussed. Surely, if you're going to try and cover up the fact you're a murderer, you'd go along with the whole pretence, not just part of it? The one place I know my sons are 100 per cent safe is at home, so it just made me very sad that it is not the same for all children.
Do you agree with Nicola's views? Tell us below, as the best comment from across the website each week wins £50!