Get into the Olympic spirit with this delicious Brazilian inspired recipe for Churrasco-style Grilled Chicken with Tomato and Mango salad from BBQ experts Bodean's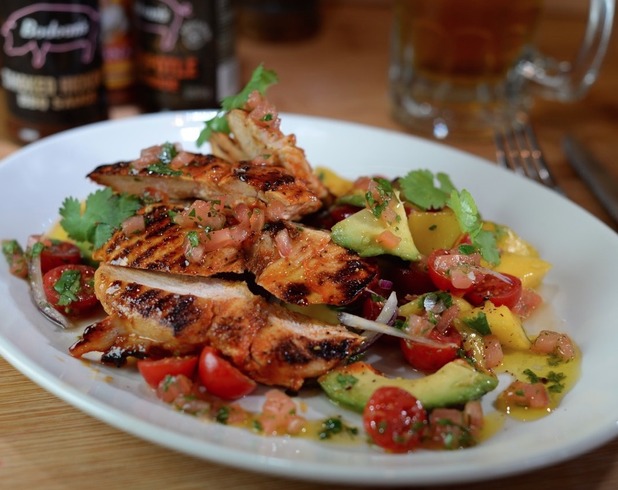 Churrasco
is the South American term for a barbeque so as the Rio Olympics get underway what better excuse to cook up this tasty treat?
This recipe is the creation of Bodean's executive chef Richard Coates and is just one of the new dishes being served up at Bodean's seven branches during the event. Snap up a Brazilian style barbacoa dish or a Rio-inspired cocktail for the offer price of £15.
Or have a go at making this yourself. Best Served with rice and a large Caipirinha!!
Brazilian Grilled Chicken with Tomato & Mango Salad
Ingredients
1.5kg chicken, spatchcocked
Marinade
6 red chillies, halved lengthways and deseeded
3 garlic cloves
4 plum tomatoes, halved
1 tbsp thyme leaves
Olive oil
1 tsp dried oregano
2 tsp red chilli flakes
4 tbsp sherry vinegar
2 tsp sweet paprika
3 tsp salt
1. Place the chillies, garlic and tomatoes in a baking tray with the thyme, salt and oil.
2. Roast for 10 minutes until the chillies are just softened. Then blend until fine in a food processor.
3. Add the remaining ingredients, blend again for a moment, season to taste with salt. Slather the chicken with the marinade and rub into the flesh.
4. Preheat a barbecue or griddle pan and leave the chicken to marinate while it heats up. The trick is to get the fire really hot and then leave it to cool just a little, so the bird cooks fast over a good, strong heat but doesn't burn before it is done.
Honey sauce
Ingredients
2 tbsp runny honey
1 tbsp cider vinegar
1 tsp Dijon mustard
1. Combine all the honey sauce ingredients in a small bowl.
2. Thread a couple of metal skewers on each side of the chicken so you can easily pick it up and turn it over.
3. Sprinkle the chicken with extra salt and place it on the hot barbecue for 20 minutes, turning once, and frequently mopping it with the honey sauce. Cook until sticky and caramelized, and the juices from the chicken run clear.
Brazilian Salsa
1 cup diced green & red peppers
½ Cup red Chillies Diced
1 cup Ripe tomatoes Deseeded & Diced
½ Bunch parsley, Washed & Chopped
¼ Cup Lime Juice
4 tbsp olive oil
Combine all the ingredients and leave to stand for 30 mins. Use on the salad or alternatively dress the grilled chicken with the salsa just before seving
Mango & Tomato Salad
½ mango, peeled and sliced into strips ½cm long
2 handfuls of cherry tomatoes, sliced in half
1 avocado, peeled and sliced into ½ cm strips
½ small red onion, sliced into half moons
1. Place the mango, tomatoes, avocado and onion in a bowl, season well with salt and pepper.
2. Pour the salsa over the salad just before you serve it.