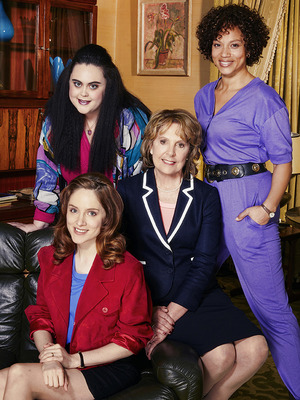 Four women are finding independence, happiness and fulfilment through Ann Summers parties in the 1980s in this new feel-good drama, Brief Encounters, starring Angela Griffin, Penelope Wilton, Sharon Rooney, and Sophie Rundle.
Steph feels invisible. She's married to Terry, has a young son, and is a stay-at-home mum. But when financial hardships strikes and Ann Summers party planning comes into her life, everything changes.
As Steph grows in confidence, she encourages lonely Pauline, who spends her life keeping house and playing the perfect wife to her husband, Brian, to let her hold a party in her home. It turns Pauline's life upside down, but it helps her step out from the shadows and she really likes it.
Nita, Steph's new friend from the school gates, is in desperate need of cash to keep her husband on the straight and narrow. Ann Summers is just the ticket, but will her latest, unwanted, pregnancy throw a spanner in the works?
And finally Dawn, a young hairdresser who screams 80s on the outside, but on the inside is falling apart. Can a box of naughty knickers and marital aids finally help her realise her own dreams instead of being a slave to her father and brothers?
Brief Encounters, ITV, 9pm
Fancy winning some GREAT prizes? Check out Reveal Competitions here!