Reveal's Deputy Features Editor, Paisley Gilmour, loves talking about all things orgasm with anyone who'll listen. She's by no means a pro, but here to bring you honest accounts and reviews of everything from vibrators to erotic fiction.
Beating around the bush has been scientifically proven to sort us out physically and mentally, so why are heaps of us still ashamed to champion having a little a fiddle every now and then?
My heart sank recently when I read the results of a study revealing one in seven women have never masturbated – that's 15 per cent of women who've been missing out on the joy that is the two-finger tango.
After speaking to a number of pals about the shame surrounding masturbation, I came to the conclusion that for many teenage boys, w*****g is seen as just another kind of competition. "I bet you haven't w****d yet," being a common taunt in the playground. Even from an early age, most dudes are proud of it.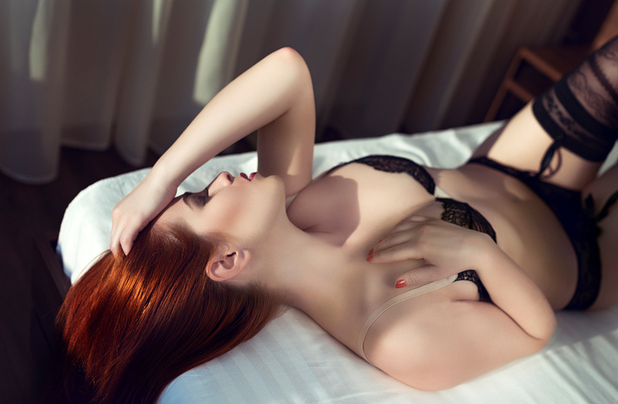 Maybe my personal (and pretty sheltered) experience can be put down to the girls' school environment in which I spent my formative years, but touching ourselves was rarely discussed. And if it was, the general consensus was that it was dirty and gross.
Beyond ridiculous when more than 50 per cent of human beings are born with a vagina, and 100 per cent of us entered this world via one.
Now, aged 27 and equipped with a box full of orgasm aids, I am wise to the ways of the vulva. I know there's not much a good old ménage-a-moi cannot cure. From menstrual cramps, stress and frustration to body confidence issues – getting down and dirty with yourself is fun, free and bloody brilliant.
Whether you've never really given it a go, or want to up your "me time" game, May is a particularly good month to start. After all, it's the most wonderful time of the year - International Masturbation Month.
So send your housemates out for pizza, whack on some sexy jams and draw the curtains. Self-love is the new black.
To mark this momentous occasion, I've tried out some new and classic toys and accessories to get your juices flowing.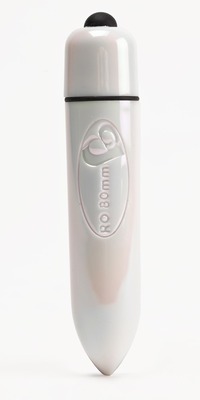 RO 80 Iridescent White Bullet Vibrator - £10
Having a trusty bullet vibrator is as essential to your wellbeing as a good night's sleep. Everybody should own one.
I've been through my fair share of these over the years. From the cheap and cheerful to the outrageously priced, bullets can wildly differ in quality.
This one is super tiny and slim (just 80mm long) and has a glorious shiny, pearly finish. The iridescent coating makes it kind of cold to the touch, and it feels great against your skin, so you don't necessarily have to use lube to enjoy it.
For such a small product, its vibrations are strong enough to get to help you reach orgasm without much work at all.
Switched on by a simple on/off button on the top, I'm also a big fan of the slightly pointy tip.
Not the quietest bullet ever, but it's waterproof so if you're worried about your flatmates hearing you can use it in the shower.
If you're banging someone on the reg, it's also a great way to introduce toys into your repertoire, as it's cute and unintimidating.
In short, a solid bargain bullet to add to your collection. Buy it
here
.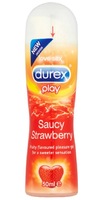 Durex Play Saucy Strawberry Lubricant - £4.89
I am the world's biggest fan of lube. I absolutely bloody love the stuff, it makes everything feel approximately 1,000 times better.
If you're celebrating Masturbation Month solo or with someone, I highly recommend whacking some of this stuff into the mix.
Most lubricants taste so chemically and gross they leave you feeling sick and headachey. Ultimate mood killer. Behold Durex's Saucy Strawberry, it genuinely tastes like gummy sweets.
In fact, it's sat here on my desk and I keep snacking on it. Yes, people are giving me weird looks.
Buy it
here
.

Rose Gold Bondage Set - £35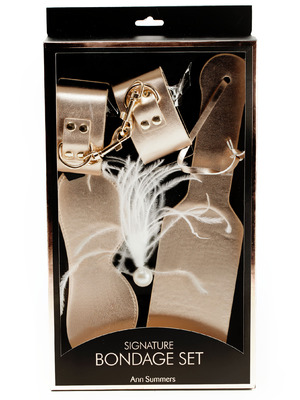 These days, anyone who's read Fifty Shades of Grey and watched a BDSM porn vid seems to think that qualifies them as a dominatrix. I, am one of these terrible people.
I was really excited to unbox the bondage set and give it a go, picturing myself sexily spanking the unlucky bugger who'd been roped into sleeping with me.
After taking out the rose gold Velcro handcuffs, I heard my flat mate come home. I strode out into the corridor, showing off and shouting: "Look what I've got! I'm so sexy!" while brandishing the cuffs, which I was now wearing.
Unfortunately, as I pretended to wriggle free, the cuffs broke, leaving the chain limply dangling in front of my stupid eyes. He snorted and laughed at me as I grumpily trudged back into my room. Not quite the steamy session I was dreaming of on the tube home that night.
Then there was the metallic-look paddle. I'm all for a good spanking session. Unfortunately, there was no one around willing to try it out with me, so my other flatmate unknowingly became my sub.
She'd just come home after a run when I beckoned her into my room and demanded she get on all fours. Luckily for me, she's always up for a laugh and willing to chip in with whatever mad idea I present her with. She obliged, and yelped with delight (or maybe politeness) when I gently, then not-so-gently, smacked her lycra-clad a**e with it. My bed covers were left covered in sweat, but not the sexy kind.
"It felt kind of nice," she said. "Not too hard but not too soft." I'll forever love her for bending over without so much as a bat of an eyelid. That dear Reader, is a mark of true friendship.
The blindfold didn't make an appearance at all, I felt she'd been through enough. As the for pearl and feather butt ball, it was so tiny I feared popping it in then having to make a trip to A and E when I inevitably got it lost inside me.
In all, the bondage set looks nice but is more for show than play. Buy it
here
.

Doxy Extra Powerful Massager Wand Vibrator - £89.99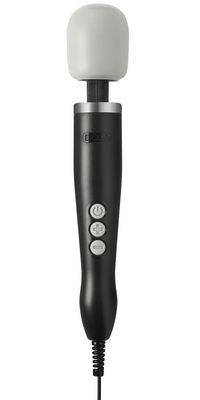 The name of this device alone is enough to make you go weak at the knees, right?
It may look slightly intimidating to those less well acquainted with massagers, but don't let it's frankly ginormous appearance put you off.
Before using one, I'd thought they looked absolutely terrifying. And terror is one thing that has no place in your bedroom (unless specifically agreed and consented to, of course). It wasn't until I met author Girl on the Net who said the Doxy did it for her "every single time" that I considered giving it a shot.
The wand is so big it wouldn't fit in my backpack, so I spent the whole journey home worrying it was going to fall out of my tote, switch itself on and start buzzing its way across the floor of the bus. Fortunately, for the sanity of both myself and rush-hour commuters, this didn't happen.
So powerful that it has to be plugged in at the mains, it's a serious piece of machinery. The slower speeds are lovely, similar to a nice drive down a bumpy country road on a Sunday.
The highest setting on the other hand is like something other-worldly - it is insanely strong.
My advice is not to go in there all guns blazing. As Alyson Lee Hannigan's "band geek" character Michelle said in American Pie, "you've got to preheat the oven before you stick in the turkey." With that in mind, start off slow and work your way up to the higher settings and you'll have a fabulous time.
NOTE: When unboxing the Doxy in the Reveal offices, I was met with gasps and horrified colleagues asking: "does it go... inside you?". So to clear things up - no ladies, I wouldn't attempt such a feat. For external stimulation only.
Buy it
here
.

Rampant Rabbit The Moregasm Black One - £70
I've been dreaming of this for years. Most sex toys in high street stores are lurid colours and look kind of tacky. And as a woman who naturally recoils at the colour pink, I'm glad to finally see a sleek black number gracing the shelves.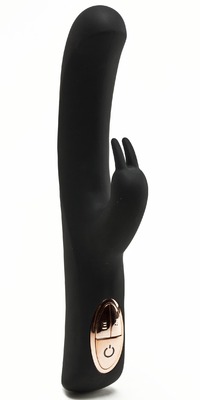 As a rabbit newb (I'm ashamed to say this is my first!) I was apprehensive. I'd never really been drawn to rabbits and couldn't understand what all the hype was about.
The matte black shaft is so soft and has a curved tip for massaging ye olde G spot, and the rabbit ears target vibrations to your clitoris. You can control them independently from each other, using both or either, so it's like having three toys in one.
The Moregasm Black One also has six speeds and pulse settings that range from chilled vibes to blow-your-fanny-off. It. Feels. Uh-mazing.
It may be £70 but is such an investment. Plus, the rose gold controls are beautiful.
The only downside is that it's battery powered. I much prefer a rechargeable vibe these days as AAs are about as obsolete as MySpace and carrying cash.
More like work of art than a sex toy, don't hide it away in your knicker drawer. Display with pride.
Buy it
here
.
If you have any questions or comments, get in touch with me on
Twitter
.