Corrie, Emmerdale, Hollyoaks: we take a look at tonight's top soap stories…
Coronation Street, ITV, 7.30pm
Gail, Audrey, Kylie and Bethany prepare for a pamper party to welcome Carla into the family, but Sarah's twitchy and makes a dart for the door as soon as she gets a chance. Gail stops her by grabbing her arm and sends Bethany's tray of drinks flying.
Carla arrives to complete mayhem and Sarah resorts to drastic measures in an attempt to escape the party. She ends up at the hospital with baby Harry, but Kylie's deeply suspicious.
When the doctor confirms there's nothing wrong with Harry, Kylie gives Sarah a piece of her mind, but will she get through to her?
Emmerdale, ITV, 7pm
Liv begs Gabby to cover for her whilst she defies Aaron and goes to Gordon's sentencing, but when Chas gets a call to say Liv's not at school, Robert realises where she is and heads to court.
Robert's understanding when she tells him she needs to see her dad get sent down. He promises to explain to Aaron and there's a thaw between the two of them.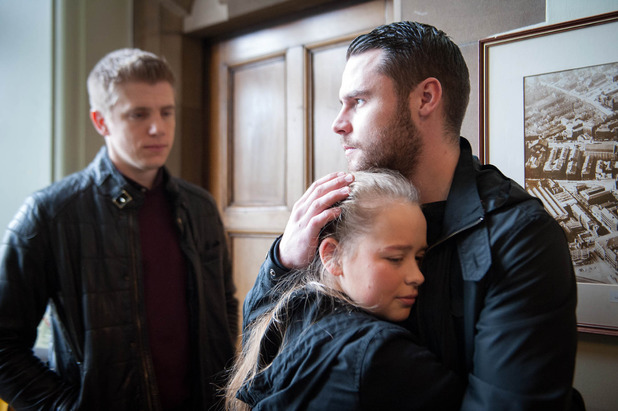 Aaron soon arrives and gives Liv a hug, adamant they'll go in together so she doesn't have to face Gordon alone. Gordon's given his sentencing, but will it be enough for Aaron to find peace?
Hollyoaks, C4, 6.30pm
Cameron is fuming when the police arrive to talk to him about missing Lockie, but he manages to throw Ben off the scent. Ste's not buying it though and keeps pushing for the truth.
When Cameron later goes to scatter his dad's ashes at a lake, Leela insists Ste goes with him for a bonding session and so Cam isn't alone.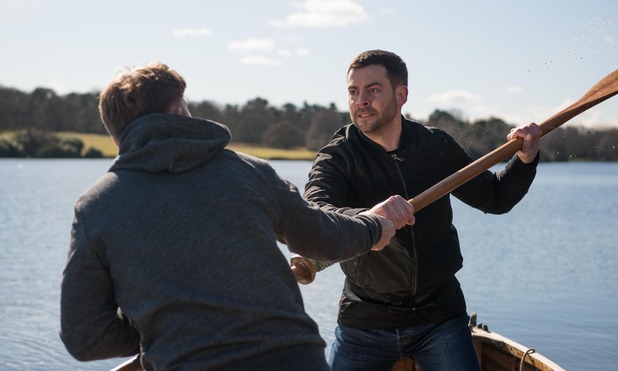 Ste's a bit wary when Cameron ushers him into a rowing boat and the pair head out to the middle of the lake. Cameron starts to talk about Lockie and the penny finally drops for Ste that Lockie is dead. The two men tussle and Ste falls into the water. He can't swim, so Cameron has a decision to make – will he let Ste drown?
Follow us on Twitter @RevealMag for all your celeb, fashion and beauty news!