Bestselling author Sierra Cartwright is back with her latest racy read, Bind. Read Reveal's exclusive extract here.
Lara looked up at Connor Donovan and knew she was doomed. Attraction zipped through her. No matter how nervous he made her, she wanted what he offered.
"I'd like to show you the playroom," he said.
Her blood became sluggish. "I assume you're not talking about board games."
"You're correct."
Her knees went weak.
"Come here."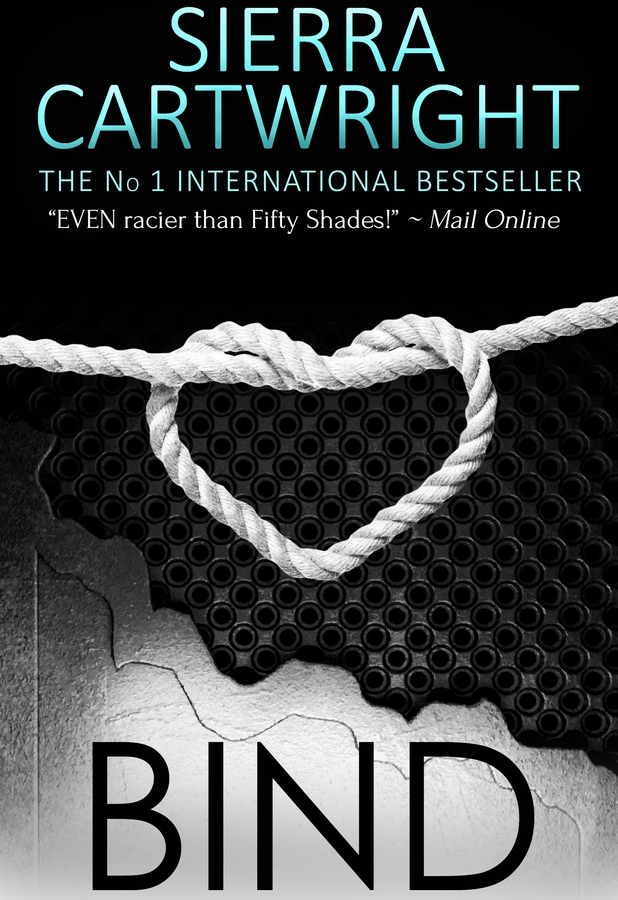 Each time she interacted with him, she found him more compelling, more dangerous. Logic should dictate that familiarity would make her feel more certain, but it had the opposite effect.
"You look beautiful," he told her.
His grey eyes seemed darker than they had earlier.
With his large palms, he framed her face. She parted her lips slightly, silently praying he'd move in for a kiss.
He brushed back strands of hair that were curled around her cheekbones, and she placed her hands on his wrists.
"Behind your back," he said.
"I like to touch."
"I like to be obeyed," he countered.
Reluctantly, she complied.
His kiss started slowly, softly.
She closed her eyes and swayed. He offered his body as support, and his strength flowed into her.
He deepened the kiss, forcing her lips apart, tasting, touching, demanding. She was helpless. The combination of his determination and masculine power silenced her deepest objections. She wanted this man.
Before she was ready, he ended the kiss.
Connor stared at her intently, as if seeking an answer to a question so deep that he didn't know how to ask it.
Before she could possibly be prepared, he moved in again, this time with force, demanding her capitulation.
She was lost.
Keeping her hands in place took every bit of her mental energy. Physical sensation bombarded her, and she ached to participate.
When her breathing was erratic and her body responsive, he eased back.
"I could kiss you all night, and it wouldn't be enough."
"For me, either," she confessed.
He lowered his hands. "You pleased me."
The words were heady, and she exhaled an unsteady breath.
"You can put your hands at your sides. I'll show you the playroom. But first, I want to see you on the bench."
Her heart skidded to a halt.
"What do you say?"
"Yes, Sir."
"Damn."
The approval in his tone made excitement trip through her.
"You remember that we talked about safe words?"
She couldn't believe they were having this conversation. "Yes."
"Unless there are words you want to use, we can use red and yellow. Red for stop immediately, yellow for slow down, we need to talk, I'm scared, or to let me know you need something."
"That works for me."
"Tell me what we're going to do," he said.
"Ah…" She could hardly make herself use the words. "You're going to punish me in some way for not keeping my hands behind my back earlier this afternoon."
He nodded. "I want you to face the bed and hold onto the bench. I expect you to stay in place. Tell me you understand."
Unhurriedly, she got into place, and he drew up her dress.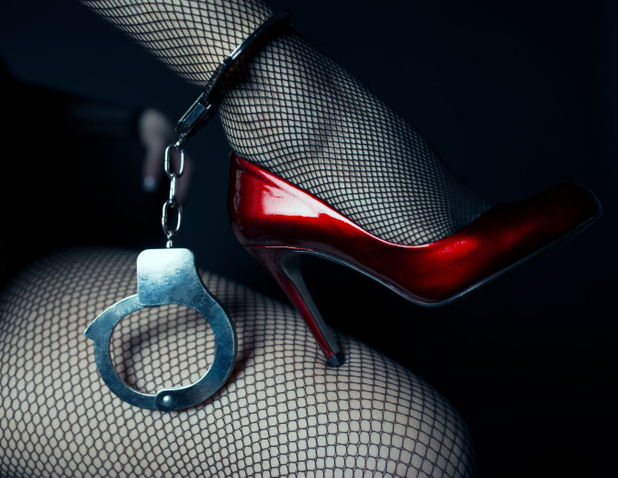 She bit her lower lip.
"Your a** was made for a beating, Lara," he said as he outlined the top part of her panties. "I'm going to take these off."
She closed her eyes.
He drew her underwear down and tossed them on top of the bed. "Gorgeous. Now spread your legs as far as you can and turn your toes inward."
Lara found it impossible to breathe.
"So lovely."
He rubbed her buttocks, light, then quick. Abruptly, he stopped.
She was anticipating that he'd strike her then, but he didn't. Instead, he slid a finger back and forth against her cl**. Shocked, she drew her legs together.
"Stay in position," he warned.
He'd moistened his finger before touching her, and since she was already a little damp, it only took a few seconds for her to become slick.
She began to sway in response to his touch. It'd been a long time since she'd had sex and his touch aroused her quickly.
Before she expected it, he entered.
In response, she moaned. If this was punishment…
He began to finger her. She rose up but was careful not to let her legs close. Then she felt him push his thumb against her cl**. The pressure was unbearably wonderful. "Mmm," she said.
"Do you like this, my responsive little Lara?"
"So, so much," she said, feeling an orgasm beginning.
But instead of driving her to completion, he pulled back then slapped her right buttock, hard.
She yelped.
Almost right away, the pain receded. Then it vanished when he pushed his finger back into her. The orgasm began to unfurl again. "Yes…"
He kept one hand between her legs but slapped her left a** cheek with the other.
The shocking sting added to the throbbing sensation.
"Oh, yes," he said. "Tell me what you want."
She shoved her p***y backward, wordlessly asking for more. "An orgasm."
"An orgasm, Sir," he coached.
"Yes! An orgasm, Sir."
"Ask."
She locked her knees for a moment as she fought for rational thought. "Please. Please, may I have an orgasm? Sir?"
"Have you earned it yet?" He spanked her right cheek again.
The orgasm started to burn in her. "More. Please."
"Beg," he told her.
"Please, will you spank me? Please will you give me an orgasm, Sir?"
"Absolutely perfect responses, little Lara," he approved.
He smacked her left cheek, and he kept the punishment going, slapping the right side of her a** five times in quick succession before moving back to the left. "I…"
"Whenever you're ready," he encouraged.
He continued to rain the blows on her bare skin, and the climax gathered force.
"I want your response," he told her.
His words and the small amount of pain made her tremble.
She cried out, choking on a sob as she thrust her hips back, demanding he give her what she needed.
Bind by Sierra Cartwright is out now, priced £7.99, published by Totally Bound. Click here to buy.
For exclusive competitions and amazing prizes visit Reveal's Facebook page NOW!