Who doesn't love a good soap? Luckily, we've got a fair few to tune into every day of the week.
From
EastEnders
to
Coronation Street
,
Emmerdale
and
Hollyoaks
, fans have been glued to what we call continuing drama for years.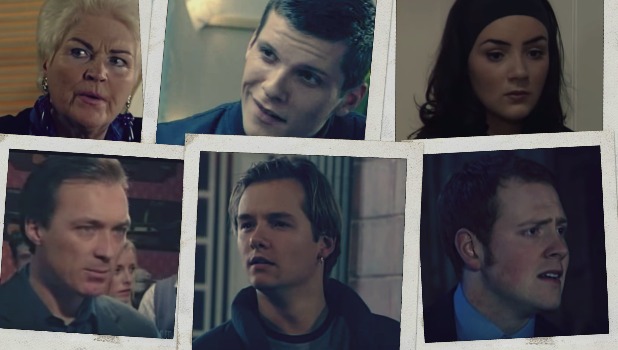 We've seen weddings, affairs, romance, heartbreak, tears, deceit, bust-ups and deaths. Yes, we know it's all for TV, but we've lost count of the amount of soap deaths that have brought us to tears and left us feeling pretty inconsolable.
These deaths not only left us sobbing, but it made us want to petition to producers for a 'back from the dead' storyline. We screamed at the TV and shouted from the rooftops that life really wasn't fair, and then realised that it wasn't real life, but it sure as hell felt like it.
For part one, we're going to take a look at the deaths we didn't want to happen in
EastEnders
. Prepare yourselves - tissues at the ready.
Tiffany Mitchell (played by Martine McCutcheon) - December 1998
Still
heartbreaking to this day...
Tiffany, oh Tiffany. After discovering her husband Grant Mitchell's affair with her mother Louise, Tiff planned to leave Walford for good. Fast forward her showdown with Grant (where she ended up falling down the stairs), it was New Year's Eve and Tiff was preparing to start a new life away with her daughter Courtney. Only there was one obstacle - Grant. He refused to hand Courtney over and fled, with Tiff in pursuit, only it resulted in her running straight into an oncoming car, driven by Frank Butcher. For one of the soap's most popular characters, it was heartbreaking stuff.
Steve Owen (played by Martin Kemp) - March 2002
A tragic car chase...
Phil Mitchell had his chance to save Steve after his daughter Louise was brought to safety, but instead, he left him to blow up in flames. The incident came following a high speed car chase, where Steve, who was driving with a baby Louise in the car, crashed into a wall. After Louise was rescued, Phil attempted to run back, but hesitated when he realised he wasn't prepared to save Steve after all. What wasn't to love about Steve? The tall, handsome and mysterious businessman kept us glued to the TV over his war with ex-girlfriend Saskia Duncan, where he killed her by delivering a brutal blow to the head with an ashtray. And who could forget his fiery relationship with Melanie Healy? Steve was SO bad but oh-so-good at the same time.
Jamie Mitchell (played by Jack Ryder) - December 2002
An accident gone wrong...
Martin Fowler accidentally ran over Jamie outside the tube station. Driving in a car with Spencer Moon, Martin, who was at the wheel, was distracted when a text message came through on his phone. After Jamie brought a bouquet of flowers from the stall and about to head into Walford East Station, he stared straight on at Martin driving full steam ahead, with Jamie unable to move in time, and Martin unable to put the breaks on in time. With a version of Ben E. King's 'Stand By Me' playing in the background, Walford heartthrob Jamie died in hospital on Christmas Day of spleen damage, with his distraught girlfriend Sonia Jackson by his side. So long Jamie, so long...
Dennis Rickman (played by Nigel Harman) - December 2005
Just as life was starting to turn around...
It was New Year's Eve and Dennis decided that he was going to leave his bad ways and dodgy dealings behind by heading off to America with girlfriend Sharon, who was pregnant with their child. Only Johnny Allen had threatened Sharon that Dennis would die if the pair didn't leave Walford for good. Sharon didn't tell Dennis, but she did confide in Phil, who only ended up telling Dennis in an attempt to rile him up enough to take on Johnny. Taking the bait, Dennis went on the search for Johnny and beat him up, but in return, Johnny ordered one of his men (later unveiled as Danny Moon) to kill Dennis. Back on Albert Square, as Dennis was making his way to Sharon through the crowds as they prepared to watch the fireworks, he got a knife stab right in the chest. This broke our heart. We fell in love with Dennis and his wrong-but-with-the-right-intention morals. And his sweet relationship with Dot was so touching to watch. RIP Dennis.
Bradley Branning (played by Charlie Clements) - February 2010
That dreaded fall...
Remember the dramatic build up during
EastEnders
' live episode? It was the unveiling of Archie Mitchell's killer and poor Bradders decided to take the rap for his wife Stacey Branning and a police chase led him to the roof of The Queen Vic... Need we say more? Bradley's fall was something we'll never quite be able to erase from our memory. Such a sweet, unassuming and loveable character. We miss you Bradley!
Pat Butcher (played by Pam St. Clement) - January 2012
A Walford legend...
Pat Butcher dying was like
EastEnders
waving goodbye to part of its history. If anything, having her son David Wicks return for her dying moments brought some comfort. Pat lost her battle with cancer and her family gathered around her as she said her goodbyes from her bed. This one brought a tear to our eye and we still miss those earrings - no one quite wore a dangly (sometimes ghastly) pair of drop earrings like our Patricia. For Pat's death, producers reworked the show's theme tune as a special tribute. She deserved nothing less.
We know, there are SO many more to list, right? Tell us which EastEnders death had you in tears in the comment box below...Try Reveal's digital edition on iPhone & iPad. Subscribe now & never miss an issue!