Ever since I was a little girl, I've always hated having my picture taken.
I look in the mirror, my make-up looks great, my skin looks clear and I look my usual size-10 size. However, get me behind a camera and I suddenly turn bright red, my eyes go squinty and a huge double chin appears.
URGH!
An old friend of mine had once said she had the same problem and she believed it was because her face was very animated and expressive and so the camera would often capture her at the wrong second. I comfort myself with that thought every time I'm faced with yet another bad batch of pics.
So the idea of spending a full day being snapped is, quite frankly, terrifying. Which is exactly why getting the right photographer is so important. I want someone who will make me feel relaxed and, quite frankly, gorgeous on my big day.
Before we went to the wedding fair, Mr T (who, incidentally, always looks fab in photos and has no concerns at all about being photographed) and I spent a day examining different photographers online – which was where we came across Shan. Her website was chocked full of beautiful pictures, not a double chin or red face in sight. With soft colours and dramatic backgrounds, her pictures were full of romance (see my theme coming in? Thanks, Lauren!).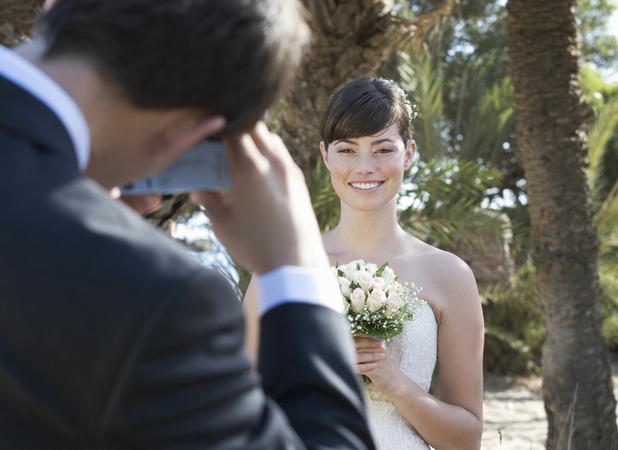 And wedding photographer, Lee Scullion, agreed the style was the most important thing to start with.
"Each photographer will have a particular style. Some may be very formal, others more classical or vintage, while others have a more fashion-based look. You have to decide which one you love the most.
"You can spend almost anything on wedding photographers and it really depends on what your budget is. For some brides, pictures are everything and are happy to go to the higher end, which can be anything from £4,000 - £2,000.
"Others aren't too fussed, just as long as they get some pictures, so they can away with spending as little as £500 - £800.
"Once you've decided on your style and budget, you can start your research. Find out from venues and leading regional magazines who are the best ten local photographers. You need someone who is reliable with a good reputation and who you can get on with.
"Then, you can narrow down the ten to two or three and arrange to meet them - you both should know right away who is best suited for your wedding party. Make sure you find out what is included – is there an engagement or pre-shoot included? Do they come with an assistant to photograph the groom getting dressed too? Will they need a meal provided? And how much does the album cost?
"It may seem like a lot of work but it is an investment after all. They will provide you with the main memories of the most wonderful day of your life."
So, armed with our new knowledge, we emailed Shan and two others who we liked the look of. Shan was the first one to come back to us – she seemed bright, bubbly, professional. Exactly the kind of photographer we wanted at our wedding. And best of all, she was going to be at the wedding fair at our venue.
The second photographer took nearly a week to come back to us and the third didn't reply at all. So Mr T and I agreed to meet Shan and, if we didn't get on, we'd contact the others again.
And I'm so pleased we did. As soon as we started speaking to people of the Isle of Man and mentioned Shan, they all agreed she was one of the best on the island. They're such a helpful lot.
And when we met her, we could easily believe it. She was super enthusiastic, asking to see my ring and hugging me as she asked all about how Mr T had proposed. It felt like she was a friend already and we knew she'd fit in with our guests straight away.
And her pictures were so beautiful, I knew even before we'd ironed out the details that we weren't going to settle for anyone else.
Thankfully, the package we have chosen includes an engagement shoot. Because although I hated the thought of another day in front of the camera, Lee advises this is a great way to get used to being photographed.
"All brides - and grooms - are self conscious. It's natural to dislike your profile, your smile or at least one thing about yourself. So the pre-shoot is the perfect time to get to know how you look together, embrace the energy you build with your photographer and let yourself go. If you're happy and relaxed, it will show in the pictures.
"You will also learn to start appreciating how you look and trust your photographer. He or she should make you feel at ease within the first 10mins."
It all sounds simple enough, doesn't it? Let's just hope, with Lee's tips and Shan's magic camera, we'll end up with some half-decent snaps.
If you have any tips or questions, get in touch with me at @Sarahw0684
More from the Clueless-Bride-To-Be:
11. The wedding fair!
10. My (first) big mistake
9. How to pick a wedding dress to suit your shape
8. Reader, I got a brace!
7. Choosing the all-important venue
6. The dreaded guest list
5. Breaking down the budget
4. Picking my bridesmaids
3. Everything you need to plan or buy
2. Getting by with a little help from my friends
1. The proposal!