If you had your primary school lunch pre-packed for you daily, you were one of the lucky ones, as the rest of us had to ensure a daily school dinner.
Here are ten things you'll know to be true if you were
that
kid. Oh, the nostalgia!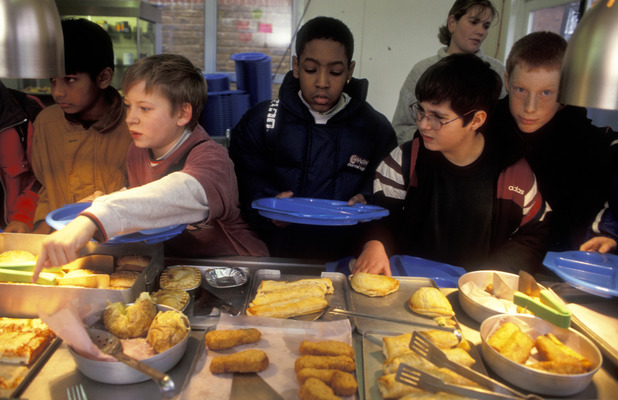 1.
You were always made to clear your plate before leaving for the playground, but if you couldn't manage that last mouthful, chucking it under the table would do the trick.
2.
If you didn't want to get caught disposing of your unwanted food, you could always count on your ballsy friend - who didn't give a hoot about writing lines or missing swimming lessons - to do it for you. What a legend.
3.
Someone would always feign sickness to get out of finishing their lumpy mashed potato and boiled cabbage combo. Sometimes, that involved fake tears, retching and in a few cases, faux fainting - fact.
4.
The sausages were always laden with gristle and if you still had some milk teeth, well, they were buggered.
5.
You were always too full to finish your dinner but
afters
(usually jam ropy poly or sticky toffee pudding) you could probably manage two helpings of.
6.
It was always a good day when boring vanilla custard turned into chocolate custard.
Always
a good day and usually a Friday.
7.
Christmas dinner sent everyone a little insane - until a ladleful of sprouts landed on the plate. Hands up if you mushed them up and hid them under your turkey? Guilty.
8.
If you were late out of the classroom, watching your pals running to join the dinner queue looked like a Braveheart battle scene.
9.
You learned how to power walk like a total professional after being told not to run to the canteen by the bellowing dinner ladies. If only that counted towards your SAT score.
10.
You weren't really cool unless you brought a packed lunch, but your mum would always send you on a guilt trip as she'd "paid for those dinners a whole year in advance". Cheesestrings, Frubes, mini Pringles and mint Club bars - now
that's
proper food.
For exclusive competitions and amazing prizes visit Reveal's Facebook page NOW!