Ah, New York City. The Big Apple. The home of Rachel, Ross and Carrie Bradshaw. Glam, exciting, bright lights, super tall buildings, amazing shopping (if you can afford it!), incredible food, sizzling nightlife. Also rather darn expensive...
It's a sad but true fact that jetting off to the States isn't quite as cheap as a trip down the seaside. Once you've paid out for flights, hotels, holiday insurance and a new wardrobe (well, it was my first long-haul trip with my boyfriend, I had to look good!) it can feel like you've got no money left for, you know, the
actual
holiday.
Which is pretty much exactly what happened to me when I went to NYC for
St. Patrick's Day
this year. Although I was thrilled about celebrating my Irishness at the greatest parade in the world, I was pretty much resigned to the idea I'd return feeling rather broke (which is true!) That being said, once we started planning our trip, I realised there are quite a few ways to make your New York adventure a bit more purse-friendly.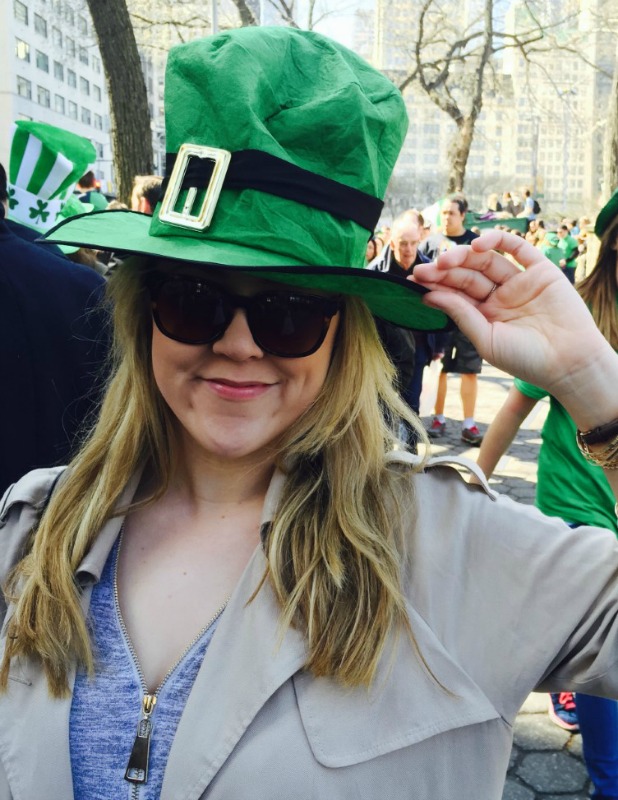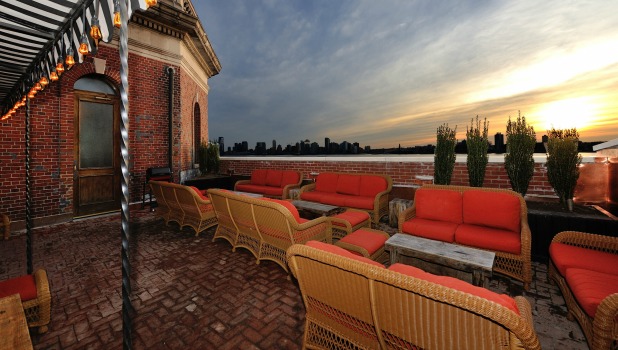 First things first, we spent
hours
on
Skyscanner
to find the best value flights for our time period. We ended up going to JFK via Amsterdam which did add a few hours to the journey, but on the flipside cut the price. We also used those hotel comparison websites that are always advertised on TV to find the best value accommodation, ending up with
The Jane Hotel
in West Village which felt pretty perfect because a) it was fab value and b) it has strong Irish connections which felt appropriate for a St Patrick's Day holiday! (You can read more on that below.)
Once you get to NYC, there's no getting around of the fact you'll have to pay out for some things (hello food), but, for everyone who has been asking, here's a few things to try for keeping costs down and getting the most out of your money
and
holiday:

Yes, tip number one requires spending money but it's worth it in the long term. We brought along the
DK Eyewitness Travel Top 10 Guide: New York City
and wow, was it invaluable! It's just £4.99 on Kindle and contains info on everything you could possibly need to know from attraction opening times to cheap restaurants and bars, day excursions, what NOT to do, how to handle common tourist mistakes, local history and more. It cuts the need for WiFi and roaming charges and lets you organise your time efficiently every day. (We could say time is money but it seems sooo cliche!) It also has a pull out Metro map and NYC street map which you'll definitely be needing! Okay, you look like Joey in
Friends
with his giant London map and totally scream tourist, but so what? You'll never see anyone you pass again!

There are a plethora of paid-for New York island cruise options available, from ones that take you to the Statue of Liberty and Ellis Island, to those that go right around the island of Manhattan. But if you fancy a totally free way to see New York from the water, hop aboard the
Staten Island Ferry
. The iconic orange ferry travels from the Battery Park terminal to Staten Island throughout the day and gives an incredible – free! – view of the Statue of Liberty. It also serves alcohol as if being free wasn't enough. Just avoid rush hour and the commuters.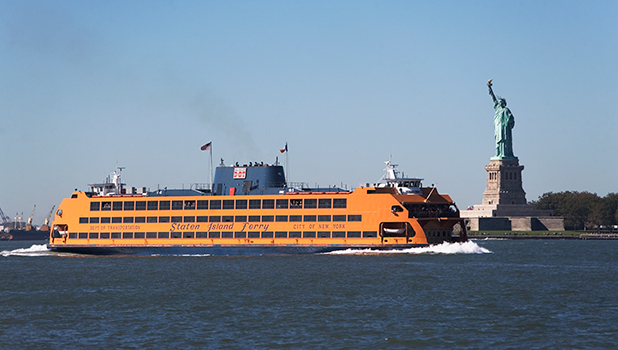 Not every iconic building you've heard about in New York requires an expensive ticket or queuing to enter. You can view the incredible architecture of a string of buildings for free including
Grand Central Station
, the
New York Public Library
(sadly with no Jake Gyllenhaal or Dennis Quaid in sight), the Chysler Building lobby,
Trump Tower
and
Rockefeller Centre
to name a few, not to mention iconic department stores such as
Macy's
,
Bloomingdale's
and
Saks Fifth Avenue
.

There are SO MANY movies and TV shows filmed in New York City which means LOTS for culture junkies to take in. We popped past the
Friends
building, Carrie Bradshaw's
Sex and the City
step, Serena Van Der Woodsen's home and the
Ghostbusters
fire station in just one day, to name a few. You can't go inside, obviously, and need to be mindful of the fact people live at some of the places (lucky them), but there are hundreds of filming locations across the city that are free to take a glimpse at. Do your research on Google and mark on the map the places you want to visit. Also, keep an eye out at Rockefeller for free tickets to TV show tapings.

They say there's an app for everything and that's certainly true in New York!
The Natural History Museum
and
Metropolitan Museum of Art
are just two places that have their very own free apps containing floor plans, highlights, information on every exhibit, videos and even suggested tours depending on how long you have at the venue. When you've shelled out to get into a museum, getting all that free insider info and history is definitely worth it. They also have audio guides so you can avoid the queues and time-wasting. Just, er, don't do what we did and forget your headphones...
And speaking of museums, they all say 'suggested admission cost' for tickets, which we paid. I have heard of people declining to pay the suggested fee, but we weren't brave enough to try that. The Met Museum's website says, "If you buy tickets at a museum ticket counter, the amount you pay is up to you."

Pack a good pair of walking shoes and pound those pavements! Don't be like me and reason if Carrie & Serena can sail through NYC sidewalks on heels I could too. Um, NO! A lot of the New York City experience is just seeing the incredible skyscrapers, architecture and historic areas which doesn't involve any money at all. Walk through Wall Street, China Town and Little Italy. Marvel at the
Empire State
,
Woolworth
and Flatiron from the sidewalk, or sit in Times Square at night when it's all lit up and you feel like you need sunglasses.

For a gorgeous view of Manhattan take a stroll – or cycle - across the
Brooklyn Bridge
, just make sure you stick to your lane as pedestrians and cyclists have their own paths. Go from Brooklyn towards Manhattan for a stunning view of the
Statue of Liberty
and
One World Trade Centre
on your left, and Empire State and Chrysler on your right. Warning: it is uphill going the other way. There may have been a few expletives from one at one stage. For an extra special touch, go at sunset and watch the lights start to twinkle in the city.

The most-visited park in the United States stretches across 843 acres and is completely free. It's hard to comprehend just how massive Central Park is, which is why the
free Central Park official app
is a lifesaver. With suggested walking routes, history lessons and an audio guide (with celebrity contributions!), it's a free way to navigate between the most iconic parts of the green. Visit attractions from Bow Bridge (SO romantic!) to Bethesda Fountain, Belvedere Castle, Kerbs Boathouse, the reservoir, the Ramble, Central Park Zoo, Shakespeare garden and Strawberry Fields, the tribute to John Lennon created by Yoko Ono.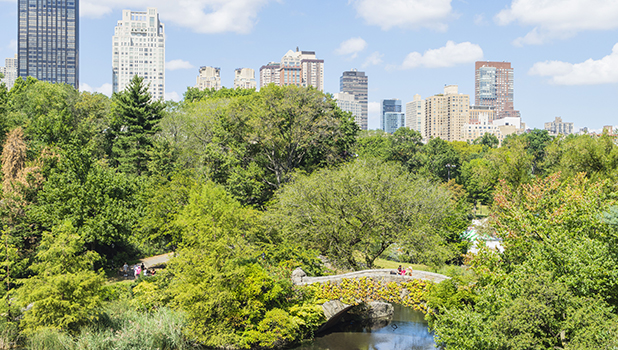 It's easy to think a New York City holiday is just Manhattan, but the 24/7 subways mean you can easily explore the other boroughs and areas, where eating out and drinking can be cheaper than the main city. We ventured up to Harlem for AMAZING fried chicken and a jazz night, and spent an evening in Brooklyn at a series of cheap 'dive' bars that were anything but grotty and definitely didn't have the Manhattan price tag. You can buy a weekly MetroCard for $31, allowing you unlimited subway and bus rides 24/7 - including when you need to get out to the airports.

Just like here, there are loads of Happy Hour options in the city, although we found many of them tended to be late afternoon, very early evening so we kept missing them as we were so busy sight seeing! I'd recommend downloading one of the free apps that locate each day's happy hours for you. Also, do you research and seek out the more affordable pubs. We found a string of lovely ones frequented by locals rather than tourists just by Googling what was happening in our area.

When the boyfriend first suggested this, I admit I was wary. He cycles to and from work every day. For me, the only bike I've ridden in the past ten years has been the spinning class one at Fitness First and I'm rubbish at that! But turns out it's a brilliant way to see a bit more of New York. Oh, and cycle off some of the AMAZING chocolate brioche we'd been indulging in from
Aux Merveilleux de Fred
. Trust me, you HAVE to try it! The Jane Hotel offered bike hire for free, but New York does have its own version of Boris Bikes dotted all over the place for hire. Just be wary: for someone not used to cycling in traffic, the experience of cycling in non-cycle paths through Chinatown in rush hour while drivers scream at you to get out of the way was a tad overwhelming. Oh, who am I kidding. VERY overwhelming. There may have been tears. Followed by copious amounts of wine.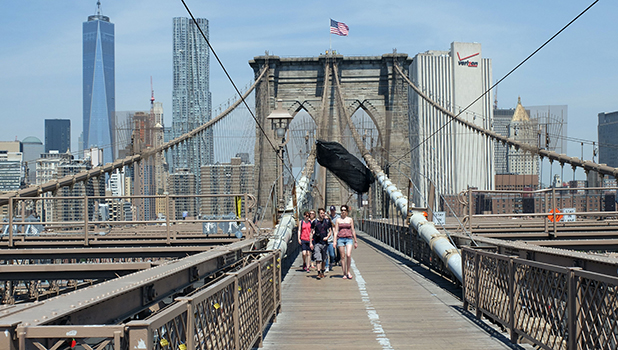 When you shell out $116 up front for an adult CityPASS, it does seem like A LOT of money but this nifty card actually saves you money in the long run. It allows access to six major tourist attractions in the city, three mandatory, three you can choose between a further six:
- The Empire State Building Experience
- American Museum of Natural History
- The Metropolitan Museum of Art
- Top Of The Rock
or
Guggenheim Museum
- Statue of Liberty and Ellis Island
or
Circle Line Sightseeing Tours
- 9/11 Memorial & Museum
or
Intrepid Sea, Air & Space Museum.
Once you get over parting with over 100 dollars in one swift move, you realise this is a pretty good deal. That is, if you wanted to visit all these things anyway. The idea is you save money (around $77, or 40% on entrance fees) by buying the package, and save time because you can skip many ticket lines. The former was certainly true for us, the latter less so: there's still queuing in most places, and you have to go through security. Plus so many people have a CityPASS you're not really skipping the majority of people!

The Empire State Building Experience is a great deal as you get two entries in one: entry to the skyscraper during the day, and then a bonus visit between 10pm and 2am, to see the city at night. Bizarrely, we found the queues were longer at midnight than they had been at 5pm! Definitely worth it though! If you visit in the chillier months, wrap up warm as it is COLD up there!

As mentioned, we spent AGES finding a hotel, going through prices, amenities, reviews and comparison websites. In the end we settled on
The Jane Hotel in West Village
, partly because it was a good price, partly the history.
I recommend looking for hotels in the West Village (think
Sex and the City
and
Friends
!), because it's far enough away from Times Square and all the bright lights to feel like you're a bit out of the city, but the brownstones on your doorstep and Hudson River opposite mean you're still in the heart of NYC. It feels more like you're a temporary resident of the city than a tourist. Importantly, we also felt safe walking around at night and there's a plethora of bars, restaurants and cafes on your doorstep so you don't need to wander too far.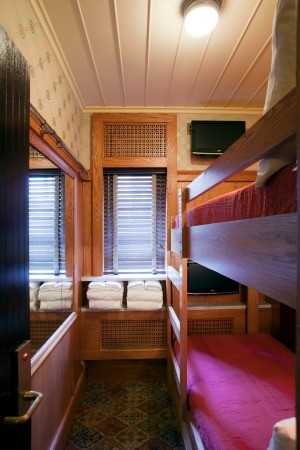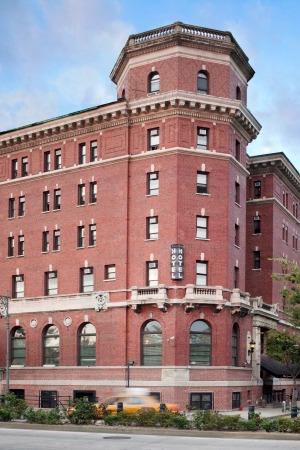 As an Irish girl over in NYC for St. Patrick's Day, it felt fitting to stay at a place with strong Irish roots. A former sailors' hotel, The Jane is famous for being the hotel where survivors of the Titanic disaster were taken in 1912 while awaiting the results of the inquest into the sinking.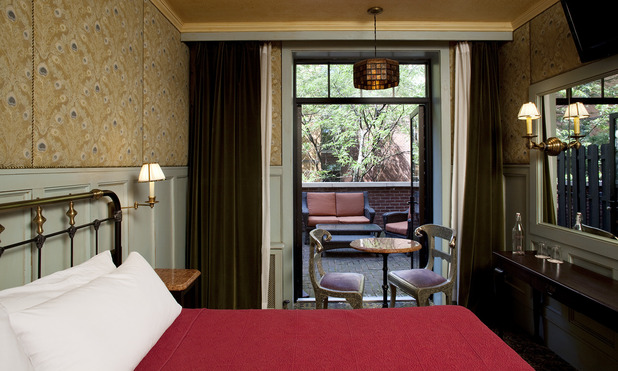 This is a good option if you're looking for a stylish location, comfortable room and good value for money, particularly if you're fine with a small Bunk Bed Cabin and shared bathroom. Rooms at The Jane start from $125 (£86) for a Bunk Bed Cabin with a communal bathroom or $250 (£172) for a Captain's Cabin with en suite, which come with a view of the Hudson River or a private terrace.
The style of the hotel is very boho chic 'n' shabby. The rooms are comfortable and functional, but not high luxury. Then again, you're in NYC, how much time do you spend in your room during the day? What the hotel lacks in modernity it makes up for with old school vintage glam, cost-efficiency, location, good travel links (the Metro is round the corner), friendly staff and the best shower in the world. Seriously. That thing was incredible. If only I could have slipped it in my suitcase...