Each month we give you a lowdown of the top five films we're talking about. From comedy to drama, action and thriller, we'll do our best to bring you a round up of the most popular movies whether it's in cinema, for release on DVD or available on digital download.
May film picks
(listed in no particular order)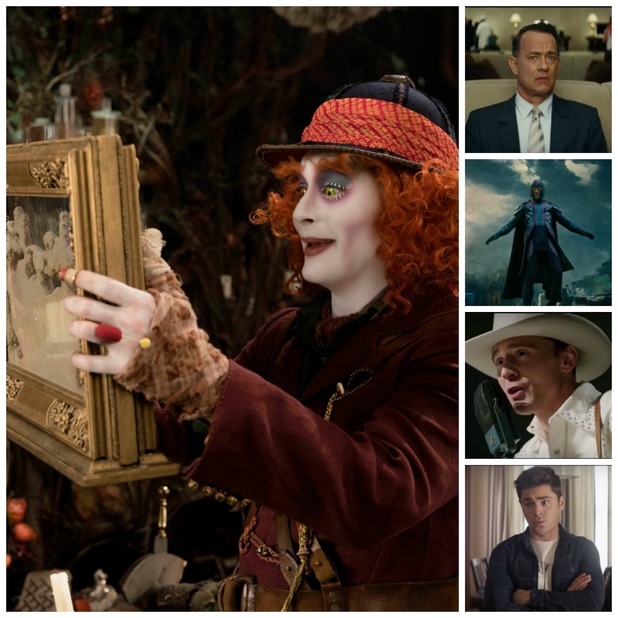 1.
A Hologram for the King
(12A)
Starring: Sarita Choudhury, Sidse Babett Knudsen, Ben Whishaw, Tracey Fairaway, David Menkin, Tom Skerritt
What is it about?
Newly divorced businessman Alan Clay (Tom Hanks) needs some luck in his life and soon embarks on a journey halfway around the world to a rising Saudi Arabian city. He's soon dispatched to pitch a new IT contract to a wealthy king, and he seizes it with both hands. But fighting to stave off bankruptcy, pay his daughter's college fees, and finally accomplish something big, Alan is forced to rise to completely unknown challenges.
Why should you watch it?
Based on the best-selling novel by Dave Eggers,
A Hologram for the King
is being billed as a "hilarious comedy-drama". Besides, it stars Tom Hanks in a leading role, and quite frankly, when has he ever been in bad movie?!
Release date: In cinemas on 20 May
2.
Alice Through The Looking Glass
(TBC)
Starring: Johnny Depp, Anne Hathaway, Mia Wasikowska, Helena Bonham Carter, Alan Rickman, Stephen Fry, Michael Sheen, Timothy Spall, Rhys Ifans, Sacha Baron Cohen
What is it about?
The cast reunite for the sequel to the 2012 film
Alice in Wonderland
in this all-new spectacular adventure film. Featuring the unforgettable characters from Lewis Carroll's classic stories, Alice returns to the whimsical world of Underland and embarks on a perilous race to save the Mad Hatter before time runs out.
Why should you watch it?
Presented in 3D, prepare to be in for another magical adventure from Disney with an all-star cast. This film is directed by James Bobin, who will bring his own unique vision to the spectacular world Tim Burton created on screen in 2010.
Release date: In cinemas from 27 May
3.
X-Men: Apocalypse
(12A)
Starring: James McAvoy, Michael Fassbender, Jennifer Lawrence, Oscar Isaac, Nicholas Hoult, Rose Byrne, Tye Sheridan, Sophie Turner, Olivia Munn, Lucas Till
What is it about?
The world faces an even greater threat when Apocalypse (Oscar Isaac), the world's very first mutant, reawakens after thousands of years and assembles a team of powerful mutants, including Magneto and Storm, to help create a new world order. It's up to Professor X (James McAvoy) and Raven (Jennifer Lawrence), and their team of young X-Men, to stop Apocalypse and save the world from destruction.
Why should you watch it?
In what is the ninth instalment of the X-Men series, director Bryan Singer returns to the franchise he launched in 2000. Expect lots of action in all of its 3D glory. We'll also see former
EastEnders
actor Ben Hardy make his debut in his first blockbuster movie!
Release date: In cinemas from 18 May
4.
Bad Neighbours 2
(15)
Starring: Seth Rogen, Zac Efron, Rose Byrne, Chloë Grace Moretz, Dave Franco, Ike Barinholtz, Carla Gallo, Selena Gomez, Lisa Kudrow
What is it about?
As the title suggests,
Bad Neighbours
tells the story of suburban parents Kelly and Mac, whose quiet family life is disturbed by the antics of some rowdy next door neighbours. Shortly after the birth of their baby, Mac and Kelly are forced to live with neighbours from hell when a fraternity group descends on the house next door, but tension heightens as the rival parties fight for the upper hand.
Why should you watch it?
As a follow up to the 2014 comedy, this sequel is billed as "even wilder and more shocking", plus Chloë Grace Moretz joins the movie as one of the outrageous new neighbours.
Release date: In cinemas from 3 May
5.
I Saw the Light
(15)
Starring: Tom Hiddleston, Elizabeth Olsen, Cherry Jones, Bradley Whitford, Maddie Hasson, Wrenn Schmidt, David Krumholtz, Casey Groves, Josh Pais
What is it about?I Saw The Light
tells the story of country music legend and American songwriter, Hank Williams. Tom Hiddleston takes on the role of Hank, whose work became an influence on Elvis Presley and Bob Dylan, among others. The movie explores Hank's rise to fame and the toll it took on his health and personal life.
Why should you watch it?
Tom Hiddleston will forever be known as Loki (Marvel universe), or Jonathan Pine if you've recently watched the brilliant BBC One drama
The Night Manager
, but as a man of many talents, prepare to see him in a new light (excuse the pun).
Release date: In cinemas from 6 May

Recap:
1.March film picks: The Choice, Batman v Superman, Fifty Shades of Black, My Big Fat Greek Wedding 2, Zootropolis2. April film picks: The Huntsman: Winter's War, The Jungle Book, Captain America: Civil War, Bastille Day, Whiskey Tango Foxtrot
Follow us on Twitter @RevealMag for all your celeb, fashion and beauty news!