Former I'm A Celebrity...Get Me Out Of Here! star Jessica-Jane Stafford shared an amusing photo of her toddler son this week and, as my daughter turned one, it got me thinking about what is to come.
Jessica-Jane posted the funny photo on Instagram, asking her followers to 'spot the toddler', and I must admit, it did take me a few seconds to work out where Angel was hiding. (Nice kitchen by the way. Jeez, I'm old.)
On Easter Monday, my baby girl Molly celebrated her first birthday and it was definitely a day to remember. I was super excited, proud and also a bit emosh about how much she has grown in the last year.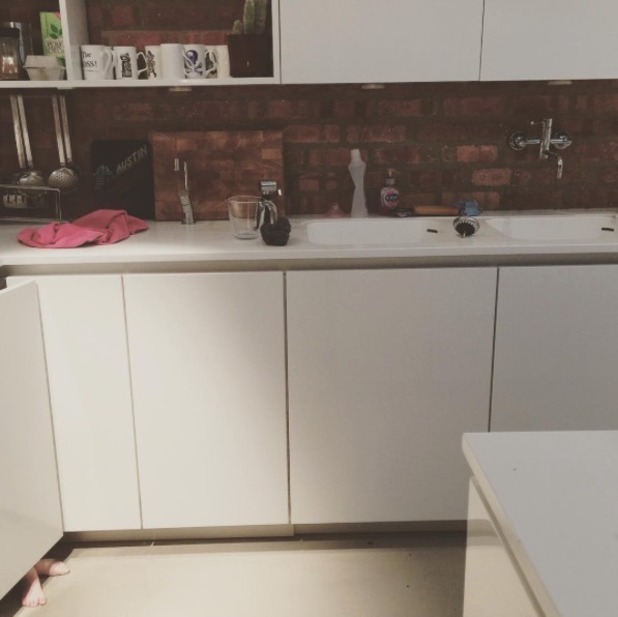 In fact, I admit I shed a tear in the car on the way to her My Super Sweet 1, thanks to Capital FM playing Bastille's 'Pompeii', and lost count of the times I exclaimed, 'I just can't believe she's
one
!'
Crikey, goodness knows what I'll be like when she's 18. Or even just eight.
My Super Sweet 1 was a big success and it was quite clear who the birthday girl was, thanks to her
personalised first birthday shoes
and spangly '1' tutu, all the way from Hong Kong. Seriously, eBay rocks.
But after the ball pool had gone and the helium balloons had reluctantly floated to the ground, things began to change.
The 9-12 month clothes that I'd been squeezing Molly in to were packed away and replaced with 12-18 month threads, the last bit of formula was drunk and the steriliser that had sat proudly on the kitchen worktop for a year was packed away.
It was all too much. The 'baby on board' sign is still hanging in the car.
My hubby and I googled to find out how long we can get away with keeping it in there but, unsurprisingly, we couldn't find a definite answer. So it's staying put...for now.
However, along with the slight sadness, I'm also excited about the next year, which will see her take her first steps, start chatting and hopefully grow enough hair for bunches.
Oh, and fingers crossed for plenty of games of hide and seek in the kitchen!
The first year is a funny one, as your child will never again change so much in such a short space of time. All the more reason to celebrate and eat cake, I say. And boy, I have done
a lot
of that this week #oops.
Did you feel a tinge of sadness when your baby turned one? Answer in our poll!
YES - I felt emosh, I won't lie
62.50%
NO - I was just happy!
25.00%