Each month we give you a lowdown of the top five films we're talking about. From comedy to drama, action and thriller, we'll do our best to bring you a round up of the most popular movies whether it's in cinema, for release on DVD or available on digital download.
April film picks
(listed in no particular order)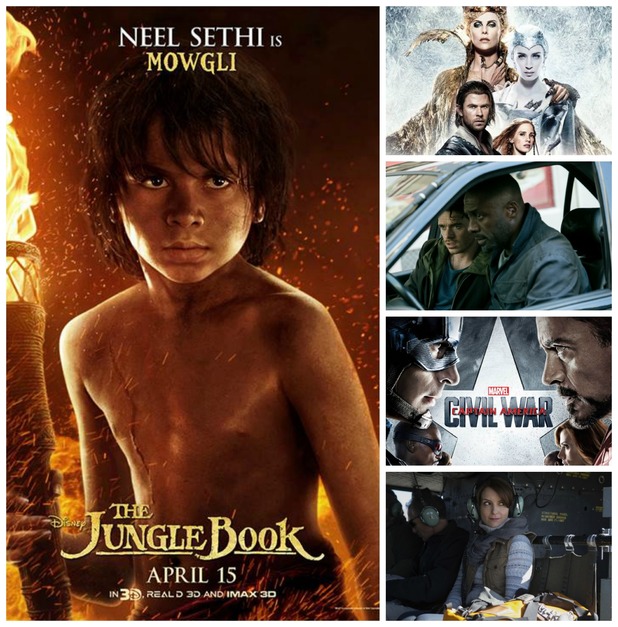 1.
The Huntsman: Winter's War
(12A)
Starring: Chris Hemsworth, Charlize Theron, Emily Blunt, Jessica Chastain, Sheridan Smith, Nick Frost, Rob Brydon
What is it about?
Long before the evil Queen Ravenna was thought to be vanquished by Snow White's blade, she watched silently as her sister, Freya, suffered a heartbreaking betrayal which led her to flee their kingdom. Young ice queen Freya spent decades in a remote palace raising a legion of deadly huntsmen - including Eric (Chris Hemsworth) and warrior Sara (Jessica Chastain) - only to find that her prized two disobeyed her one command to never fall in love. But Freya soon has bigger problems to deal with when she learns the truth about her sister Ravenna, and their sibling rivalry comes to full force.
Why should you watch it?
This Snow White prequel is an action adventure fantasy drama with a great female leading cast. The fight scenes are good and 3D effects are used well. For the most part, Chris shines as the leading male, but look out of Sheridan Smith, Nick Frost, Rob Brydon and Alexandra Roach as the dwarfs. They are quite simply hilarious.
Release date: In cinemas from 4 April.
2.
The Jungle Book
(PG)
Starring: Neel Sethi, Scarlett Johanson, Idris Elba, Bill Murray, Sir Ben Kingsley, Christopher Walken, Giancarlo Esposito, Lupita Nyong'o
What is it about?
Iron Man
director Jon Favreau re-invents this Disney classic for a whole new generation. Orphaned 'man cub' Mowgli (Neel Sethi) has been raised by wolves Raksha (Lupita Nyong'o) and Akela (Giancarlo Esposito) deep in the Indian jungle. But Mowgli's life is soon threatened by ferocious tiger Shere Khan (Idris Elba). With the help of jaguar Bagheera (Ben Kingsley) and bear Baloo (Bill Murray), Mowgli embarks on a captivating journey of self-discovery, where he must find the strength to stand up to the fearsome Khan once and for all.
Why should you watch it?
Rudyard Kipling's beloved novel was adapted by Walt Disney in their classic 1967 animation, and now we've been treated to a live-action film in 3D. Firstly, we get to hear some of our favourite Jungle Book songs. Adaptations of 'The Bare Necessities' and 'I Wan'na Be Like You' will have you swinging from your cinema seat! But child actor Neel Sethi really is the star of the show, and with an all-star cast and great storytelling, this visually spectacular movie really is a treat for children and adults alike.
Release date: In cinemas from 15 April.
3.
Captain America: Civil War
(TBC)
Starring: Chris Evans, Robert Downey Jr, Scarlett Johansson, Sebastian Stan, Anthony Mackie, Elizabeth Olsen, Sebastian Stan, Daniel Bruhl, Emily VanCamp, Don Cheadle, Jeremy Renner, Tom Holland
What is it about?
Captain America and Iron Man go head-to-head in this ultimate Marvel superhero film based on the comic book by Mark Millar. When an incident involving the Avengers results in collateral damage, politicians propose a governing body to monitor the activities of superheroes. As pressure mounts, Steve Rogers ends up in conflict with Tony Stark, and the heroes are divided into two camps. Steve wants to remain free to defend humanity, while Tony supports government oversight, leaving the other Avengers forced to choose sides - either #TeamCap or #TeamIronMan.
Why should you watch it?
Action packed from beginning to end, this Marvel movie is set to be one hell of a blockbuster. We're also promised guest appearances from Ant-Man, Hawkeye, Vision, Falcon, Black Widow, Black Panther, War Machine and Spider-Man. What more could you want?!
Release date: In cinemas from 29 April.
4.
Bastille Day
(15)
Starring: Idris Elba, Richard Madden, Charlotte Le Bon, Jose Garcia, Kelly Reilly
What is it about?
Idris Elba plays US operative Sean Briar as he races against time to track down terrorists. When American pickpocket Michael Mason (Richard Madden), who lives in Paris, finds himself hunted by the CIA, Sean is determined to track him down. But he soon realises that Michael isn't responsible, but is in fact just a pawn in a much bigger game. Sean then goes against demands and recruits Michael for his expert pickpocketing skills to track down the real suspects.
Why should you watch it?
Luther
star Idris swaps the streets of London for the highways of Paris in this action-packed thriller. Described as a "kick ass" film, we'll see Idris in his element as he takes on the leading role with an American accent.
Release date: In cinemas from 22 April.
5.
Whiskey Tango Foxtrot
(15)
Starring: Tina Fey, Margot Robbie, Billy Bob Thornton, Martin Freeman, Alfred Molina, Steve Peacocke
What is it about?
Tina Fey stars in a true-life drama about a journalist thrown in the deep end as a war reporter. It's 2002 and US TV correspondent Kim Barker is looking to shake up her life a little and soon enough finds herself volunteering to cover the war in Afghanistan. Kim is thrown into the midst of chaos and falls foul of the regional US military commander (Billy Bob Thornton). But she also bonds with a straight-talking English reporter and falls for a hunky Scottish journalist.
Why should you watch it?
Whiskey Tango Foxtrot is adapted from the real Kim Barker's memoir
The Taliban Shuffle: Strange Days In Afghanistan and Pakistan
, about her experience covering the wars in both countries for an American broadcast network. While comedienne Tina is expected to deliver fish-out-of-water comedy, soap fans may recognise
Home and Away
's Steve Peacocke (known for his portrayal as Darryl 'Brax' Braxton) cementing his transition from soap actor to movie star.
Release date: In cinemas from 22 April.

Recap:
1. March film picks: The Choice, Batman v Superman, Fifty Shades of Black, My Big Fat Greek Wedding 2, ZootropolisTry Reveal's digital edition on iPhone & iPad. Subscribe now & never miss an issue!