I have almost done it! On Easter Monday, my daughter Molly will turn one and I will have been a parent for exactly one year. And boy, what a year it has been!
While getting ready for
My Super Sweet 1
(who knew the contents of party bags could cause so much anxiety?), I have been reflecting on the past year with my darling daughter Molly.
Now almost ready to take her first steps, she has grown into a proper little girl. Sure, she still has bottles and wears nappies, but it seems like the baby days will soon be behind us. And it's the weirdest thing. One minute you want to sob because your baby is growing up and then you feel excited about all the things she is yet to experience and learn.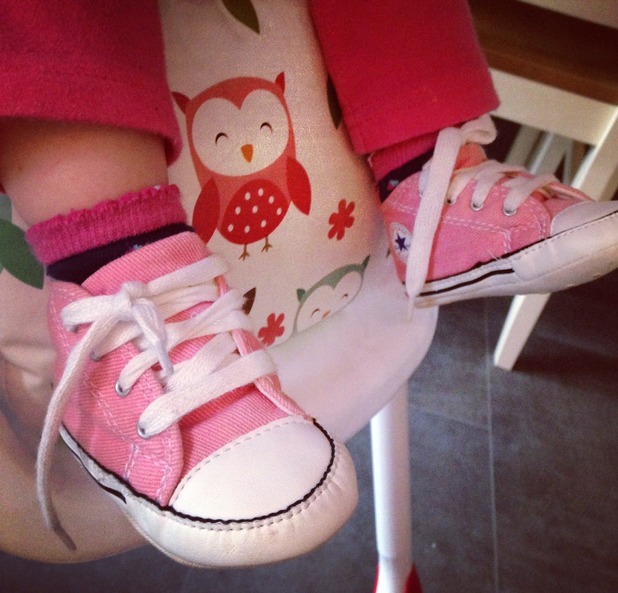 I'm under no illusion that I've still got a lot to learn too. As my sister often tells me: "Parenting is all about muddling through."
This is very true...and this is what I have learnt by muddling through so far...
1. Babies grow up fast.
Like, really fast. One minute you're handed a helpless newborn and then, within the blink of an eye, you pretty much have a toddler. But you won't believe this during your 93rd night feed.
2. Babies will not spontaneously combust
if the temperature of the nursery rises above the recommended 18-20C. Having a three-month-old during last summer's heatwave proved this, especially when our bedroom rose to a sweltering 37C. Eek!
3. Babies WILL sleep through the night eventually
...and when it happens, you will not instantly rejoice. You will instead wake up in a blind, sweaty panic because your baby
didn't
request your company at 3am.
4. Babies need to learn to chew.
Makes sense really, but I had no idea that they wouldn't instantly start chewing when faced with their first spoon of lumpy slop.
5. TV is your friend
. Now I know some people are really against letting their baby watch TV. I mean, even I vowed to never let this happen. Pah! Mr Tumble and the Waybuloos are now regular guests in our living room, especially when I need to do something important like peg up washing. Or catch up on Twitter...
6. Babies really like mobile phones and remote controls
. I even bought Molly a toy remote. But no, who wants a colourful, singing copy when you can play with a boring black remote - and turn on some random function your mum and dad never knew their TV had. Audio Description, anyone?
7. Babies love a good book
- right from the word go. My husband and I started reading to our daughter from a few weeks old. We thought she wasn't listening, but it turns out she was tuning in. Molly is now totally obsessed with books, so give it a go. Books are good!
8. Leaving the house is mission impossible
. Think it's just a case of strapping the baby in and away you go, think again. No matter how much extra time you give yourself,
it will never be enough
.
9. You will think your newborn is the cutest, most adorable beauty in the entire universe
. Then, you look back at pictures taken when they were two days old, gasping: 'Woah, I don't remember her having such a squashed nose!"
10. You suddenly get it
. You look knowingly at new parents, understanding all the emotions they are feeling. You feel for the mum with the screaming kid on the bus, rather than throw her daggers. And when chatting to your pregnant friend, you smile and nod when they say their unborn child won't watch TV or play with a mobile phone, while thinking: "You have no idea..."
Parenthood is definitely an adventure - and it is fair to say it's the most incredible one you'll ever go on!