Giovanna Fletcher was forced to speak out this week after being 'fat shamed' 11 DAYS after giving birth.
So-called 'fat shaming' is sick at the best of times, but really, what the hell is wrong with some people?!
Giovanna, who together with McFly husband Tom welcomed their second son into the world last month, took to Instagram and revealed how a "near stranger" recently pointed at her tummy and laughed.
And to make matters worse, the vile cretin didn't stop there.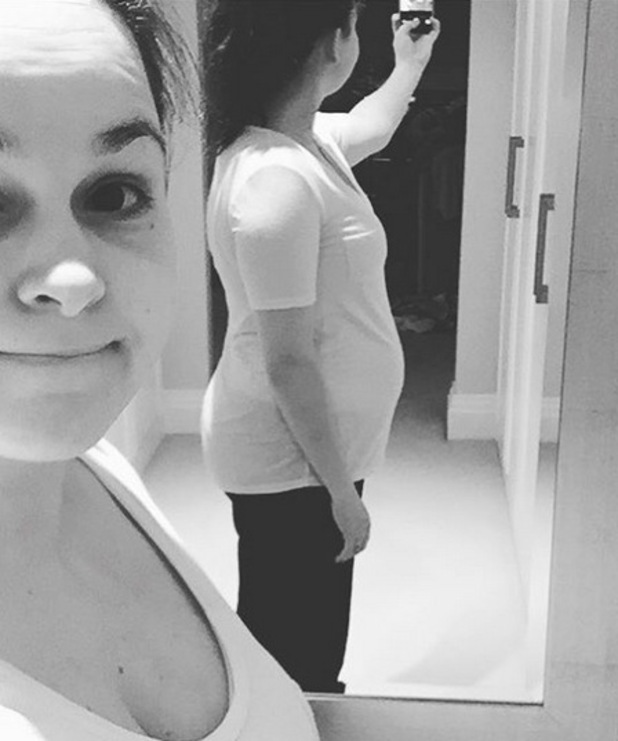 Alongside a selfie, Giovanna told her followers: "A few days ago I had a near stranger point at my stomach, laugh and say, 'Oh look, Mummy's still got her tummy'.
"This was eleven days after giving birth. I was so shocked I laughed. But the words have stuck with me.
"It wasn't left there either, as there was another comment about my face 'slimming down'. More than anything, I was baffled over the stranger's need to share her thoughts...
"Yes, I still have a bump. But that bump kept my little baby boy safe for a whole nine months. That bump has filled my world with even more love and light than I knew possible. That bump is a miracle worker..."
I 100 per cent admire Giovanna for speaking out, but quite frankly, it's outrageous that she has even had to.
Almost a year on from having my baby, I like to think I would've given this 'near stranger' a slap into next week. But I know that wouldn't really have been the outcome.
If someone had said that to me in those 'oh so emotional' days after giving birth, I think I would've mumbled in agreement, laughed nervously like Giovanna and then spent the evening sobbing on the sofa. Uncontrollably.
Why are people so mean? Jealousy? Perhaps. Or just plain nasty.
To be fair to Giovanna, you couldn't get much better payback than announcing the incident to two million of yours and your husband's fans.
I hope said 'near stranger' is sat somewhere hanging their head in shame. High five, Giovanna. And for the record, most people with a brain cell would never be so cruel.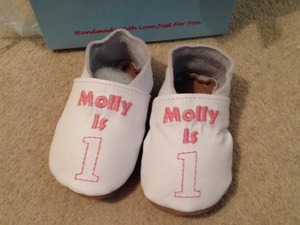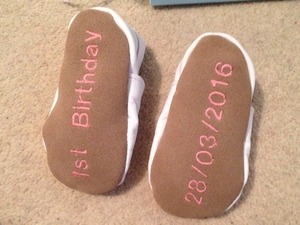 Meanwhile, as I mentioned, my daughter Molly's first birthday is fast approaching and I've become 'one of those' annoying mums who keeps exclaiming: "I
can't
believe she's almost a year old already?!" I do try not to, honestly I do, but it just slips out.
Given the size of our enormous family (well mine, not my husband's), we have hired the local village hall for a party. However, it is fast becoming
My Super Sweet 1
.
I've also hired a ball pool, borrowed a helium balloon canister from a friend and bought a special 'First Birthday Tutu' from eBay via Hong Kong (where would we be without our friends on eBay?!). My husband isn't wildly keen on her party dress, but given the pain I endured on that day one year ago, he doesn't have a leg to stand on.
This week, I completed things with The Best Accessory Ever - first birthday shoes! The little leather
slip-ons, from Born Bespoke at Not On The High Street
, are personalised with Molly's name and the date of her birthday. And I've even been able to match the colour to her outfit!
Perhaps I'm getting a little carried away. But if a girl can't wear a tutu and bespoke shoes on her first birthday, when can she? Exactly.
Last week, I asked
if your first born looks like you, after Jacqueline Jossa shared a picture of mini-me daughter Ella
. A lucky 39 per cent of you also have a mini-me, while, like me, 48 per cent of you don't look like your bubba! Only 13 per cent said your child is a good mix of both you and your partner.
This week, I want to know if you pulled out all the stops for your baby's first birthday!
Did you throw a My Super Sweet 1 for your baby? Answer in our poll!
No, not for their first birthday - they won't even remember it!
53.33%
Yes...I should've just invited MTV and been done with it
46.67%