Every month we give you a lowdown of the top five films we're talking about. From comedy to drama, action and thriller, we'll do our best to bring you a round up of the most popular movies whether it's in cinema, for release on DVD or available on digital download.
March film picks
(listed in no particular order)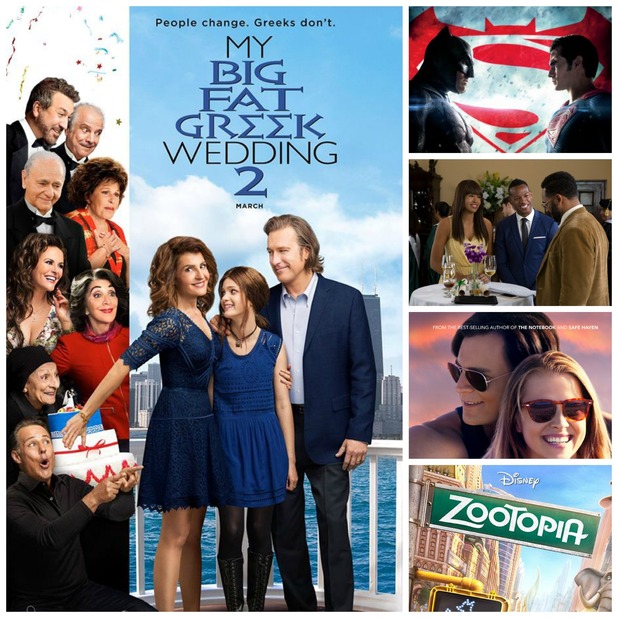 1.
The Choice
Starring: Benjamin Walker, Teresa Palmer, Maggie Grace, Alexandra Daddario, Tom Welling, Brett Rice, Tom Wilkinson
What is it about?
When feisty medical student Gabby Holland moves in next door to perennial ladies' man Travis Shaw, it sends them both on a romantic journey they never thought was possible. Travis has always believed a serious relationship with a woman would cramp his easy-going lifestyle, meanwhile Gabby was ready to settle down with her long-term boyfriend... That was until an irresistible attraction between the pair put a spanner in the works. After a whirlwind romance, Gabby and Travis get married and build a family together, making every decision hand-in-hand until one of them is forced to make the most important choice of their life alone.
The Choice
is being billed as a poignant and life-affirming celebration of love, marriage and family that questions how far would you go to keep the hope of love alive.
Why should you watch it?The Choice
is an adaptation of the book by famed author Nicholas Sparks. If you don't know, he's the man behind
The Notebook
,
A Walk To Remember
and
Dear John
. His books are tear-jerkers and the movie adaptations are too! We're sure
The Choice
is bound to leave us all emotional. Tissues at the ready!
Release date: In cinemas across the UK on 4 March 2016.
2.
Batman v Superman: Dawn of Justice
Starring: Ben Affleck, Henry Cavill, Amy Adams, Jesse Eisenberg, Jeremy Irons, Gal Gadot, Michael Shannon
What is it about?
Ben Affleck plays Batman/Bruce Wayne while Henry Cavill plays Superman/Clark Kent in this superhero film featuring the DC Comics characters. When the city of Metropolis has been devastated by a battle between Superman and General Zod, it's not long before Batman takes on Superman, and the world questions what sort of hero it really needs. But what will happen when Gotham City's forceful vigilante takes on Metropolis' modern-day saviour? As they square off against each other, a new threat quickly arises - Doomsday, created by Lex Luthor. Can Superman and Batman set aside their differences along with Wonder Woman to stop Lex and Doomsday from destroying Metropolis?
Why should you watch it?
Directed by Zack Snyder, there's a lot of anticipation around this epic comic 3D movie about the Dark Knight and Caped Crusader coming to blows. Of course, if you're a DC fan then this is definitely not one to miss, but this is by far the long-awaited on-screen superhero clash that absolutely
everyone
will be talking about.
Release date: In cinemas across the UK on 25 March 2016.
3.
Fifty Shades of Black
Starring: Marlon Wayans, Kali Kawk, Jane Seymour, Fred Willard, Mike Epps, Affion Crockett, Kate Miner
What is it about?
A spoof of
Fifty Shades of Grey
, Marlon Wayans takes the lead as controlling tycoon Christian Black, while Kali Hawk plays the innocent Hannah Steele. It tells the story of a young student who goes to interview a wealthy, handsome businessman for her college newspaper. Flirtation soon leads to attraction and the start of a kinky relationship.
Why should you watch it?
It's tipped as an outrageous parody and laugh-out-loud comedy drawing on the key moments of the original movie, so if you've seen
Fifty Shades of Grey
, we're sure you'll be taking notes and comparing scenes!
Release date: In cinemas from 11 March 2016.
4.
My Big Fat Greek Wedding 2
Starring: Nia Vardalos, John Corbett, Lainie Kazan, Gia Carides, Joey Fatone, Elena Kampouris, Alex Wolff, Louis Mandylor
What is it about?
It's back! The follow-up to 2002's romantic comedy of
My Big Fat Greek Wedding
returns with a Portokalos family secret that will bring the beloved characters back together for an even bigger and Greek-er wedding. The original movie told the story of Greek-American woman Fotoula 'Toula' Portokalos who fell in love with a non-Greek upper middle class guy named Ian Miller. Now 14 years later, part two picks up the story of Toula and Ian who have another Greek wedding to cope with while also dealing with their teenage daughter.
Why should you watch it?
We loved the first movie so much and we're so glad it's back! We're hoping for more hilarious moments, romance, and of course, to see the original cast reunite on screen.
Release date: In cinemas from 25 March 2016.
5.
Zootropolis
Starring: Ginnifer Goodwin, Jason Bateman, Idris Elba, Jenny Slate, Nate Torrence, Bonnie Hunt
What is it about?
In the city of
Zootropolis
, all the inhabitants are mammals, including gazelles, water buffalo, sloths and much more. The animation focuses on wide-eyed bunny Judy Hopps who turns detective as she tries to solve the case of a missing otter. Unfortunately, she has to team up with fugitive con artist and fox Nick Wilde to uncover a conspiracy.
Why should you watch it?
Under the name of
Zootopia
in the US, this is a family-friendly Disney film and from the makers of
Frozen
and
Wreck-It Ralph
, need we say more? Plus it features an A-list cast, so we can't wait to see how they inhabit - and voice - their animal personas!
Release date: In cinemas from 25 March 2016.
Try Reveal's digital edition on iPhone & iPad. Subscribe now & never miss an issue!