NEWS FLASH!
Zayn Malik
has put his differences with One Direction aside following the birth of Louis Tomlinson's baby - and who can blame him?!
Proving that baby news
really does
bring everyone together, Zayn has...wait for it...'liked'
Louis' Twitter selfie with newborn son Freddie
.
Ok, so he hasn't exactly raced round with a helium balloon and a three-pack of vests, but you know, it's progress.
Speaking about Freddie's arrival, listeners of Dave Berry's Capital London Breakfast Show will tomorrow hear Zayn admit: "His kid is as cute as f***, so obviously I favourited it."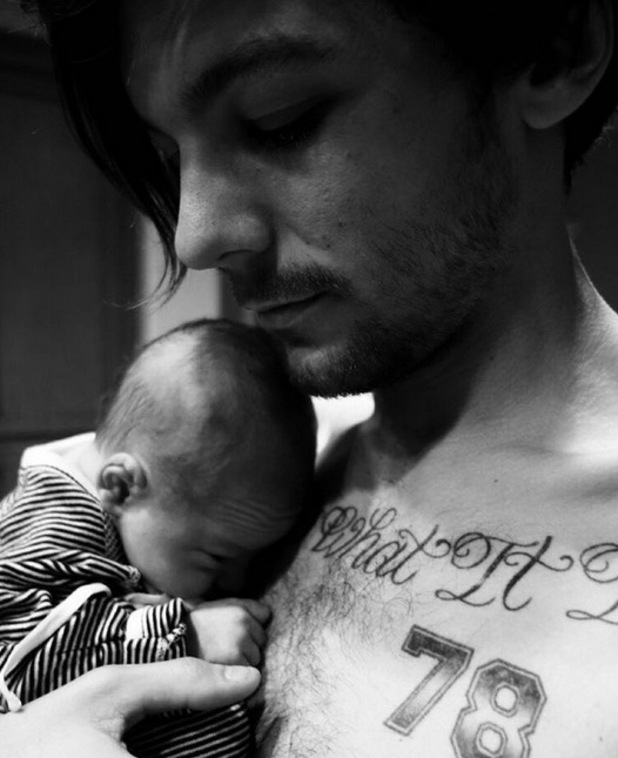 (Not quite how I'd want my teeny little bundle described, but beggars can't be choosers in the world of boyband wars)
He continues: "We're not talking on friend terms obviously, so that's as far as I can go, by favouriting his picture."
It's funny, as within minutes of meeting your newborn, that defensive streak kicks in.
It is ingrained in my brain exactly who out of my so-called friends sent their congratulations when Molly was born, and who didn't, and who has gone that extra mile and visited - with or without the three-pack of vests - in the last 10 months.
For those who did none of the above, or even offered a Twitter favourite, YOU SUCK. Even a favourite shows you care. Good work, Zayn.
Meanwhile, although I'm happy for Zayn and Louis, I've had a very exciting week indeed!
I've recently started a dance class (and discovered an apple has more of a core than my post-baby body) and, while driving there, I crashed into a curb on a narrow countryside bridge and burst my tyre.
I managed to limp to the other side, where bizarrely I discovered a fellow female motorist who had done exactly the same thing moments earlier. We both blamed the bridge.
I duly called my breakdown service, as did she, and it was a race to see who got there first. Well, not only did her AA rescue man beat my guys hands down, he replaced my wheel too.
The chap had finished his shift and everything, but he said he couldn't bear to leave me alone on a dark lane. Mega high five to him!
It's quite scary how buzzing I was when I got home. I mean, I used to enjoy a night out on the town and glass or two of Prosecco. But that was BM - Before Molly.
Now, any excuse to leave the house without a baby in tow is thrilling. Even when it involves a burst tyre, a top knot and dance wear - not of the clubbing kind, I may add.
It's truly remarkable what happens to you when you start having kids...
Last week, I revealed how former
I'm A Celebrity...Get Me Out Of Here! star Jessica-Jane Clement had gone overdue with her second child
. Well, congratulations are in order, as
Jessica has since given birth to a baby girl
!
While on the subject, I asked if you went overdue with your pregnancy. While, 56 per cent of you did and hated it, 17 per cent did but enjoyed the extra days of rest. Meanwhile, 28 per cent of you didn't even make it to your due date.
This week, I want to know if you think Zayn will ever meet baby Freddie.
Will Zayn Malik ever meet Louis Tomlinson's baby Freddie? Answer in our poll!
Yes - the baby will help restore their friendship!
56.52%
No - a 'favourite' is the best Louis is getting...
43.48%
Tune in to hear the full interview with Zayn Malik on Dave Berry's Capital London Breakfast Show, tomorrow (Friday) morning from 6am.