Jasmine Hodge has been eliminated from the search for Britain's Next Top Model.
Having made the final 12, episode two saw Jasmine
undergo a grilling from the press
and take part in a photo shoot for Reebok, but unfortunately, it wasn't enough to get through to the next week and she was told she was no longer in the running for Top Model.
Here's what the Jasmine had to say following her exit....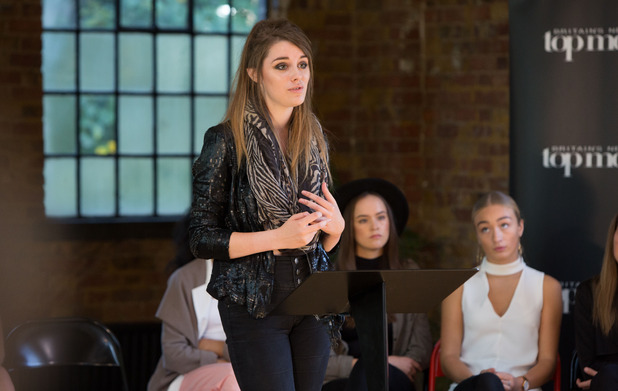 Why did you decide to enter the show?
I've been a massive fan of the show - my mum, sister and I would watch it together. The BNTM people started following me on Twitter and Instagram and my mum told me to apply because I've always wanted to be a model. She just thought I would do really well in it, and obviously I have.
Not many people can say they have been on Britain's Next Top Model...
Sorry, I'm embarrassed about how much I'm crying. This is the first time I have properly cried on the show as well. I said to myself I am not going to cry and obviously this happened and I'm like a mess.
How would you describe your time in the competition?
It's been surreal. In the first challenge we were working for Cosmopolitan magazine and meeting big names like Nicky Johnston. Meeting him for me was just really cool, and also, just the amount of people I've met and the girls as well, they've all got really cool stories to tell and they've all had really different upbringings. I think that is what makes everyone so unique and special.
Out of all the girls, who did you have a really close bond with?
Jess and I got on really well. We're exactly the same and we have similar interests and outlooks on life. We both said after the show that we are definitely going to get together and meet up quite a lot, even though we live quite far away. And Alex as well, Alex and I are quite close. All the girls I get on with really well with but none of them I really formed a special bond with as much as Jess. It is going to really suck not sharing a bedroom with her anymore and spending time with them all.
Is there anyone you didn't get along with?
At first I really didn't take to Amreen, but as time went on I realised how much I misjudged her, and I do really get on with her now and I am actually going to miss her quite a bit. I am going to miss all of the girls really.
If you could do it all over again would you do anything differently?
Yes and no because I think if I did things differently I wouldn't be as proud. I think if I did that shoot differently I would have gone through but I wouldn't have been as proud of my picture so I don't know. Maybe I would try and come out of my shell more a bit earlier because I think it took me a while to start being myself. And I would probably worry less about other people because in the house I was making sure other people were okay and everyone else was getting on fine and having a good time. I wasn't focusing on myself as much. It's just whenever the other girls were nervous on the shoots and the catwalk, I was always trying to be there for them. I think I should have been focusing more on the fact that I was really nervous and really worried and spent more time trying to boost my own confidence.
Do you still think you have what it takes to be a successful model? Are you going to continue?
I think I do but I think I'm too nice at the moment. I think I need to get more backbone and have some of the other girls' bitchiness rub off on me a bit. I need a bit more confidence in myself and a bit more backbone, apart from that I think I have got what it takes.
Who would you like to see win?
Jess.
*This interview took place in September 2015 immediately after Jasmine's exit. Keep up to date with Jasmine on Twitter: @ObviouslyItsJaz.
Britain's Next Top Model - every Thursday at 9pm - exclusive to Lifetime.
Read ALL BNTM exit interviews right here exclusively on Reveal.co.uk
Try Reveal's digital edition on iPhone & iPad. Subscribe now & never miss an issue!
BNTM 2016: meet the top 12
Copyright: Lifetime