Abbey Clancy
's baby daughter Liberty Rose has been snapped having a snooze and, quite frankly, I don't blame the little munchkin.
Abbey, who is a new judge on
Britain's Next Top Model
, stepped behind the camera before Instagramming this adorable picture of Liberty catching a few zzzz'ds in her highchair.
She mused: "Too sleepy to eat!"
Christmas is over. The weather is VILE. The days are short and the nights are loooong.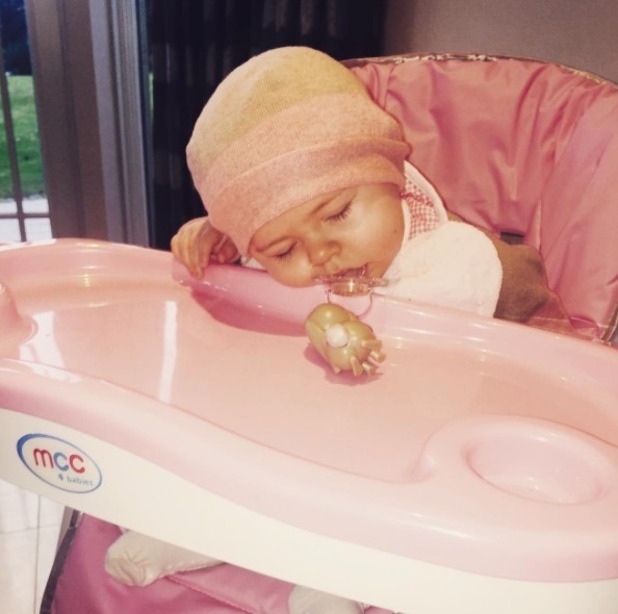 I'm not surprised Liberty has popped a woolly hat on her little bonce and nodded off, I want to do the same. If there was ever a time to hibernate, January is definitely it.
The excitement of Baby's First Christmas has sadly passed. I'm not sure exactly
how
excited nine-month-old Molly was, but the hubby and I couldn't wait to leave out the Baileys and mince pie for Father Christmas.
Unfortunately, Sainsbury's had sold out of carrots, so Rudolph had to make do with a parsnip from our household. It was all gone by the morning though - probs made a nice change for the little fella.
It's funny, as BM (Before Molly), I shuddered at the thought of garish, flashy and noisy toys clogging up my lounge.
I recall visiting a friend and her baby a few years ago and, at that moment, I vowed
never
to let a Jumperoo cross my threshold.
Ha! How naive was I? Along comes your own kid and, woooooo! Let me at 'em! Well *cough*, let Molly at 'em....
I've welcomed the bright pink ride-on with open arms, and I've tried - and failed - to crawl through her new pop up tunnel. The sheer joy on her face outweighs the fact the contents of Toys "R" Us doesn't match my colour scheme.
There were some more grown up presents to be had in our house though, and my ultimate fave is this gorgeous
Protected Species Waterproof Mac
.
It is a touch pricey and definitely a treat at £179 but, oh my goodness, it has put a spring in my step when taking on the elements with Molly in tow. A trench with an actual hood? Best. Invention. Ever.
Never let a torrential downpour strip you of your Yummy Mummy title again. Take that, January - in your face!