13 reasons why New Year's Eve is the most overrated night of the year.
For some, they live for New Year's Eve. It's the perfect excuse for a big meet up with all your pals, to send the previous year off in style with one too many drinks and to see in the New Year with a great night out. But for some us, NYE means stress, empty purses and the biggest anticlimax.
Yep, call us scrooges, but NYE is totally overrated and we're not ashamed to admit we'd rather spend the night indoors with a few glasses of bubbly and be tucked up in bed by 11pm. We've got all year to party hard and be hungover - what's one pretty average night?
Think we're a complete bore? That may be. But maybe these reasons will give you a change of heart...
1. The stressfulness
Every year it gets to say October and that dreaded planning stage finally begins. Everyone's on your case about your NYE plans, but the things is your friends are useless and no one can agree. Some are up for that low key dinner party with a fridge full of Prosecco, others want a classy night at a sophisticated bar, while the odd few are eyeing up a big night at a club that's packed full of people and smells of stale alcohol. No matter how many times you have that conversation of how you're going to ring in the New Year, you never actually move past square one. By that point, tickets are all sold out, no one can actually be bothered and you're beginning to resent the night before it's even started. Happy New Year, people!
2. The struggle to find an outfit
You keep telling yourself that NYE is not like any other night, it's special and that means it requires an even better outfit. But scouring the shops during the post-Christmas sales means you can never actually find anything that ticks the box. Oh, and the fact that you've already paid a fortune for your ticket and are bound to follow that up with even more money spent on the actual night, so you're on a budget. Outfit shopping on a budget? That's virtually impossible. And more often that not when you do settle on something, there's always bound to be someone else rocking the exact same outfit as you.
3. The awkwardness
If you're not all loved-up and spending NYE with your other half, then there's always that awkward moment when it hits midnight. Every couple around you is kissing their way into 2016, reminding you, yet again, that you are single while you try and fend off the advances of a fellow singleton who is slightly intoxicated. We'll pass on that slobbery smacker, thanks. If you are taken and not spending it with your boyfriend or girlfriend, then there's always that pang of guilt you feel when you realise you've ditched them and they're probably standing around looking like a lemon just like you. Not the best way to start the year!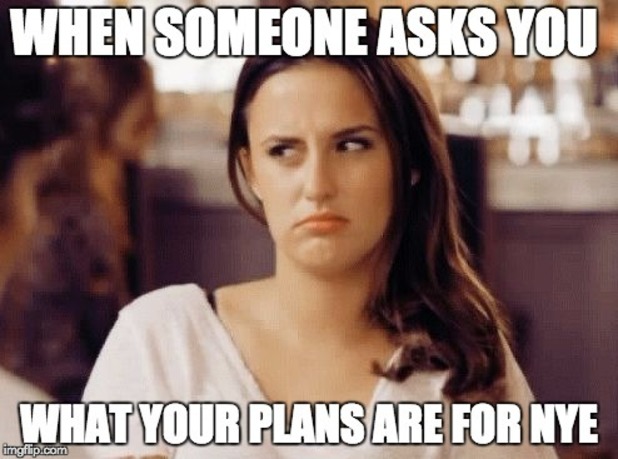 4. The prices
Just when our bank accounts can't take anymore, NYE arrives to give our purses another battering. As if buying Christmas presents weren't expensive enough? You're still reeling from getting a little too excited and thinking you were Santa Clause when it came to showering your nearest and dearest with gifts, and even though you've already been paid, most of that went on celebrating Christmas and the rest - well, you have to save every penny as it has to last all of January too. Why then does everywhere rack up its prices for NYE during a five-week month? Do they not get that we're already kinda broke?!
5. The endless queuing
Yep, we may have just spent £25834573489 on our ticket to get into a club, but we still have to queue for what seems like an age in the freezing cold just to get inside. And when we finally make it through the door, we find ourselves pushed up against our fellow party-goers while we wait for half an hour to get ourselves a drink. And while we think we're pretty savvy ordering three drinks instead of one when we finally get to the bar, nine times out of 10 you end up dropping two of them during the struggle to worm your way out of all the people on your way back. Total nightmare.
6. The pressure
Having hyped yourself up for NYE for the past few months, already the expectations of the night are way too high. It's never going to be as good that way, is it? You always come away thinking it was going to be so much better.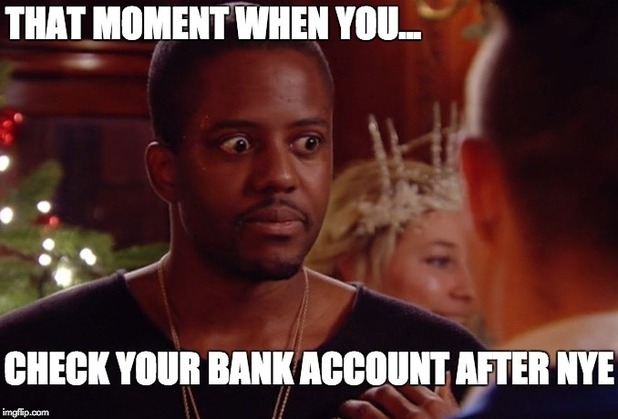 7. The anticlimax
If you think about it, the night that you get yourselves so hyped up for all year round is actually all over in 10 seconds - and more often than not you miss the big countdown anyway. It gets to one second to go, you then shout "Happy New Year", balloons fall from the ceiling and you're back to having the same normal night you'd have at any point around the year. Or you're completely oblivious midnight has come and gone as you're still stuck in that queue to get yourself a bevvy, helping your friend who's throwing up in the toilets or you've already fallen asleep.
8. The effort
Because planning is so stressful, you always end up jumping on the bandwagon of someone else's plans and that means you end up in a group of people where actually, you don't even know half of them. Mixing pals means a hell of a lot of mingling and there's nothing more we can't deal with than small talk. Call us antisocial, but we've already got friends. We don't need anymore, right?
9. The bouncers
Like us, they're total NYE scrooges, so it's no surprise they've got little to no tolerance when it comes to us party-goers. No matter how many times you plead with them and tell them you didn't drop your drink and break your glass, they're not letting you back in. 10pm and already kicked out. Well that worked out well didn't it?
10. The panic
If you do manage to stay inside the whole night, then at some point you're going to feel the ultimate panic when you realise you've actually lost all your friends - even the ones you've just befriended for the night. In a packed out club/bar/pub it's impossible to see through the sea of people and all the fear comes flooding in when you realise if you don't find them again you have to pay the ridiculously tripled, then doubled, then tripled again taxi fare on the way home all on your own.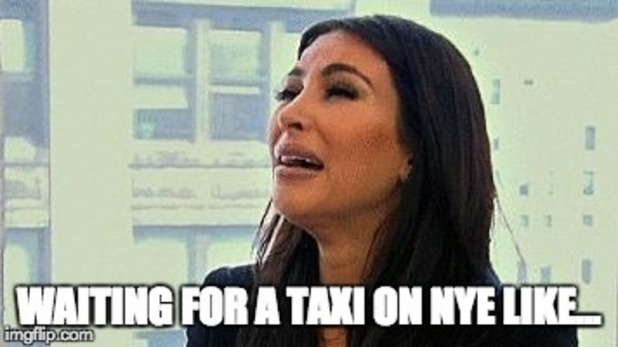 11. The struggle to get home
That's if you make it home. Getting back to your bed on New Year's Day is the ultimate struggle. While some have it easy with the 24 hour tube, it's no good for those who live out of the city or on a total different train line. Cabs rack up their prices and seem to play hide and seek when you're finally ready to whip those heels off and get some sleep. A three hour wait for a cab? No thank you.
12. The hangover
Yup, a big NYE means a groggy-headed you on the 1st January and we can think of better ways to start the year. Waking up full of regret and feeling oh-so-nauseous is definitely not one of them.
13. The guilt
24 hours ago you were harping on about how 2016 is going to be your year. New year, new you - you were on a get-fit mission, you know, healthy body, healthy mind - but you couldn't even make it a day. Instead, you've woken up craving carbs, a Diet Coke and some paracetamol. That workout you were going to do? Please, that's long gone. We knew we should have gone away. Soaking up the sun and seeing in 2016 with a beach view - now that sounds so much more dreamy...
P.S., if you do brave NYE, unlike us, please make sure you do drink responsibly. Happy New Year!For exclusive competitions and amazing prizes visit Reveal's Facebook page NOW!