Rochelle Humes shared a cute picture of daughter Alaia-Mai getting the Frozen treatment at Harrods this week - complete with dress, shoes and make-up.
But woah, these makeovers cost up to ONE THOUSAND POUNDS! Yep, starting at £300 - which is bad enough - the top 'Elsa Royal Experience' will set you back an eye-watering grand.
Yes, £1,000. I'm still trying to process this.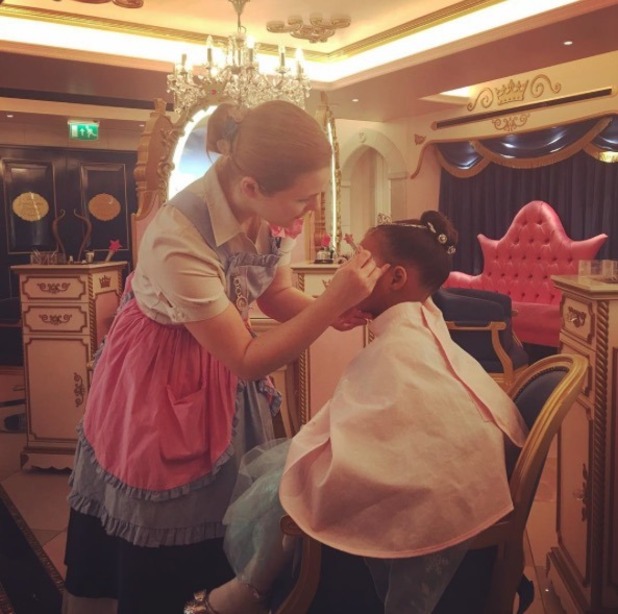 Your kid does get a tiara plonked on their head, and walks away with a singing Elsa toy and 'luxury travel case' among other things, but for ONE THOUSAND POUNDS?!
Nope, I've still not got over it.
Whether a freebie or not, Rochelle and her former JLS star husband Marvin work blooming hard and are not short of a bob or two, so you can't blame them for wanting to treat their little princess to a trip to the Bibbidi Bobbidi Boutique at the plush London department store.
But seriously, who else actually goes there? Who has a spare £1,000 knocking around and thinks, "I know, sod the household bills and childcare costs this month, I'm going to turn my little cherub into Elsa!"
Spoilt much?
I'm pretty tempted to buy a load of Frozen toot from Poundland and set up in my local church hall. I could be sitting on a gold mine. Watch out, Harrods...
Meanwhile, while still attempting to get over the shock (ONE THOUSAND POUNDS?!), I've discovered a tasty cure for tiredness. After congratulating
Lisa Osbourne for owning up to sleep deprivation
, I've got my mitts on some
t plus Boost
green tea. The little bags are packed with natural herbs, not to mention B vitamins, and I fully believe children's centres up and down the land should have them on tap!
And the good news is, unlike a Frozen makeover, a box of teabags won't cost you ONE THOUSAND POUNDS.
Would you pay for a Bibbidi Bobbidi Boutique makeover for your daughter? Tell me below. Last week, I asked if you -
like Katie Price and Billie Faiers - are a secret Peppa Pig
fan. Well, 73 per cent 'fessed up to watching a bit of PP when the kids aren't around, while 27 per cent insisted they prefer more grown up telly.
Would you pay for a Bibbidi Bobbidi Boutique Frozen makeover for your daughter? Answer below!
Yes, it's worth £1,000 to make her smile!
14.10%
Erm, I'd pay for the £300 makeover but not the Royal £1,000 treatment...
15.38%