Now that we're mature grown ups, sadly the days of trick or treating are behind us... but that doesn't mean we can't have a spooktacularly (sorry, we had to!) good time at Halloween!
Whether you're staying in alone with the lights off and curtains closed, heading out, or hosting a gathering of your nearest and dearest, here are some ideas to make it an October 31st to remember!
Asda's amazing DIY Haunted House Kit, £4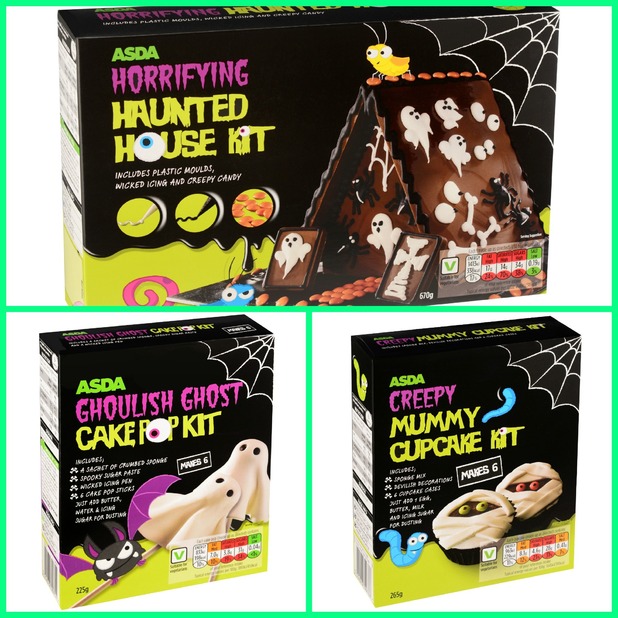 We love buying ready-made cakes and muffins (obvs) but there's also something very fun about making them for ourselves, so we'll be turning to these cute cake pop and cake mix boxes from Asda. Perfect if you have kids or perfect if you love
Great British Bake Off
and just want to potter around in your kitchen, these packs guarantee tasty, pretty looking treats. Our favourite is the Haunted House mix - how amazing does the finished product look?! Almost too spooky/pretty to eat! (DIY Haunted House, £4, Ghost Cake Pop Kit and Creepy Mummy Cup Cake Kit, £2.)
Hotel Chocolat Coffin Box, £50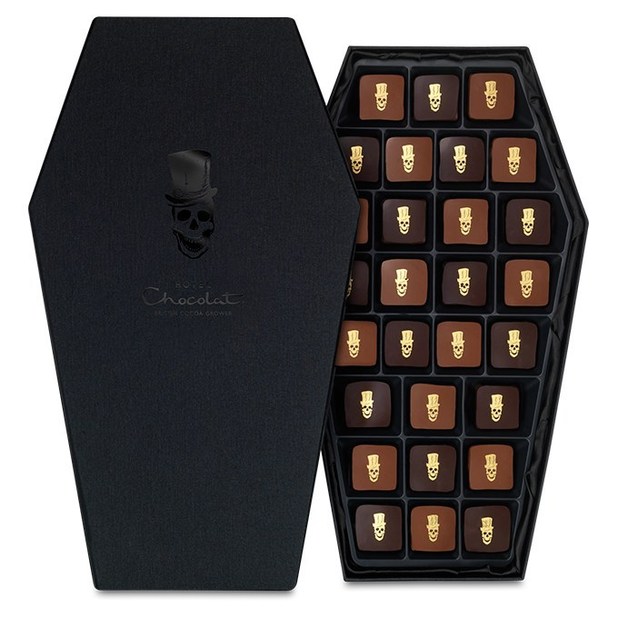 We never say no to chocolates, even when they're delivered in a very spooky coffin-shaped box! These luxury chocs are nestled inside a silk-lined coffin box for the ultimate in Halloween treats. The box contains 24 luxury milk and dark chocolate pralines, each featuring a 24-carat gold skull decoration. It's also worth checking out their other treats including caramel chocolate vampires, oozy milk eyes and a fantastically-named yumpkin chocolate. WE WANT IT ALL!
Jaffa Cakes go spooky, from £1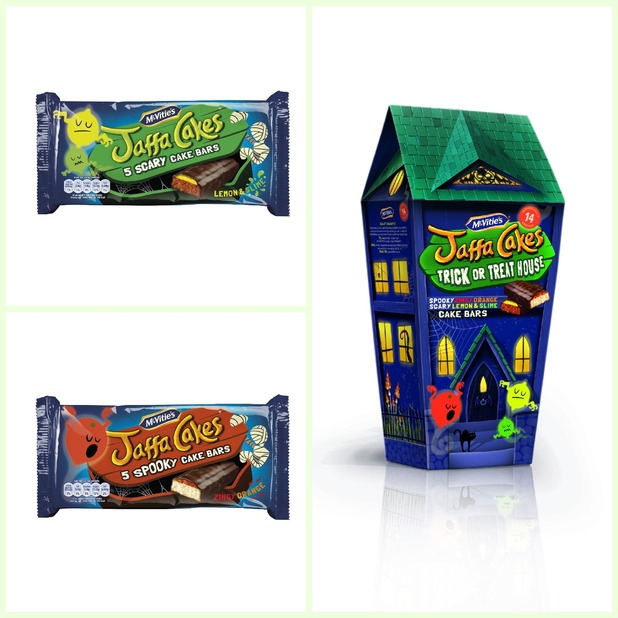 Everyone loves a Jaffa Cake, right? So we're so happy McVitie's has released two limited edition Halloween cake bars. You can choose from Spooky Zingy Orange or Scary Lemon & Slime, which both come in packs of five. Can't decide? Go for the McVitie's Trick or Treat House, which has both bars in a sharing carton. Perfect for Halloween night snacking or handing out to any little monsters who ring your bell!
Starbucks' Vampire Frappuccino, £3.50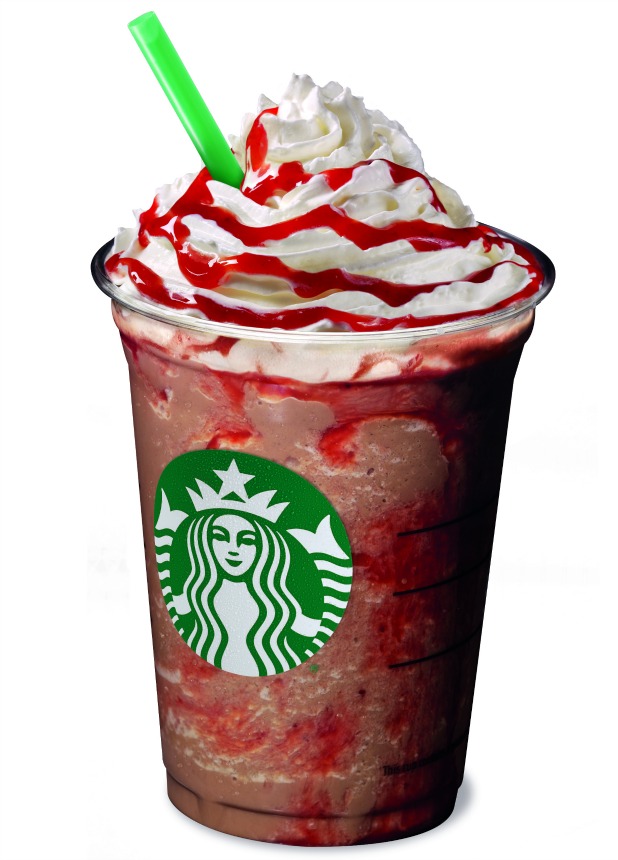 Sounds freaky but tastes incredible! The Starbucks Vampire Frappuccino is available at Starbucks only from 26 October to 1 November and is basically a creme-based mocha frappuccino with blended strawberry sauce, topped with cream and blood. Sorry, we meant strawberry drizzle! Go on, indulge. You know you want to!
Marks & Spencer Meringue Ghosts and other treats, from £2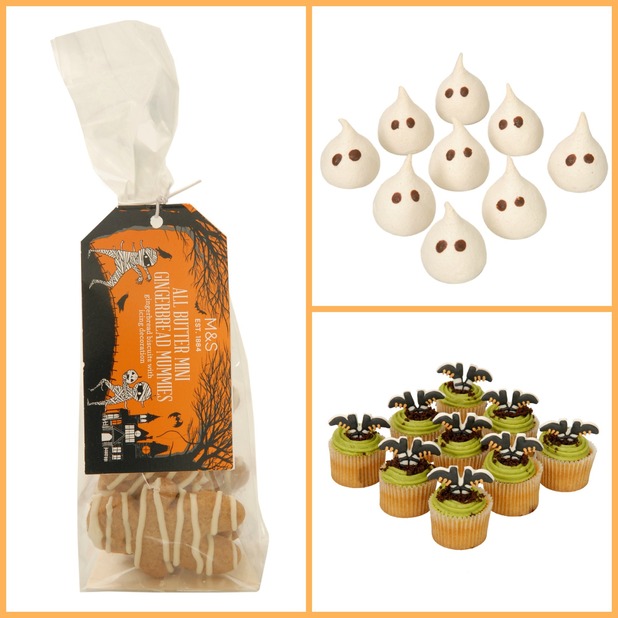 These are so simple but oh-so-cute! Who can resist these little cripsy meringue ghosts with a chewy centre, £2? Especially when it looks as adorable as this! M&S is always a go-to for holiday food and they've outdone themselves this Halloween with a selection of amazing little treats. Alongside ghosts, why not serve your guests toffee apple witches' feet cupcakes, £4, or mini gingerbread mummies, £1.50? Not having guests around? Just scoff them yourself. We won't tell!
Funkin Cocktails Halloween Party Kits, £25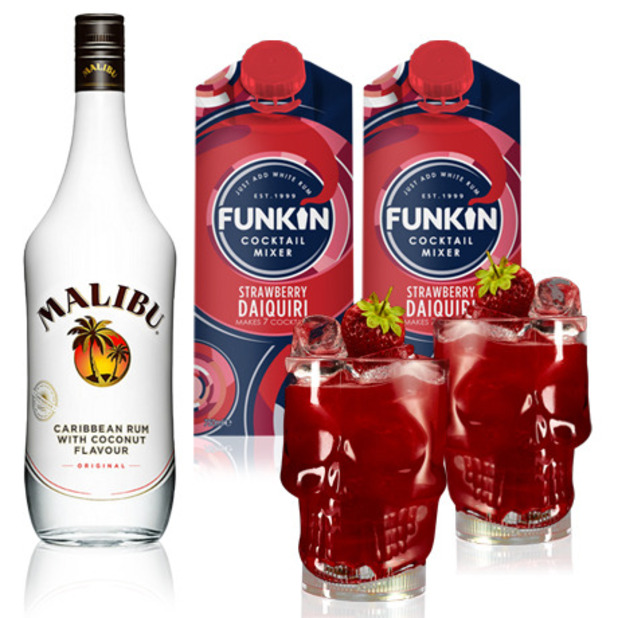 If you really want to impress your guests or just have a jolly good night solo, why not pick up one of these cute party kits? The handy kits come complete with spooky glasses and ready-made fruity mixers that just need ice. Choose from a range of booze including Malibu, Bacardi, Tequila and Midori and try your own creepy cocktails at home. Ruined Daiquiri anyone?! Zombie Rum?
The Folio Book of Ghost Stories, £34.95
This spooky collection, compiled by The Folio Society, combines classic paranormal stories from the past with creepy tales from modern writers. Think dark corridors, freaky noises, abandoned houses, unsettling people, hidden secrets and ghostly sightings. Pretty much everything that makes a brilliantly terrifying horror story. This edition comes with beautiful illustrations and an introduction about the Victorian tradition of ghost stories and its evolution. (If you get scared, just do a Joey Tribbani and stick the book in the freezer for a while...)
Add glitz and glam with Sainsbury's decorations, from £3.50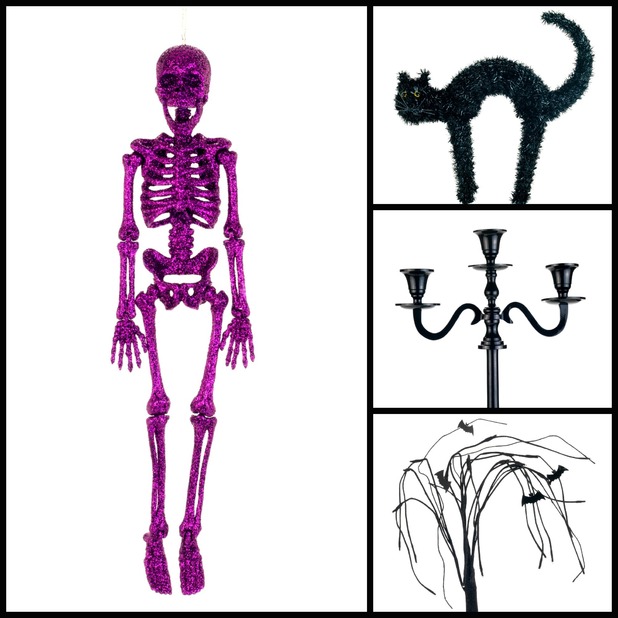 We love a bit of glitz and sparkle at Reveal, so we'll be stocking up on Sainsbury's rather fab and glam Halloween decorations. No plastic skeleton for us, this year it's all about this purple hanging glittery skeleton, £3.50. We'll be adding a bit of Addams Family-esque gothness to proceedings with a black candelabra, £15, which could totally be used all year round, right? We also love this Halloween light up tree, £10, glittery black cat decoration, £5, and this cute light up cat, £12. Top marks to Sainsbury's for some amazing Halloween decorations!
Graham & Brown's Wallpaper, from £44 a roll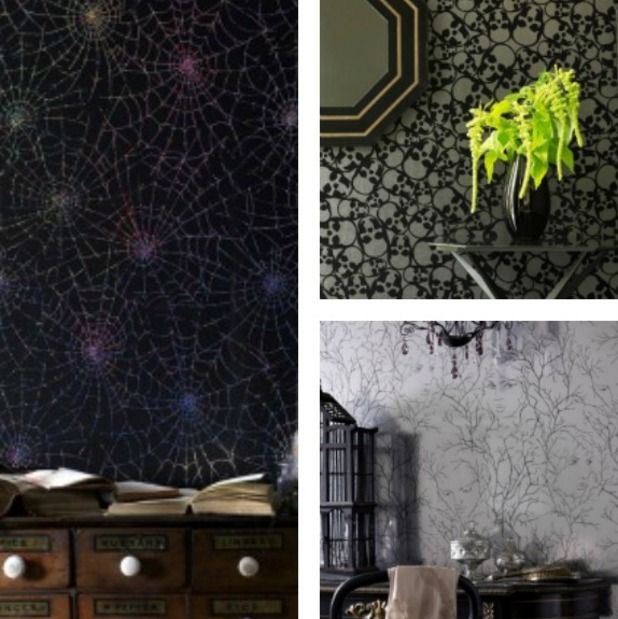 If you fancy having a bit of Halloween all year round, why not decorate your walls with spooky skulls, spider webs or ghostly faces? Graham & Brown has three theatrical and very unique wallpapers on offer to provide rooms with a gothic luxe feel.
Barbara Hulanicki's striking skull wallpaper
has a velvet-esque finish, while the
Goddess Dawn paper
is designed to imitate thin tree branches on a grey background, with the women's faces only visible on closer inspection. Our favourite is the
Cobweb Moonlight
, which gives your walls a shimmering, magical quality. (Though maybe not if you're scared of spiders...)
Morrisons glowing bracelets and make-up treats, from 67p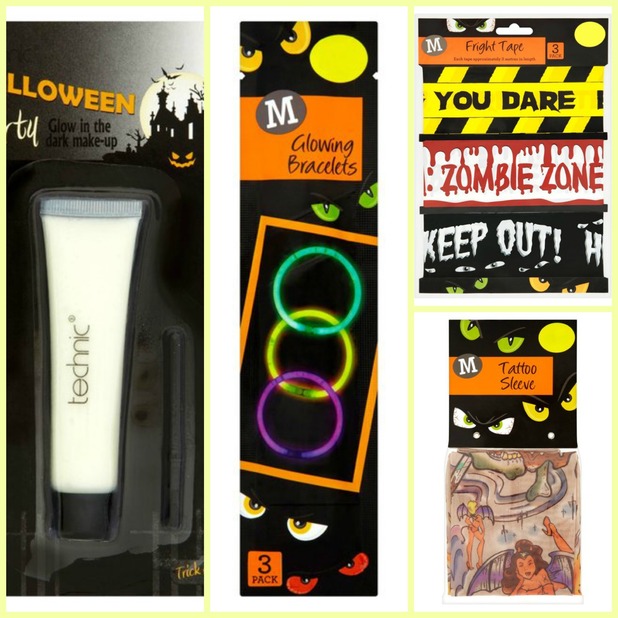 Everyone loves a glow stick, right? So we'll be snapping up these awesome glowstick bracelets from Morrisons, with an online exclusive price of 67p. The superstore has a wide range of costumes and make-up goodies for Halloween. We like the glow-in-the-dark make-up, £1, and the fake tattoo sleeve, £1.50 online. Another gem in its Halloween range is the fright night tape, £2 for a three-piece, five-metre pack.
Cadbury's Craveyard Competition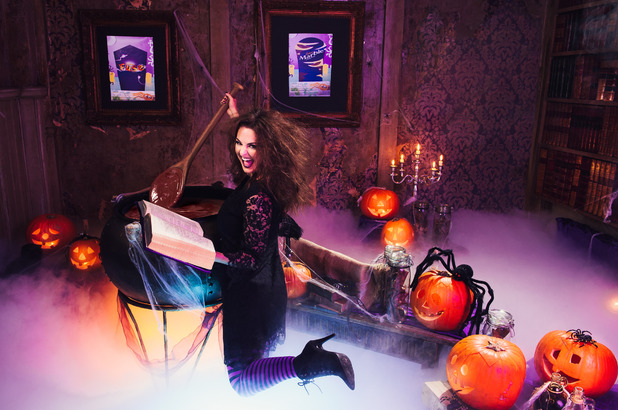 This isn't a treat you can physically pick up from the shelves... it's only available to a lucky few! Getting into the Halloween spirit, the chocolate giant is giving fans the chance to raise one of its sadly-deceased bars from the grave. So, what do you mourn? The Cadbury Fuse, packed with raisins, nuts and fudge for a texture sensation, or the Cadbury Marble, which is a perfect blend of praline, milk and white chocolate? The bar that gets the most votes will be briefly resurrected, with 100 bars available to competition winners. Vote now via
@CadburyUK
on Twitter or
Cadbury's Facebook page
, where you'll find all the details on how to win.
Eyelure Halloween Lash Carnival, £6.95, Boots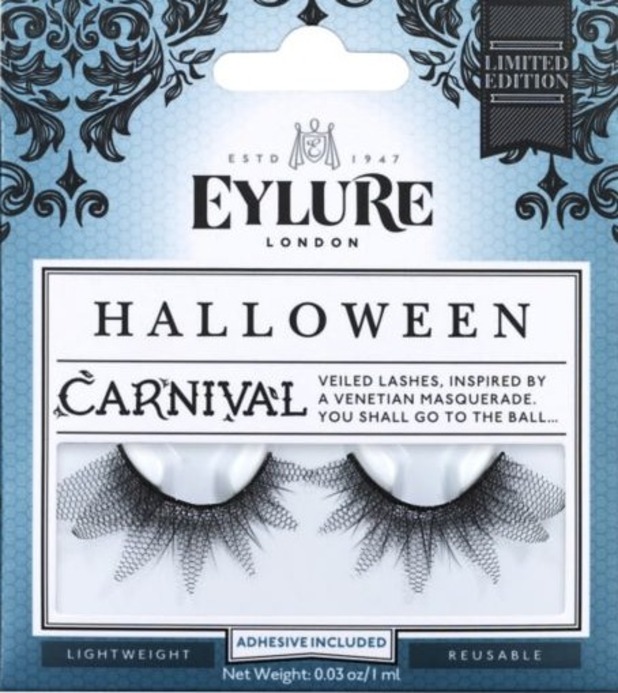 Big lashes always make us feel uber glamorous on a night out so we're loving these dramatic, limited edition Halloween lashes from Eyelure. The gothic-inspired veiled lashes are decorated with layers of black netting for a seductive, theatrical look. Team with your best Halloween costume for the ultimate in 31 October chic!
Wilko 3 Tier Pumpkin, £6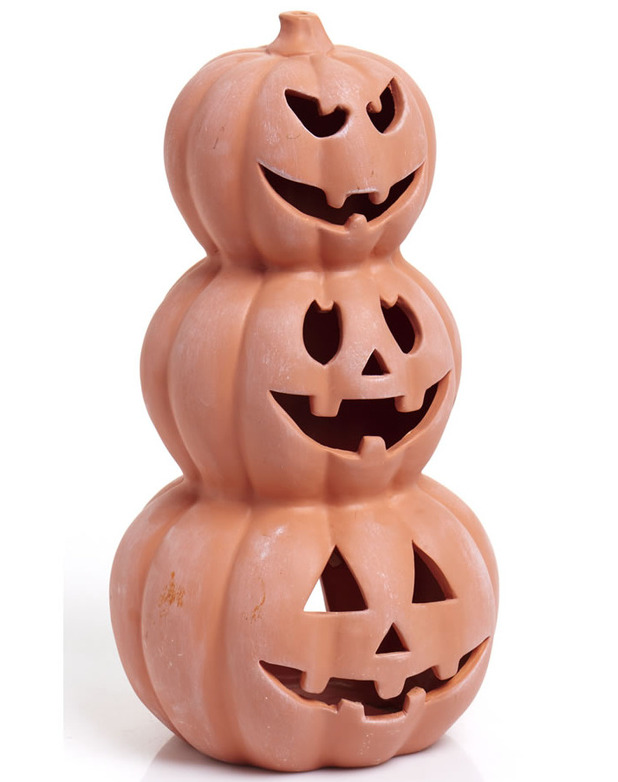 We love this three-tiered, terracotta pumpkin candle holder. Place a tealight at the bottom for a bit of flickering spookiness on Halloween. Perfect if you want to get into the scary spirit without draping your house with fake cobwebs, plastic witches and spiders.
truTV's The Great Halloween Fright Fight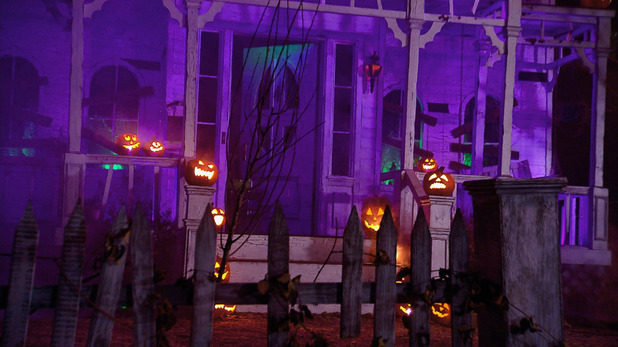 If you're planning to stay in on Halloween, then this is must-watch viewing! (Or just set your recorder.) The one hour special, airing at 2pm and 6pm on truTV, follows a group of Halloween-crazy Americans who transform their homes into terrifying, haunted properties in a bid to win $50,000. We all know the Americans do Halloween in style so we can't wait to see what the contestants come up with! We've been told to expect mutant spider invasions, haunted mazes and abandoned pirate ships. Eek! (truTV, freeview channel 68, Sky 198 and Free Sat 154)
Pretty Polly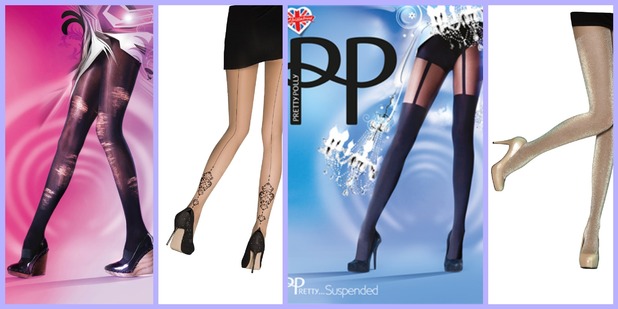 Need the perfect finish for your scary outfit? Or want to dress up for Halloween but in a subtle, sexy way? Why not let your tights do all the talking?! Pretty Polly have some amazing tights perfect for 31 October, which can complement a witch's costume or other spooky look, or just give you a cute fun, finish to your normal outfit. Go dramatic with the Rebellious, Shredded tights (£8) or add some Pretty Shimmer (£10) to a fairy or princess look. We like the sexy
Suspended Tights, £7
, and the flirty baroque print of the
Fascinating Tights, £12.
PicMonkey special effects, free to use, some paid-for additions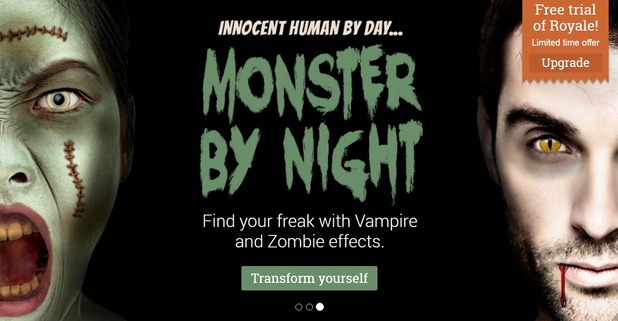 If you haven't heard of PicMonkey, you need to get involved! This nifty little website is both a photo cropper and collage creator, as well as a special effects wonder! This Halloween, it's letting users spookify their images by making them dastardly, devilish, grotesque and more. It's so simple: upload a photo of yourself, click on themes, and choose from loads of options like vampire, witch and zombie. Make your skin deathly white, turn your eyes red, add drops of fake blood... basically let your imagination run wild!
Haribo's Halloween Mixes, £1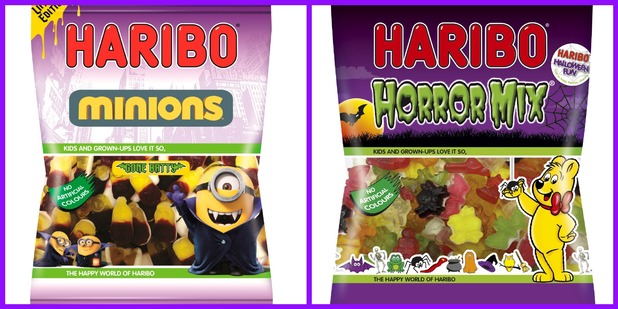 Haribo is one of our favourite things in the world – even more so at Halloween when the limited edition packets come out! The Haribo Halloween Horror Mix, £1, is filled with tasty bats, frogs, spiders and broomsticks, while Haribo Minions Gone Batty, £1, has awesome sounding flavours like slimey lime and orange, and boo blueberry and lemon. YUMMY! Also available is the Trick or Treat multipack with cute Halloween-themed gums and jellies (8x25g mini bags, RRP £1, or 38x16g mini bags, RRP £3.) We'll take everything, please!