Harry Potter is back! Hurrah!
Remember when you finished reading
Harry Potter and the Deathly Hallows Part 2
? Remember that heartbreaking moment you thought your love affair with Hazza P and Hogwarts was really over?
Well, good news folks. Our favourite wizard is making a return and we literally cannot contain our excitement...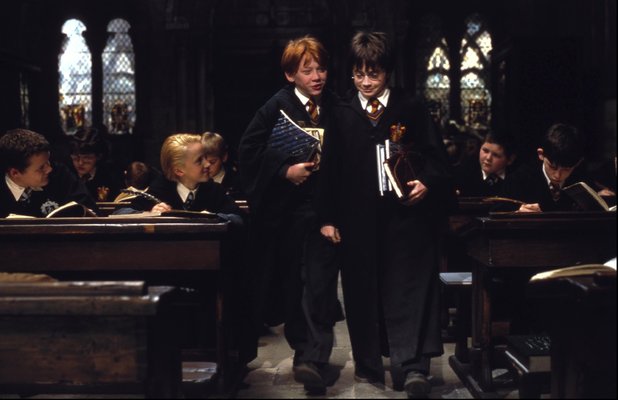 J.K Rowling has recently confirmed there
will
be a sequel to
Harry Potter
, but there's a twist...
This time round, Harry is much much older and working for the ministry of magic, his son Albus will be taking centre stage and quite literally, as the sequel will be a play.
Harry Potter and The Cursed Child
will be coming to London next year in July 2016 and we're already fretting about bagging ourselves front row tickets.
The Cursed Child
is a follow on from
The Deathly Hallows
and will pick up from where we left Harry nineteen years later at King's Cross Station waving his own children off to Hogwarts.
Giving us an insight into the story of the sequel, the synopsis reads: "It was always difficult being Harry Potter and it isn't much easier now that he is an overworked employee of the Ministry of Magic, a husband and father of three school-age children.
"While Harry grapples with a past that refuses to stay where it belongs, his youngest son Albus must struggle with the weight of a family legacy he never wanted. As past and present fuse ominously, both father and son learn the uncomfortable truth: sometimes, darkness comes from unexpected places."
Eek!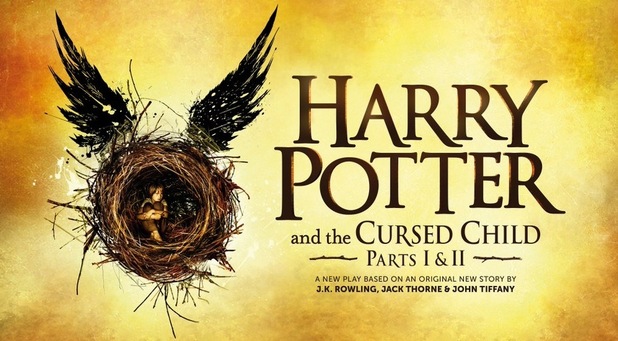 After waving goodbye to Harry, Ron and Hermione eight years ago, J.K Rowling has toyed with spinoffs since, but never spoke of any plans to come up with another story in the Harry Potter series.
Explaining why she chose to bring the sequel to the stage instead of penning it to be published, she said: "The story only exists because the right group of people came together with a brilliant idea about how to present Harry Potter on stage.
"I'm confident that when audiences see Harry Potter and the Cursed Child they will understand why we chose to tell this story in this way."
She has written the follow up story alongside Jack Thorne and John Tiffany. It will be told in two parts, with each part being performed separately on the same day when it reaches theatres.
When the news surfaced about
Harry Potter and The Cursed Child
, not surprisingly, the Twitter'verse couldn't handle it...
HARRY POTTER AND THE CURSED CHILD IS A SEQUEL. Now accepting donations to get me to England.

— Milly Sauber (@supermilly03) October 23, 2015
Harry Potter : the cursed child ! My heart is happy again

— Asea bree (@aseaaabreee) October 23, 2015
HARRY POTTER AND THE CURSED CHILD I AM ALIVE

— louisa liew (@sIoutherin) October 23, 2015
The bf agreed to go to London for #cursedchild... He may have thought I was joking. Still holding him to it.

— Jessica Dumbroff (@jessicanmbrs) October 23, 2015
If I don't get to see #CursedChild why even continue with life

— Anna Fine (@avf132) October 23, 2015
#CursedChild SEQUEL YAAAAAAAAAAAAAAAAAAAS

— aqsa296 (@aqsa296) October 23, 2015
Tell me it's not a dream #CursedChild #sequel

— Stefanie Geraerts (@StefaniGeraerts) October 23, 2015
"All was well" my ass. #CursedChild

— Ashley Keene (@AshleyIsKeene) October 23, 2015
Albus Severus is a #CursedChild? Obviously he is with a name like that! #brb #pretendingtheepilogueneverhappened

— Missy Reif (@MissyReif) October 23, 2015
I NEED to see Harry Potter and the Cursed Child when it comes out

— clo (@ChloeBarnfieldx) October 23, 2015
FYI, "Pottering" is when you place HP at the very centre of your heart, happiness and sanity and nothing is hard anymore #CursedChild

— Evanna Lynch (@Evy_Lynch) October 23, 2015
#HarryPotterIsBack? Harry Potter never left.

— TheHPAlliance (@TheHPAlliance) October 23, 2015
For exclusive competitions and amazing prizes visit Reveal's Facebook page NOW!