Hollyoaks have recapped their very first episode as they celebrate their 20th anniversary.
The Channel 4 soap, set in a fictional village in Chester, turns 20 years old, but did you know it started off with just seven characters?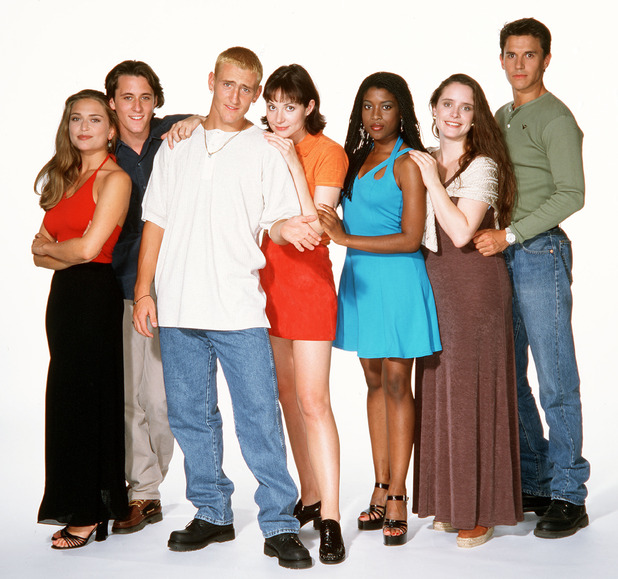 1. Natasha Andersen (played by Shebah Ronay)
2. Tony Hutchinson (played by
Nick Pickard
)
3. Jambo Bolton (played by Will Mellor)
4. Dawn Cunningham (played by Lisa Williamson)
5. Maddie Parker (played by Yasmin Bannerman)
6. Louise Taylor (played by Brett O'Brien)
7. Kurt Benson (played by Jeremy Edwards)
Of that list, only Nick Pickard remains in the soap today, making him the longest-standing cast member.
Bryan Kirkwood, who was the producer from 2006 to 2009 and returned as executive editor in 2012, said: "I was 20 when
Hollyoaks
started. At its inception it was a wildly different show to where we are now. It was invented as a slapstick, light-hearted British response to the Australian soaps and hilariously I didn't think it would last! My reaction proves how difficult it is to get a show off the ground with a dismissive youth audience and the fact that the show quickly hooked in a loyal fan base shows how wrong I was. Thank God! It wasn't until the show adopted
Brookside
grit with its first ecstasy death that
Hollyoaks
really took flight and I think that proves how adept Hollyoaks has always been at moving with the times and adapting to the audience's tastes. The character who did stand out for me was Tony, played by my lovely friend Nick Pickard. I had seen the Pickard boys on various shows and Nick's brilliant performance was certainly one that caught my interest in those early days."
As told by the team themselves, here's what happened in the very first episode of Hollyoaks on 23 October 1995...
"On 23 October 1995, 2.9 million homes tuned in to watch the eagerly anticipated arrival of
Hollyoaks
, the new teen soap drama on Channel 4. The show opened with a series of scenes that encapsulated the lives of the seven youngsters in Chester. Viewers were captivated as they watched four teenagers scramble out of a car before it exploded in to a ball of flames – a sign of the action, drama and spectacles that would follow in the next two decades.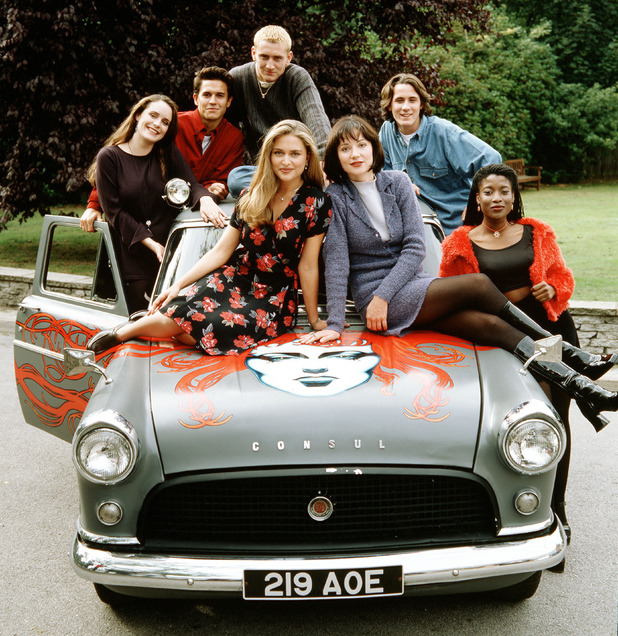 "As the episode rolled on, the audience pieced the characters and their stories together: Kurt's kid brother Ollie was exposed as the 'thief' who stole his car; Jambo (Will Mellor) climbed through Kurt's bedroom window marking his now-trademark move. The first instalment closed with Kurt's advances towards Natasha rejected not once, but twice… he finally got the message when her Alsatian dog leapt towards him. Nick Pickard (Tony) remains the only remaining cast member from this first episode, although Jeremy Edwards (Kurt) returned in 2013 for
Hollyoaks Later
.
Hollyoaks
was originally on once a week until 1996 when this was doubled to two episodes. In 2001 Hollyoaks was being beamed into living rooms four times a week, which went up to five episodes in 2003. E4 episodes, which gave viewers a 'first-look' at the next night's Ch4 edition, began in 2001.
Hollyoaks' 20th anniversary week kicks off on Monday 19 October at 6.30pm on Channel 4.Try Reveal's digital edition on iPhone & iPad. Subscribe now & never miss an issue!