TOWIE
star
Billie Faiers
recently jetted to Spain with daughter Nelly and last week I also 'enjoyed' the experience of an easyJet flight with my baby.
I'm not going to lie, the prospect of a two-hour journey to Majorca with a six-month-old raised my blood pressure somewhat, and this was not helped by the ridiculous luggage rules on travelling with an infant.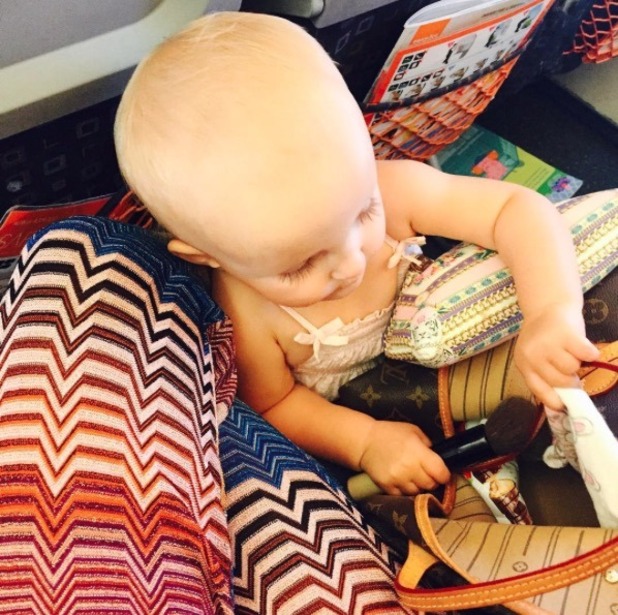 Despite my extensive summer wardrobe having to make way for formula, nappies, an entire steriliser, bottles, copious amounts of suncream, toys, books...*SOB*, easyJet didn't make it very..err..easy. The only extra luggage you're allowed is a small nappy bag, roughly translated to 'a bag about the size of a laptop case which is no good to anyone'. Yeah, thanks for that. Sooo helpful.
But despite the thought of flying leaving me in a spin, the white noise of the engine instantly sent my daughter into a happy coma and she slept the entire way there and back. WINNING! I think the passengers who had given us the obligatory 'don't sit near us' death stares as we got on were pretty chuffed too.
I really was expecting the holiday to be a stress-fest, but there was time for sunbathing while my baby napped. In fact, I got through a whole eight chapters of Lindsay Kelk's 'Always The Bridesmaid'. I very much intend to finish it...one day.
Hopefully the vitamin D from the sunshine has given us all an extra boost for the winter, as unfortunately we can't all make like Coleen Rooney and jet off to Barbados when the going gets tough and the temperature plummets.
I've certainly experienced an extra boost to my waistline after a week of All Inclusive. But hey, if you can't eat an unlimited supply of breakfast, lunch and dinner - not to mention cocktails and poolside snacks - when you're on holiday, when can you?
I may just have to swap the odd glass of wine for a Coco Loco to see me through the winter. Google it. They are immense.
Meanwhile, I recently asked
if you liked Billi Mucklow's controversial picture of her son Arlo getting close to a dog
. It was a close one, as 53 per cent of you think it's cute, while 47 per cent aren't keen on mixing dogs with babies.
Would you take your baby abroad? Answer in our poll!
YES! I'm not fussed about flying with a bubba!
80.95%
NO! I'd rather have a stay-cation until my tot is older...
19.05%